I was always excited by David Chang's Momofuku empire. I treated myself to a lunch long ago at an NYC location, and then was very excited to try the Sydney outpost in June 2012. I loved its rock and roll attitude, watching the chefs at work, sweet pork for dessert and … well, everything. And then after Paul Carmichael took over, things got really exciting. I visited in July 2017 for a stunning meal, and was so excited to discover Caribbean fine dining.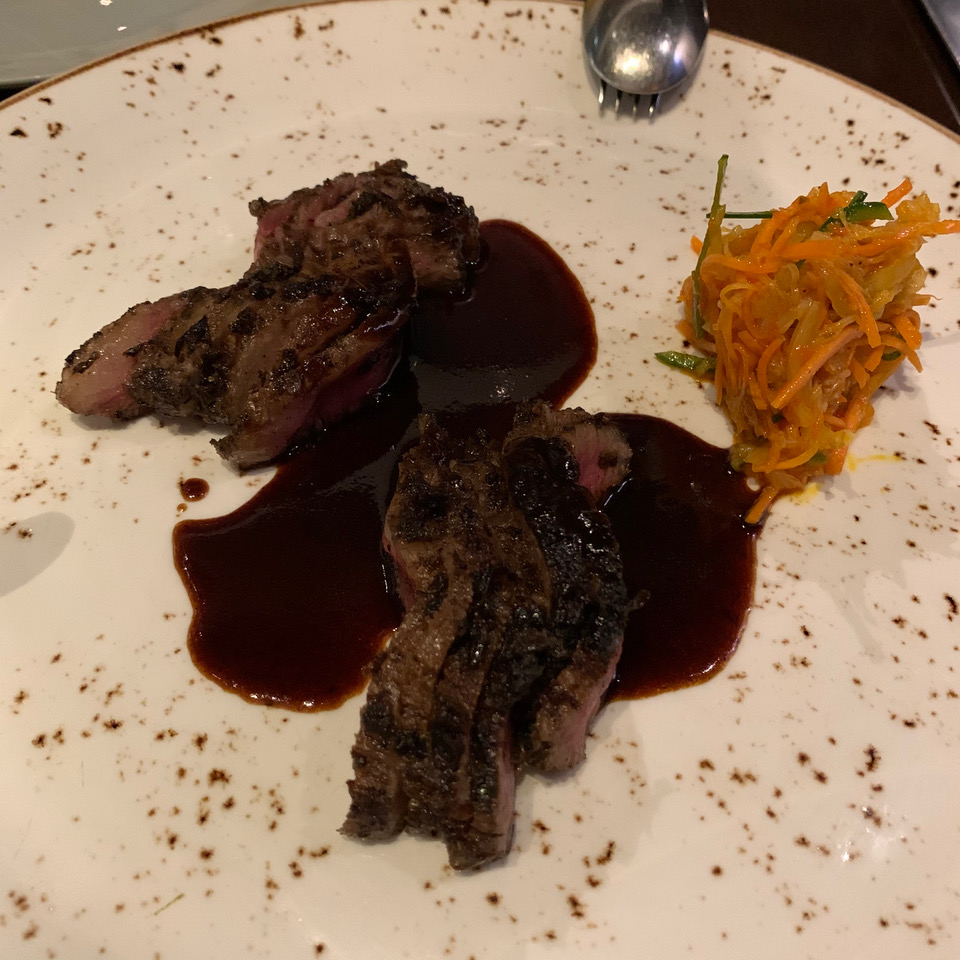 So, I was sad to hear about them closing down at the end of June 2021, and was determined to visit. The reservation was super hard to get. I missed out at first announcement, so put myself on a wait list, automatic, where if a reservation came up, I'd get a notification by email and have to hop on to their website to see if the place was still free. I'm sure I must have tried 10 times before a reservation came up for the civilised, adult time of 8.30pm on a Friday night.
We arrived early, and wandered in, and the chef himself, with a bemused tone, told us to come back when they were opening for the 2nd seating. We wandered around Star City and then came back to queue. Jock Zonfrillo was standing behind in the line. I almost told him how much we'd enjoyed the dinner at the pop-up Orana in Sydney, but I reckon he has enough strangers coming up and talking to him about Masterchef.
From the moment we set down, this was a meal for the ages. Seven courses with beautiful matching drinks, great service and amazing ceramics (much from @sit_still_lauren_ceramics, I already have one of her coffee mugs!). I didn't take photos of every course, nor will describe them all, but what I adored was that I could picture every dish in its original incarnation, street food maybe, or a big platter for serving family and friends, and yet, it was magically transformed to a perfect mouthful of gastronomy.
The welcome platter was stunning. So much goodness. Marron. Pippies. The most amazing light crispy buttery roti. This was followed by four savouries and two desserts.
In Vancouver, by chance, next to my elementary school, there was a small cafe that served Jamaican patties, so my whole family is used to this simple snack, meat encased by pastry. But I've never had a patty so refined, made with beef brisket and abalone, with the buttery pastry deep-fried. It was OMG good.
The jerk karubi plate (photo above) had maybe some of the best beef I've tasted lately. Just amazing.
We also loved the style of matching drinks where instead of serving the lesser drinking of the pair (my hubby) fewer drinks (say, 4 instead of 7), instead they served a perfectly measured smaller portion of the drink. So, we both got to try all of these amazing drinks, but the drunk (me) got the bigger portion. The sommelier was very enthusiastic in his descriptions of the grog, which I'm always appreciate of.
I even liked the postcard and card, with the names of the courses and drinks, that we received at the end of the meal. A fun little bit of graphic design, and much more engaging than the usual degustation list that I've received in the past. And we got two sachets of special tea as keepsakes.
What else to say? I quite liked this article about Carmichael from Broadsheet. It's a good one and gives a sense of who he is and why this restaurant was so special. I feel really very privileged to have experienced it.
And hey, what a great date night! The waiter teased us that we were the quickest in the restaurant to finish, but these days, we're not often out very late. Enjoying a special seven-course meal with matching drinks to say farewell to a remarkable Sydney restaurant was a pretty good showing, I think.