In May 2017, when I stopped by the Unicorn with my pal Trevor, it was on the back of some great reviews and a quite different menu. This time my friend James suggests that we have to try the place advertising Sydney's best schnitty. We arrive early, just in case on a Saturday night, it is too busy to get in. It's wild. Upstairs is packed with the retro music so loud that to enjoy it, you'd have had to come specifically for it. But downstairs is a little too empty, so it's lacking atmosphere and the outdoors area is a mix of smokers and people sitting on the ground.
We split a jug of Young Henry's Newtowner beer ($20; in fact, we go through another one of these). While there is still an appetizer on the menu with Jatz crackers, the menu has swapped up its fish dishes for standard (or so you think) pub grub, heavy on the meat. Our choice really is between the chicken scnitty and the chicken parma, but as James said, why would you have a schnitty when you can have the parma?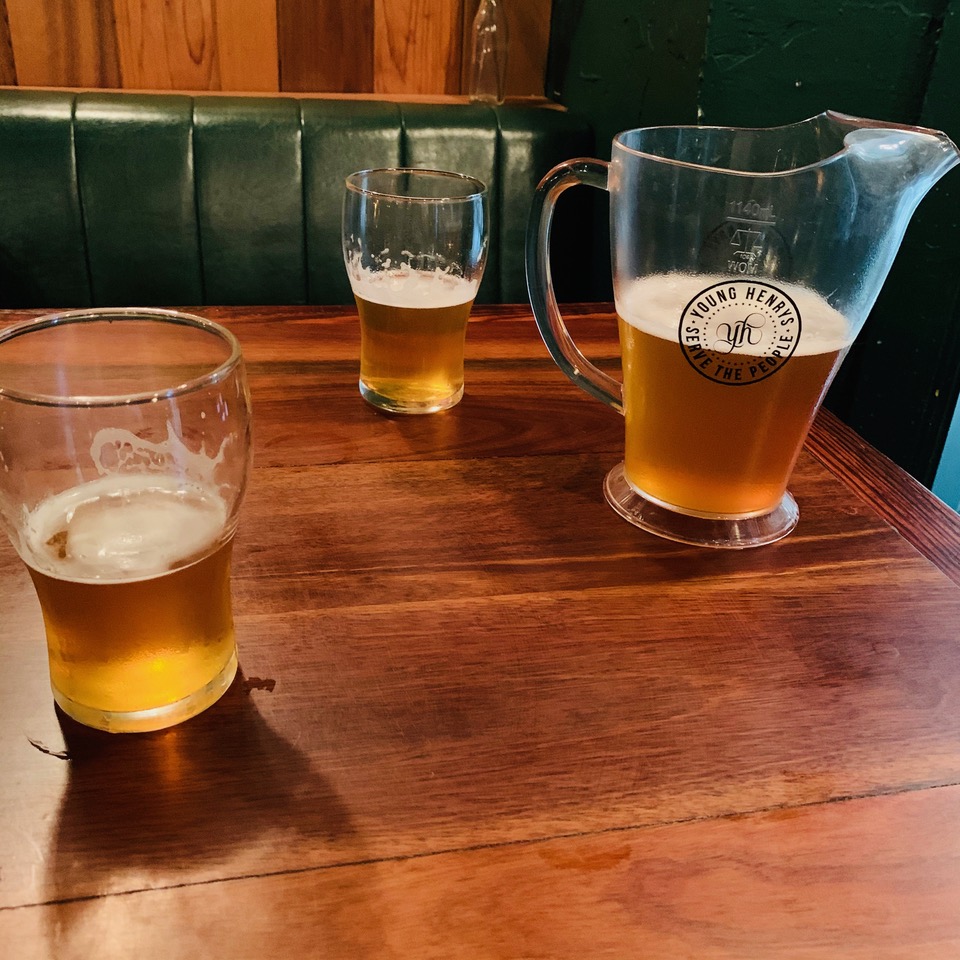 The ordering process at the bar is chaotic. It's tiny. James says when he orders he gets attitude from the bartender. I get a nice one, but his tablet won't work properly. The system is that you point in the general direction you're sitting, which eventually means the waiter (a very cool-looking women with multiple colours of hair) comes in the vicinity asking if you're Bob, Dick or Harry. It must be as frustrating for them as for us; everyone orders the same thing; they have to go to each table and ask as it comes out.
But voila! It was worth it, and we both agreed that very possible, this chicken was among the best we've had. Served on a modest bed of the crispiest fries possible (good that it was modest, this is such a huge piece of chicken, it was almost too much for me). They've left the wing on, cleverly, and the rest is, I'd guess, a half of chicken, pounded down and stretched out, super crisp and tasting very high-quality. Which, for $29, you'd want.
The parma topping was a delicate mix of sauce, ham and cheese, not too much, not too little, broiled to perfection James commented that the difference for him is that the whole thing tasted smoky, in a good way. I just thought it was pretty amazing: crispy, meaty, fatty, savoury and yes, tasting like an elevated version of the classic Australian dish and possible the best chicken parma I've had in Sydney.
Our only suggestion would be a pretense of a vegetable: maybe a few rocket leaves would have been a good garnish for this plate of protein and carbs. I see from the photo that there is actually the suggestion of green from some herbs, but that effect was rather lost in the sea of melted cheese.
(Review below from May 2017)
OK. I'm confused. Yes, I am. I had this on my list of places to try since Broadsheet lauded it as amusing updated takes on Aussie cuisine (prawn cocktail, Jatz crackers) after being taken over by some of the new breed of hip, young restauranteurs turning old Aussie pubs into gastro-pubs.
After escaping the very loud main floor (Saturday night…), downstairs is dimly lit. Casual, perhaps a bit too casual.
We treated ourselves to some drinks and figured out the menu. It's order at the counter, but the counter is a crowded, little area; the staff seem to be trying valiantly, but something wasn't working that well that night.
My dining companion opted for the grilled kingfish (which looks so much like a steak, doesn't it) and two sides, a bean salad and cauliflower cheese. He liked it.
I've never had garfish before, and was curious (photo at the top!). They're such strange looking fish. So, butterflied garfish with seaweed butter… So, two long snarly garfish, butterflied, with a rather hefty layer of nori seaweed on top and quite a pleasant buttery, salty, lemony sauce. It was also rather cheap, this menu item, $16 compared to the $30 or so for the kingfish. But the fish was rather bony (my fault for ordering it) but had quite a few scales too (not my fault…). On the one hand, I love that they were serving an unusual fish in an unusual way, and obviously fresh from the market. But I'm not sure whether I liked the result.
On the other hand, their version of the chiko roll was pretty fantastic. I tried a few of these when I arrived in Oz, and bleck. I couldn't understand how this was a national food. Trevor told me that when he was young, and they were made properly (fresh, not mass-produced, nicely crispy and fried), they're good, and that's what this was, aside from gigantic, but it was a big tasty Aussie spring roll, and they have now redeemed the chiko roll in my eyes! So, a plus or two, and a minus or two: I wanted to like this place a lot more than I did.