So, this place was fun.
And if I start with describing the experience before the food, it's because this was an EXPERIENCE.
The food was tasty and interesting but took a second place to a really fun evening with friends over a spicy hotpot. It's truly been years since I last did this.
The first time, with foodies from Malaysia and Hong Kong, I learned about the 'Ring of Fire' phenomenon that some people experience after eating really spicy food. I'm not going into details (although I don't suffer from this).
However, with three choices of spice level, we gamely went for the medium-level and … oh, we failed, reader. Yes, we failed. It was too spicy for us, though we tried valiantly.
So, what can I say? The place is beautiful and odd. There is a robot that goes around the restaurant at the end of the meal serving mints though we didn't manage to get it to stop for us.
The decor is really quite striking. So it's a fun atmosphere to eat in. It would be a great place to come with a large group of people, or a big party!
Even with the guidance on the menu, we weren't quite sure of the best way to eat everything. The bowls of stuff to make your own sauce look beautiful and delicious but I think I should have gotten a little more guidance or studied up!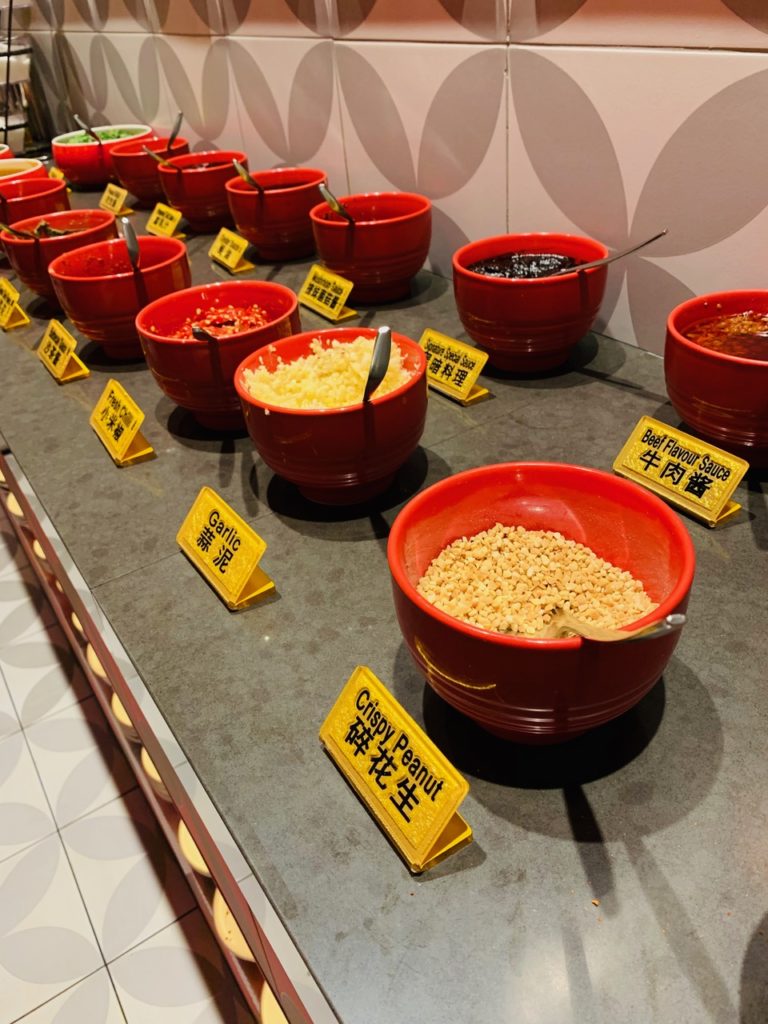 We chose a whole bunch of random stuff to put in the hotpots. The corn was weird. The various meats were delicious. The mushrooms also delicious. We lost track of how long we were supposed to cook things and just dumped things in randomly.
We thought the bear made out of stock was gorgeous. We watched as it slowly disintegrated into bear-nothingness.
We couldn't bring ourselves to order the Lady Gaga in the meat dress dish. Because that would have been just too weird. And there was a vegetarian with us (by the way, it's a fine choice for the vegetarians in your life with lots of veggie choices and broths).
But really, we didn't pay much attention. The not spicy vegetarian soup was fine, though deemed not that interesting. The spicy soup was delicious, though as I said too spicy.
I ordered some more unusual dishes like winter melon and bean curd knots, I think we tried pumpkin too, but it was all a scramble really as we'd lose the food at the bottom of the pot and dig it out, or we cooked it too long and it fell apart, and we tried not to eat it while it was too hot, and not to eat too much of the spicy bits.
We were amused by the aprons, which did prevent food disasters, and we also loved that they brought the two of us with glasses little special glass cleaning cloths. Magic!
I'm wondering next time whether I might suggest ordering the individual pots, although the communal one (as you can see, divided into two) was pretty fun.
And while I'm pretty adventurous, I did kind of feel that going along with a hotpot expert (or someone who has more experience than we did) could have been helpful. But what a night!
I think I drank a little too much beer (following some wine) to deal with the spice. If you're still with me: here's my recommendation. If you've never tried a hotpot before, you are MISSING OUT. Get thee to a hotpot restaurant, and why not Spice World! It's bright, cool, and tasty. You're guaranteed to have a great time.