I knew we were in for a special meal, but Raita Noda exceeded any expectations. A wonderful omakase, with some highlights, some great matching drinks and an intimacy, not too close, but enough to feel treated to a great experience. It reminded me at once of some special meals in Japan in tiny restaurants, and a bit of Momofuku Seibo, with being able to see the chefs work at close quarters to a soundtrack of funky music (this much more Café del Mar to the eclectic and more rock n' roll Momofuku).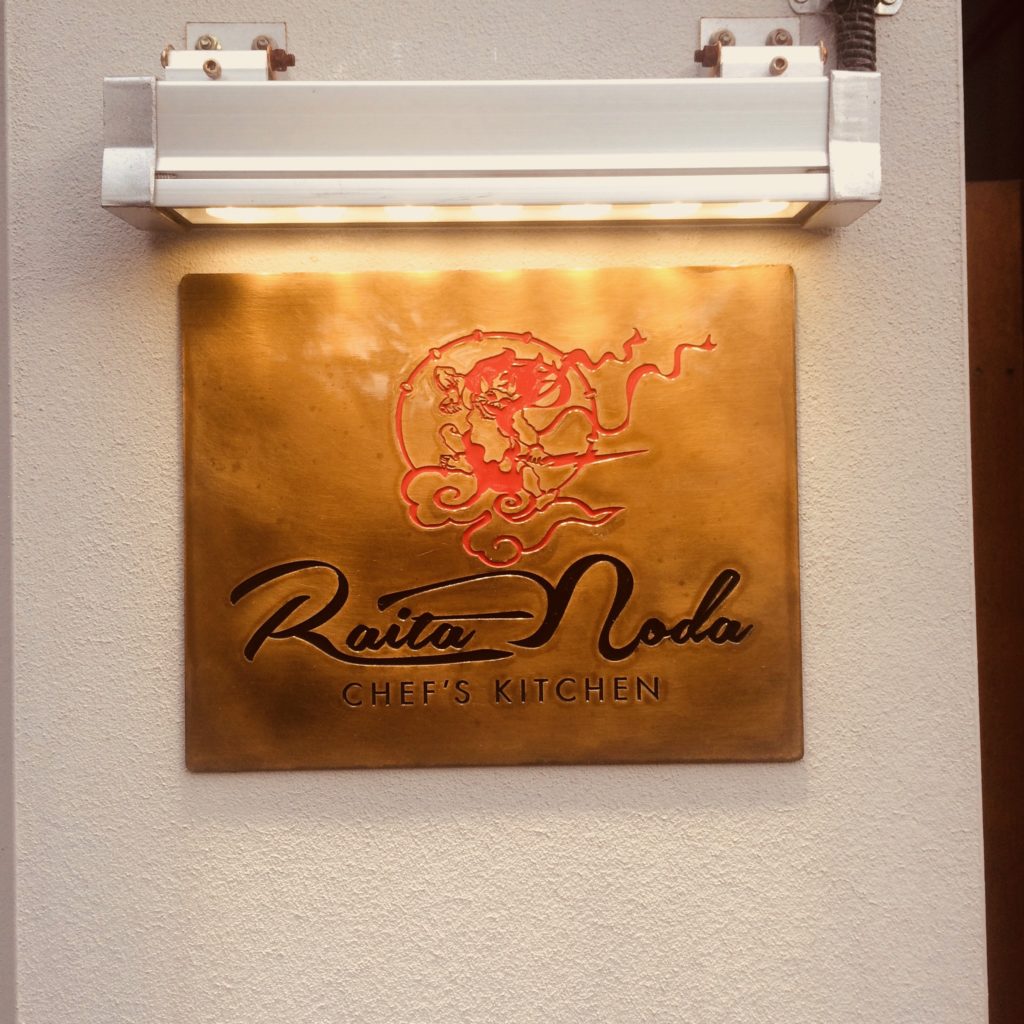 Reviews tend to mention that Noda was the chef at the Ocean Room at Circular Quay, which I didn't get to try, but I do remember, fondly, Rise restaurant near Kings Cross. It was really interesting multi-course Japanese food (marketed as a degustation rather than omakase) and very good value. I went a few times, brought friends, and was sad when it closed.
Raita Noda is an interesting model. Two Nodas for the price of one… Mr Noda and his very efficient son. Just eight seats. And such an interesting, strange room, higher than it is wide. The last time we were here was for an orange wine tasting at the Riley Street Wine Bar (I think that was the name). Now, there are shelves of memorabilia (I think Mr Noda is a bit of a sports fan, with a pair of trainers, in a glass box, and some jerseys up on the wall), and a treasure trove of ingredients and machinery, all carefully arranged.
It's pretty magical to watch. As we were sitting down, Mr Noda was preparing the John Dory, and some herring. The herring would magically appear every once in a while for another step to be done to it, and then disappear (to reappear for the last course, with a series of fine knife criss-crosses across its flesh.
Raita Noda also has an interesting tone. With eight seats, it is exclusive, but is made more so by various rules and requests. Reservations must be made by SMS, with full credit card information. A cancellation within 72 hours incurs a penalty fee (as they are planning their menu and buying produce during this period).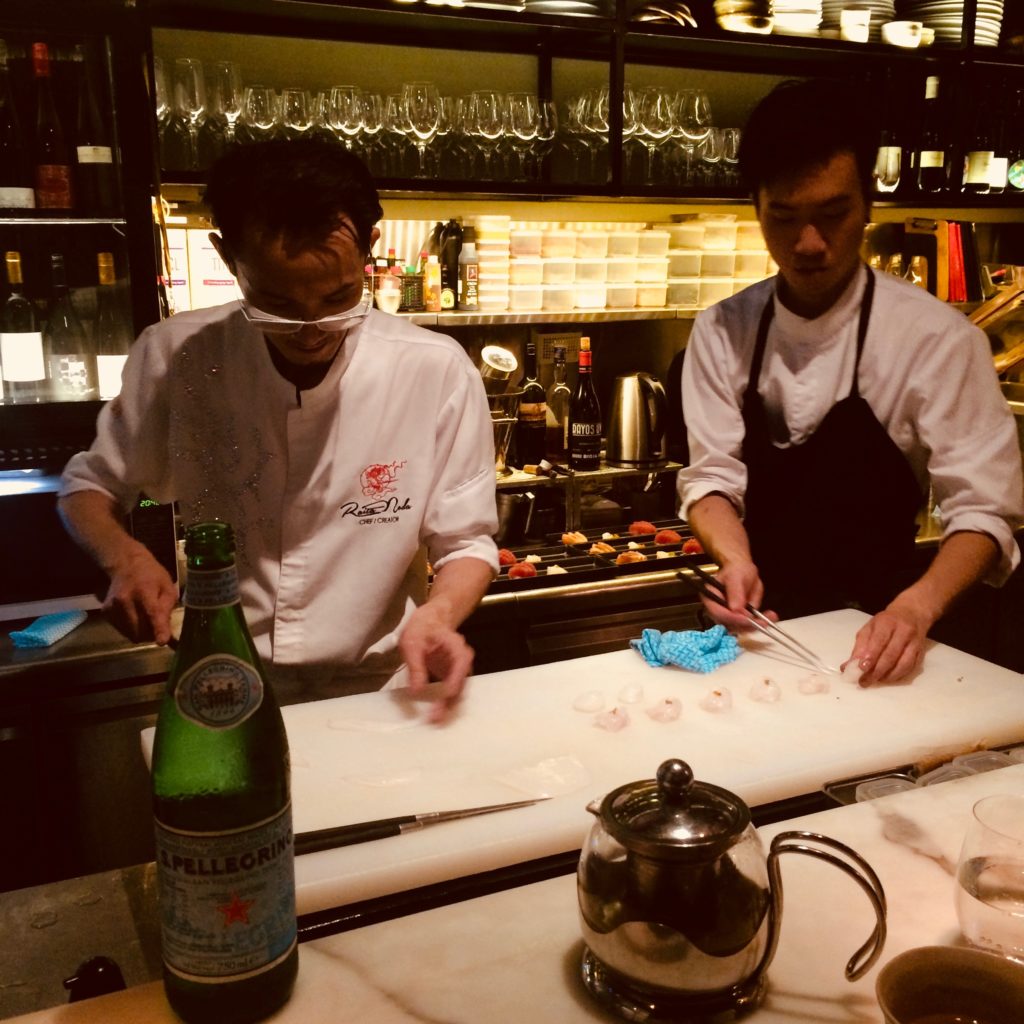 I was a bit dismayed at the admonition to not share the matching wines (as we always do this: I order it, and husband takes small sips. Luckily the younger Mr Noda said it would be OK to do this). The length of the meal is three hours or so, and because you are in the hands of the chefs, there is no rushing to be done. You need to commit to the experience.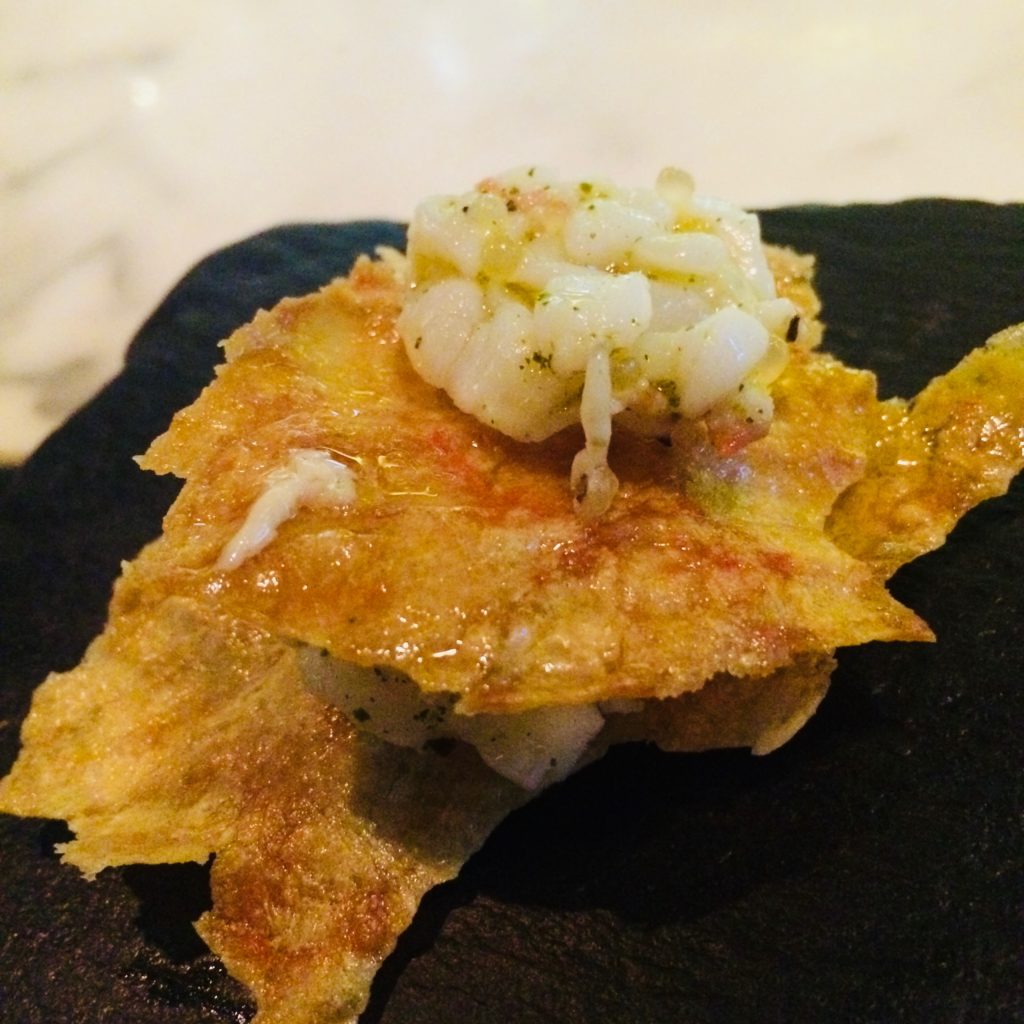 And in return, you are treated to amazing, carefully prepared dishes, often surprising and very delicious. Oysters were a perfect start: note the gold flake atop the basil and shizo sorbet. Soft-shell crab tacos were tasty… and informal. A tuna dish was interactive. You pop the tin yourself then mix in freeze-dried nato (fermented soy beans which are an acquired taste in their usual form).
The scampi was a highlight (and I missed taking a photo of the whole plate). The mille-feuille flakes are made of pounded scampi and then made into thin deep-fried layers, and the flesh of this crustacean was sweet and tender. The variations in form and texture, and the rhythm of the meal, were also lovely. From the rich scampi to a much cleaner and simpler taste palate, a clear broth with clear noodles, a bit of chewy mochi, the tastiest prawn ever, and a piece of delicate fish (matched with a lovely sake).
The sashimi platter was amazing. That's salmon sashimi at the end, seared already and to your taste as to how much smoke you'd like added. My favourite was the cuttlefish (at this end of the photo): sweet and creamy, and watching the knife skills involved in transforming the cuttlefish to this form, delicate strips made into a rosette, was inspiring.
I promise you, this agedashi tomato was much prettier before I dug my fork into. I liked it. The tomato was quite firm; a hearty thick sauce; an interesting variation on the more well-known agedashi tofu.
On the home stretch, a perfect piece of steak, from the Blue Mountains apparently. And this is a pretty good summary of a food philosophy: a modest portion, perfectly done, simple because it can be simple.
The second last course was sushi. I love how certain fresh fish glistens like this; they also use a technique of a subtle spray of soya sauce on top. Mr Noda prepares each piece of sushi, one for each of the eight diners. It reminded me of the sushi bars in Tsukiji market in Tokyo that I try to get to for breakfast if I pass through.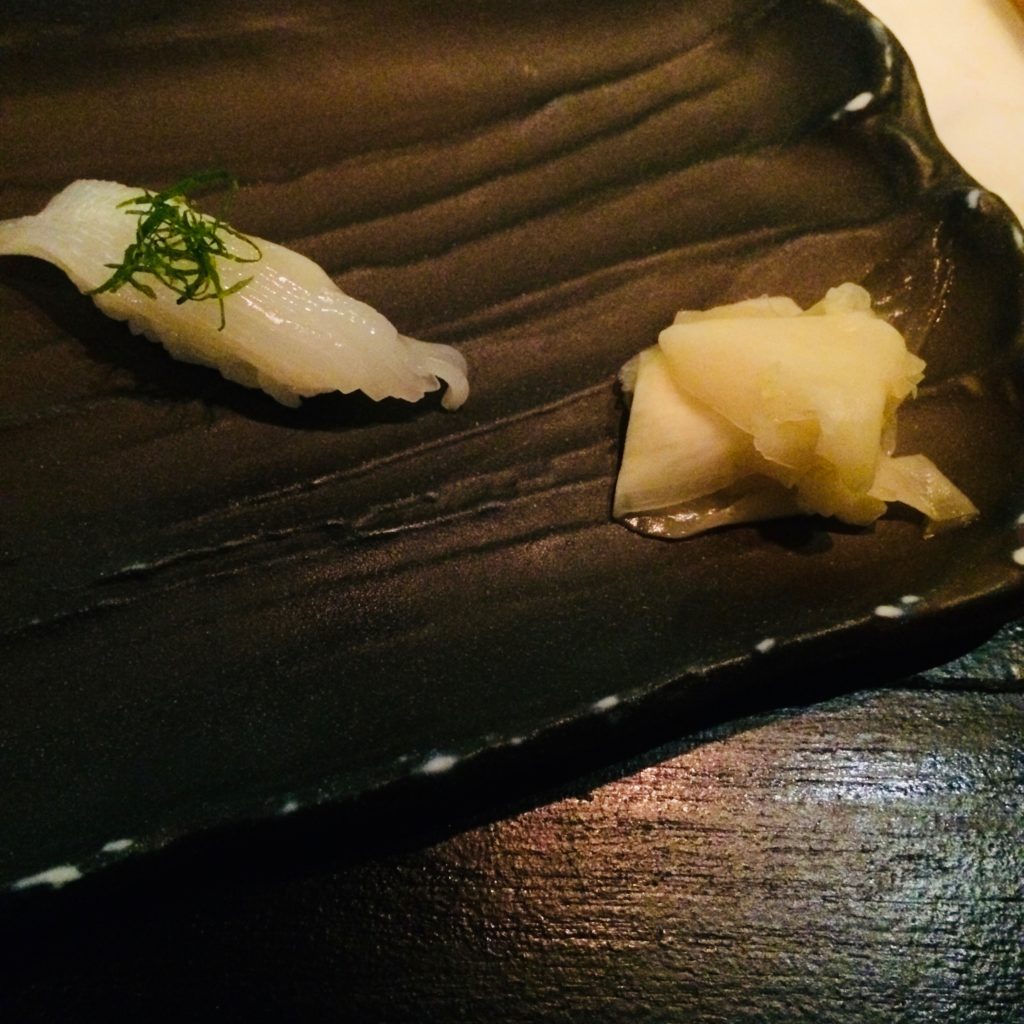 It's a small, delicate portion of sushi rice, a bit wetter than in the cheap restaurants where the rice has been left out for a while, and not treated so well. That cuttlefish again… yum. And to finish, seared salmon.
I'd think this is the best quality and best prepared sushi you can get in Sydney (or Australia?). I enjoyed the matching drinks, and didn't leave the restaurant (as I have with other matching drinks) too tipsy. The tacos were served with Suntory beer. I got to try two delicious sakes, the first from Fukuoka, where my sister-in-law is from. The sushi was served with tea! And the dessert with a plum wine.
After all that, a light dessert was a good idea, but I was still surprised, in a good way, with this very original, and very tasty rendition of strawberry shortcake.
It was definitely a special meal, and chosen for a special occasion, our 12th anniversary. And more than just choosing a restaurant, and consuming a product (or meal), this felt like a much more personal exchange between chef and diner, to see and appreciate culinary expertise and skills up close, and to enjoy the fruits of hard labour.