Scandinavian fine dining comes to Sydney: Fantastisk!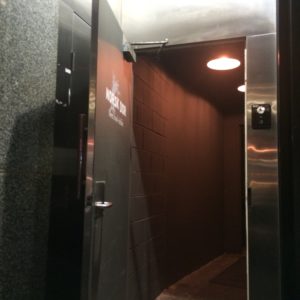 Eating our way around Scandinavia was a pleasure and a surprise a few years ago, and I loved being introduced to the new Nordic cuisine: breads and grains, creams and butter, hearty root vegetables, and interesting proteins, along with some flavours and techniques which tasted unfamiliar to this tongue. There seemed to be a focus on a few key ingredients and elements, and often with some rather nice plating.
So, I was delighted with our experience at Norsk Dor on Monday night. New Nordic cuisine in Sydney. Wow. Getting to the restaurant, past the norsk dor, and down a long hallway and around the corner, was fun. The interior of the restaurant is chic and felt with no windows or passage to the
street like it could be anywhere in the world, really. There are kangaroo pelts made to look like deer pelts, slung over the seats and some lustworthy wooden bowls lining the bank of booths.
I loved the menu. There are about 6 dishes which come as part of the tasting menu, and then you get to choose your own main dish. There were recommendations of three different alcoholic drinks along the way. I didn't resist.
Norsk Dor has the sort of lighting which I knew wouldn't make great photos with my iPhone so I didn't take pics of everything… But rest assured: The oyster with an apple sorbet was delicious. A perfect grilled prawn. I loved the bone marrow to be scooped out on crisp crackers with a light salad of fennel and dill on the side (which seemed very Scandinavian in its flavour profile). Ah, and a mouthful of aquavit to wash it all down. A nice touch.
The salmon gravlax was beautiful, quite firm and flavourful. A light combo of goat cheese, some more crackers and a few vegetables was nice. For the main, I had the venison… which was beautiful, and my pal had the beef, and I didn't even ask him what he thought of it.
But we both agreed, in addition to not having enough room for dessert, that it was a really, lovely meal, memorable and interesting. Highly recommended.