Is a Scandiwegian food and drink trend sweeping Australia?
Just this week, I tried the fabulous Norsk Door in the CBD and now I stumble across the charming Nordic B. in Newtown which has only been open for two months. There are so many new restaurants and bars in Newtown that you have to actually walk down each side of King Street to figure out what's the same and what has changed.
This apparently was a Japanese place. I vaguely recall a place that maybe trying to market different varieties of gyoza. In any case, we had planned to stop here for a drink, and a charming woman outside showed us the menu and invited us in. Detecting a Nordic accent, I asked whether she was Swedish, then Norwegian and Danish. Wrong on all accounts: Finnish. Usually I can hear that accent.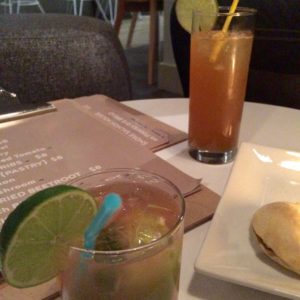 The menu here is simple; it's really a place for some snacks and drinks. The cocktail menu is really interesting, using Scandinavian liqueurs. My Scandinavian version of a mojito had lime and mint, but matched with aquavit and something else. My pal had a tall drink with absinthe, so the flavour of anise seeds; he liked it. We were given a complimentary mushroom pastry, which was delicious; the Scandi-pastry is more like a shortcrust, slightly crisp and tasty.
And of course, the whole place is kitted out in Scandinavian furniture. I'd be happy to come back, hang out, try a few more cocktails and pick and choose from their bar menu. Hopefully Newtown and Sydney will give these folks a try. I like the concept.