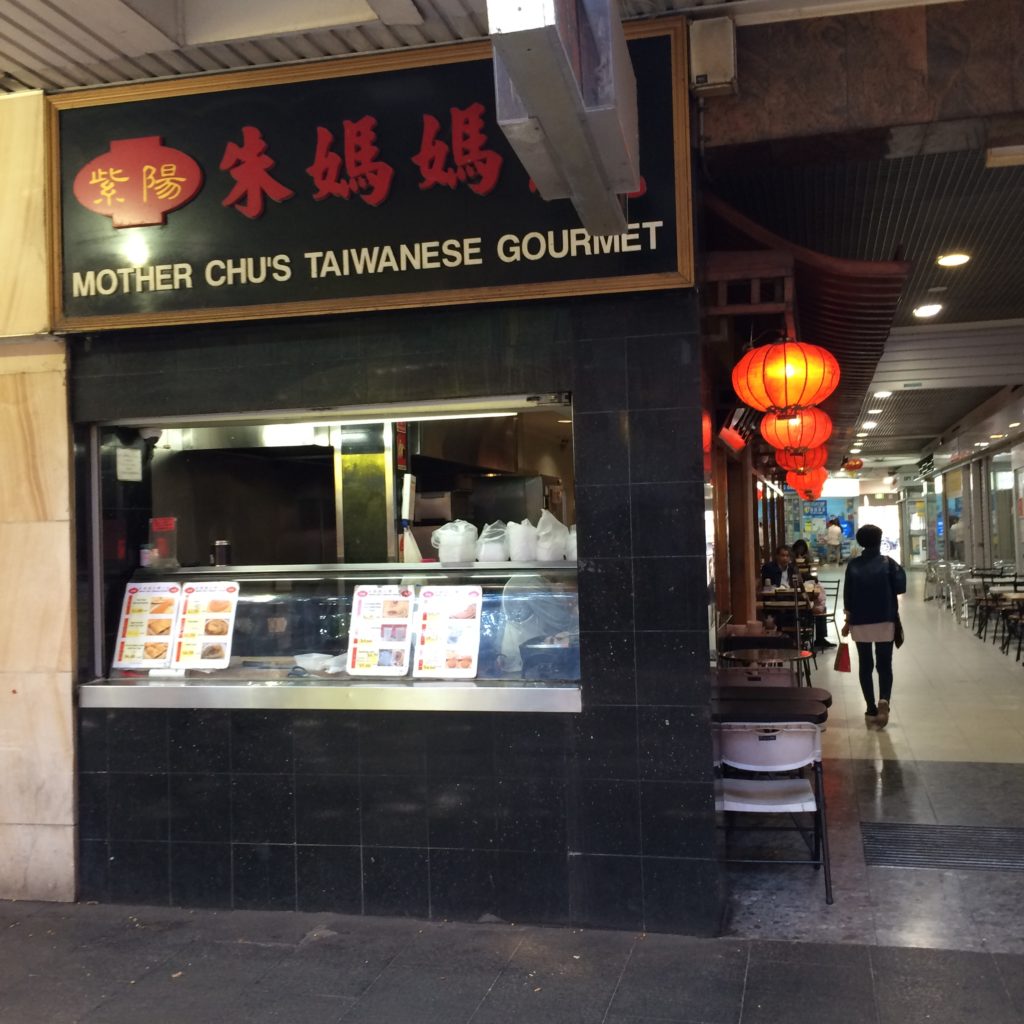 Dear reader, I was not brave enough to try what the young people were eating in the restaurant, an apparently common Taiwanese snack: a deep fried dough stick wrapped in a fried spring onion pancake. The amount of starch and grease involved in that made me shudder. Good thing they were young and still, apparently, in good health.
No, we were on a mission for congee. My friend Sue said this is what she craved, and doing some internet research, I really couldn't find direction on the best congee in Sydney. A slight majority said SuperBowl, a venerable institution, but somewhere I always thought was fine, but not great. A few others mentioned Mother Chu's, so why not? It had been ages since I'd been.
We started by splitting a beef dumpling, a flaky pastry with beef inside. I thought it was tasty. Sue thought it should have been deep-fried a minute or two longer and wasn't crisp enough.
We both had congee, hers with spicy pork, and mine with pork and preserved egg. I have to say that the texture of it was amazing. This is why people like congee: this silky smooth comforting texture that will remind Chinese people of a home kitchen, or perhaps being fed this when sick, as one of the most neutral and easy foods to eat. I approve.
Our you-tiao, or what my Dad called 'greasy sticks' came at room temperature; I'd prefer mine hot; a pal Josh says it's a regional thing. They were fine, neither here nor there, and perfect for dunking in the congee (or 'jook' as my family cooked it, usually a big batch made of leftover turkey carcass after Thanksgiving or Christmas).
So, easy enough and not expensive. It was hard to flag down service after they were apparently over-attentive when Sue arrived, and you pay as soon as they take your order. Are people doing a runner here, or is this another tradition? I hate that the Chinese tea costs $3.50 a cup, per person (rather than say free at yum cha, or an unlimited few pots for a few dollars at yum cha). I seem to recall their dumplings are pretty good. If you've got the craving…