It's interesting when a restaurant has such a buzz that people have heard of it moving to Sydney without knowing where it is exactly, or in my case, that I didn't exactly know what kind of food to expect (a Modern Australian take on Thai food). For the last decades, the Griffiths Tea Building has been awaiting something to happen… it's an unusual shape but striking, visually, and I think it's exciting that it's finally been done up, and has tenants like Chin Chin.
Lai Heng and I popped in for a Monday lunch and the place was buzzy. Lots of wait staff, kind of this feeling of anticipation in the air, and folks happy about being in a much-lauded restaurant. Packed by the time we left.
So, lots of room for potential disappointment with restaurants like these (and seems that some reviewers have already been disappointed…) But we found none. The goat curry (above) was a standout. I love the flavour of goat but goat curries are filled with bones. Here the meat was off the bone, in a delicious intense sauce.
A crispy salmon (with skin) and a refreshing spicy salad was also pretty much perfect.
Lai Heng asked how they get the soft-boiled eggs so perfect. I reckon it's those 62 degree eggs… going perfectly with the rest of the plate, which you can see is an appealing combo or fresh herbs, raw crisp of vegetables, an intense chili sauce, a bit sweet, not too spicy.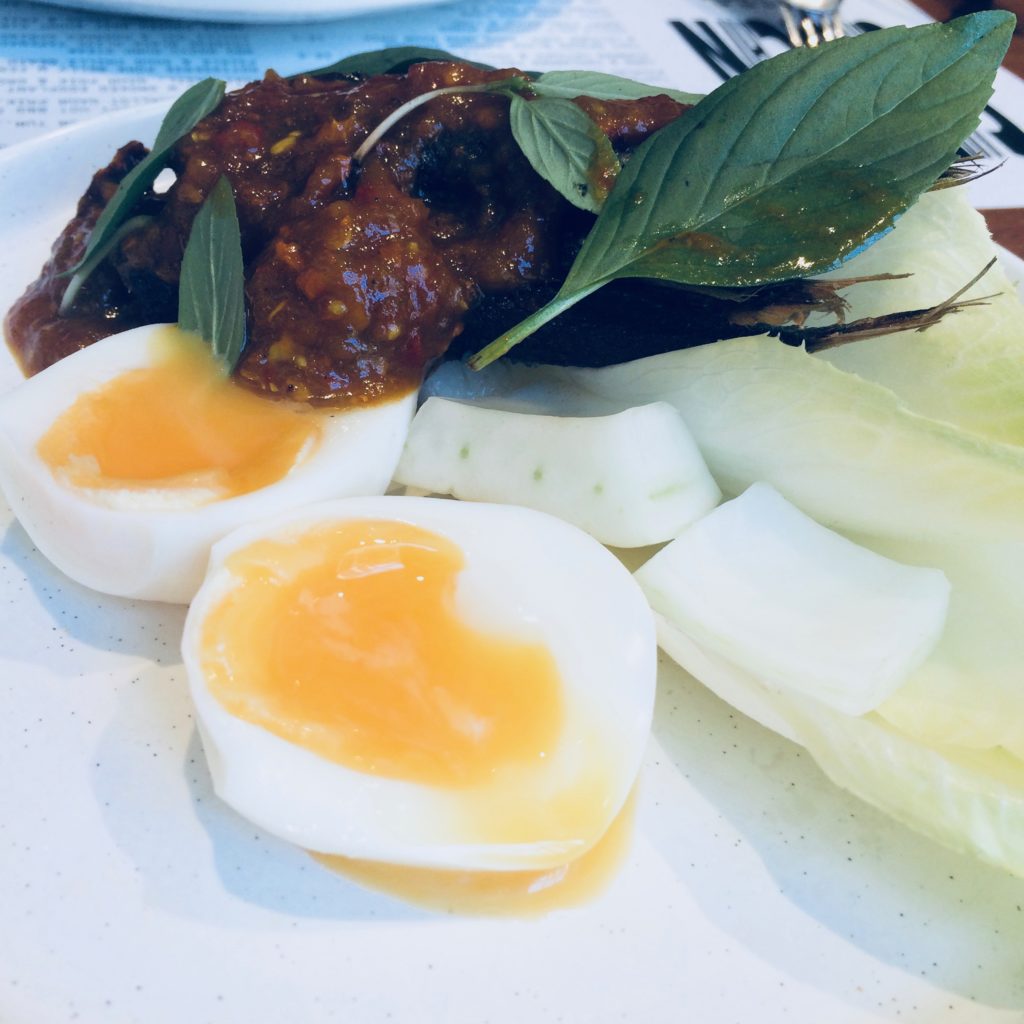 We were very much intrigued by the charred green cabbage with peanut relish, coriander and soy, and the sauce was addictive and beautiful. We both loved it. But here's the thing. We couldn't figure out how to eat it. We couldn't manage to rip off the cabbage leaves from the base. Only a handful of the inner leaves pulled free. Uh. We were confused by this dish.
A vegetable, two mains and a starter were good enough for us to split for lunch; the waiter had recommended ordering much more, which we wouldn't have managed. I'm sufficiently impressed to want to go back for dinner… and bring other friends.