I've been to Momofuku Seibo at least twice (and loved it) but haven't been to try it since the new chef, Paul Carmichael, Barbados-born, arrived. This was a thrilling, fun, tasty and memorable meal. I've never had fine dining combined with Caribbean flavours, especially not in Sydney, and combined with the always fun experience of sitting at the counter, I found this a wonderful birthday meal.
As a non-consequential anecdote, I happened to surf the New York Times on my iPhone at one point during the evening, and they had a story about Australia and wage earners (like in restaurants) and there was a photo… exactly like the one above. Taken from the same angle of the chefs at work. Shazam. Weird.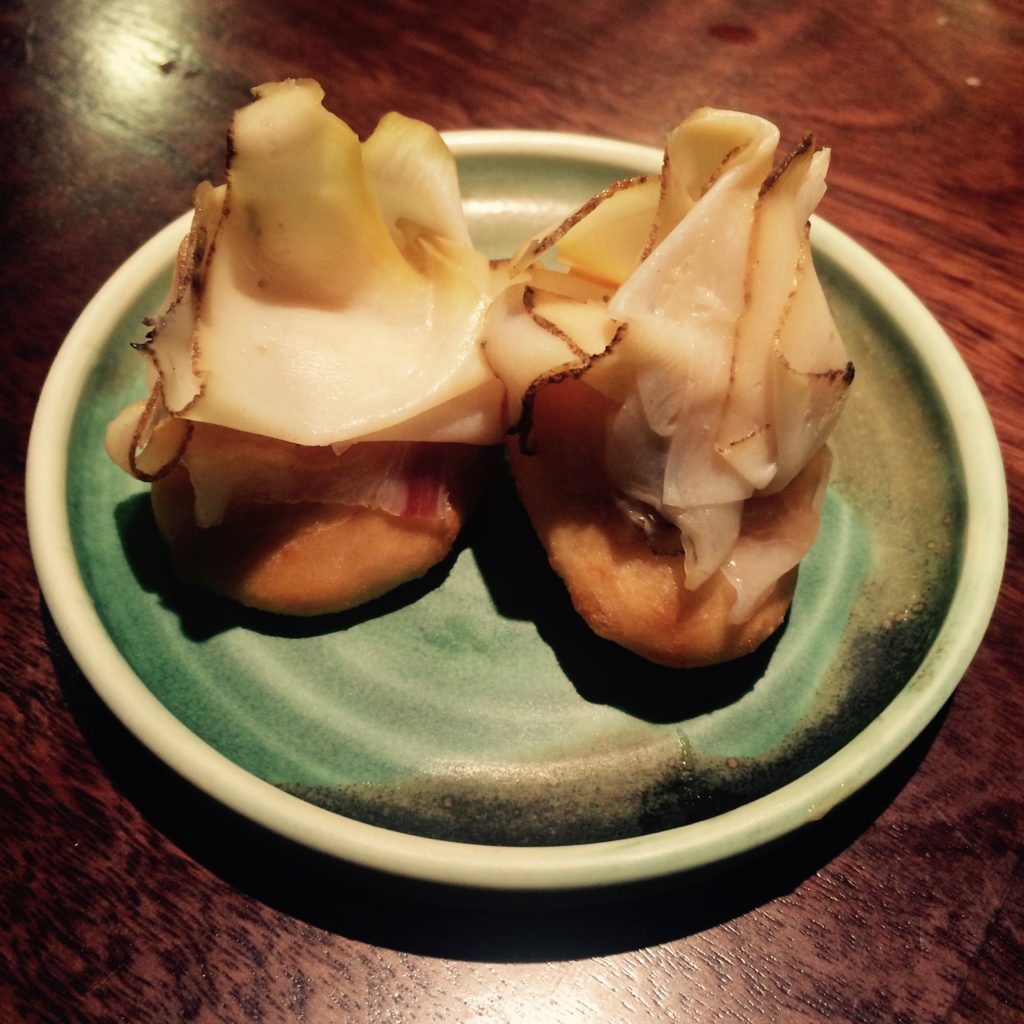 In any case, you want to hear about the food, don't you. There was a bit of crustacean and shells, but no fish, interestingly. Finely slivered abalone with lardo on a tiny fried biscuit was an interesting start.
We were introduced in advance to our main course. My husband said, 'I'm not sure I needed to see that.'
These plates are divine. We couldn't actually understand the chef who served these up, but it's an escabeche out of military snails, with a tiny shell of plantain. So, see, there are Caribbean flavours and ingredients, but look how delicate the dishes are.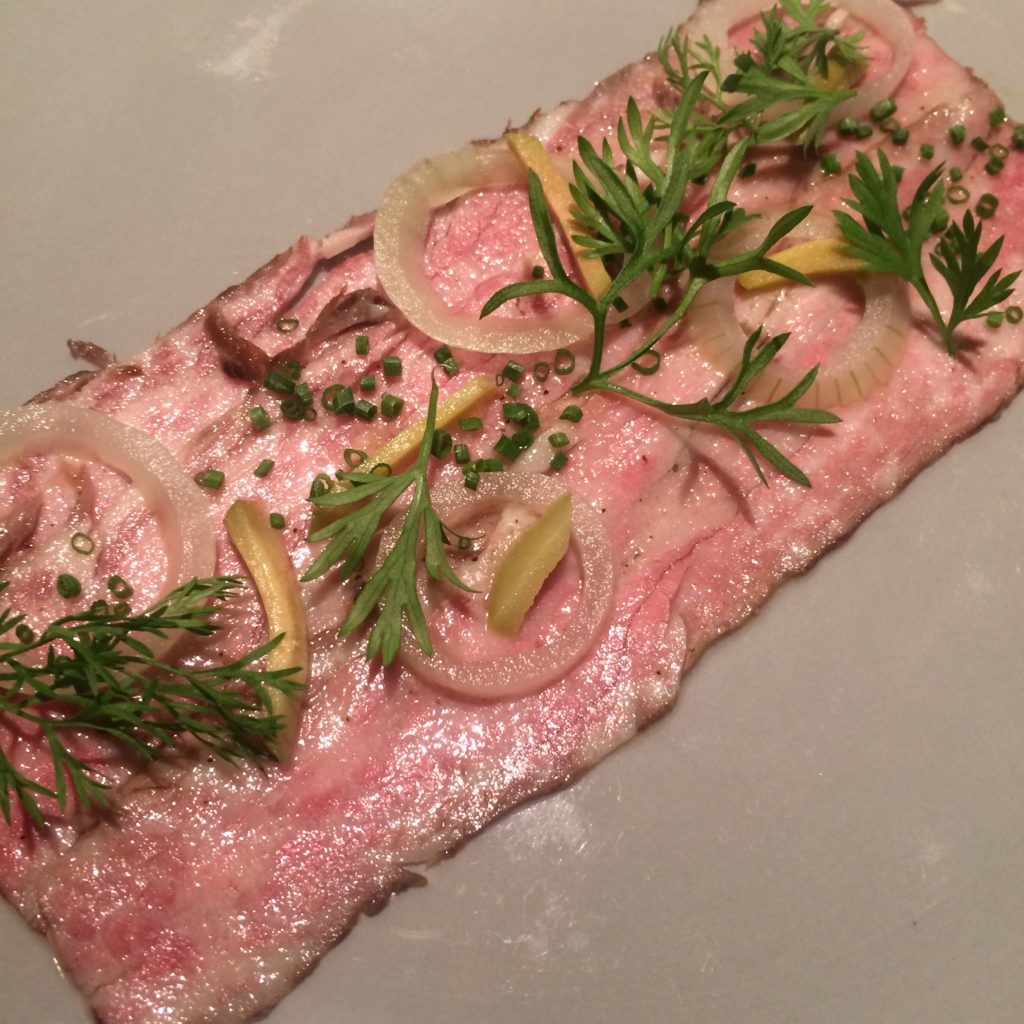 Short rib, cooked forever, just the thinnest slice with onion and herbs. I noticed a pronounced lime and citrus flavour in many of the dishes.
I have to say that I loved how simple this dish was. Zucchini, pumpkin and a Caribbean hot sauce. Looks like you could make it at home… but you probably can't.
This was a standout for me. Curried crab with 'rice' (I think a number of kinds of different grains). Many different textures here… and a yummy curry sauce.
We are approaching the culmination. Koji butter and uh, some sort of berry, and this awesome 'busted roti'. I've had rotis before (and always like them) but this was crisper and swimming in way more butter than I've ever experienced. But of these sides were perfect for…
Incredible, perfect marron, a generous amount of meat, again swimming in butter, and god, this was a memorable dish (one of the other Zomato reviewers talked about a lack of standout dishes, but I can still taste this one a week later).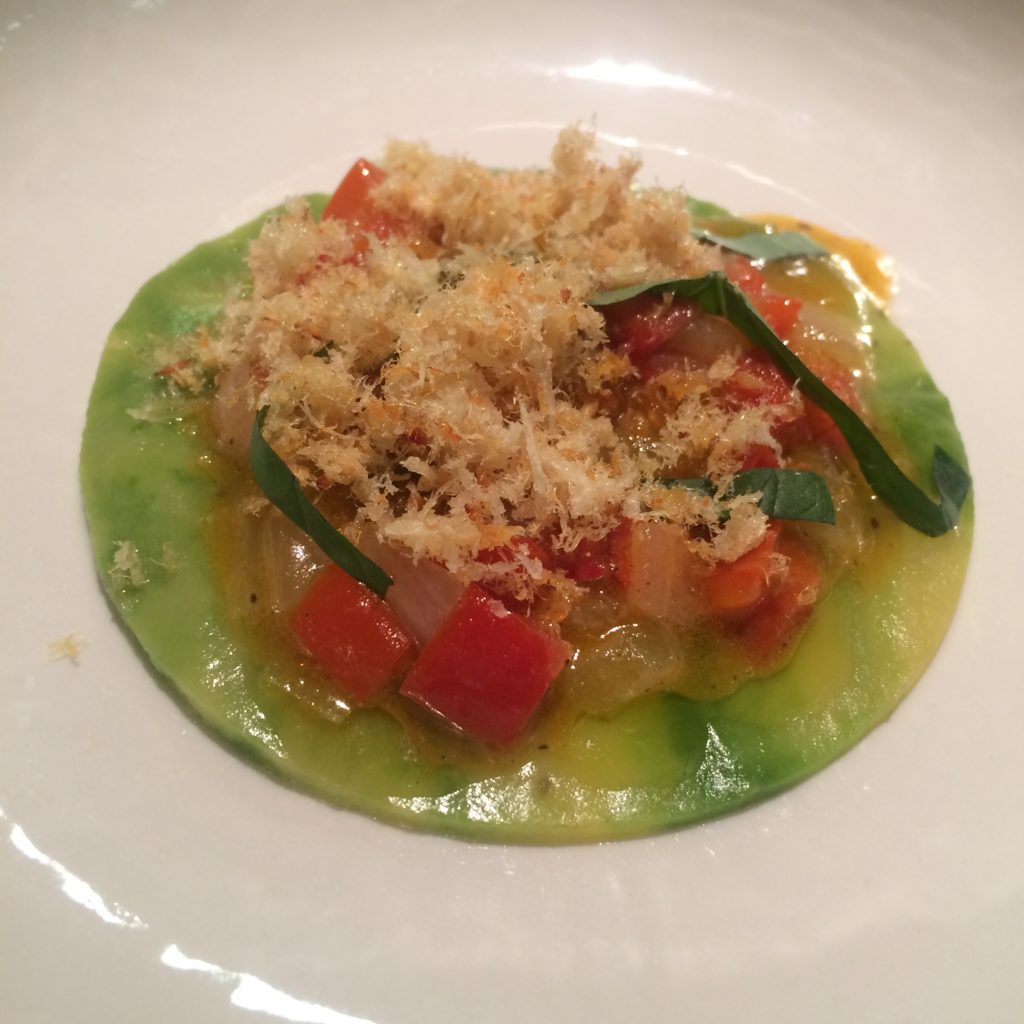 I kind of love this too. It was really only a mouthful (magnified by iPhone). Apparently, a classic Caribbean breakfast dish of avocado, salt cod (the crispy bits) and cassava. I wonder what the original looks like. This had simple flavours but came together in a really interesting way.
The pork, served with some sides, was perfectly done. That was the end of the savouries…
Yoghurt in a banana leaf oil. Nice.
This burnt coconut ice cream (with cashews and pastry wings) had a spectacular flavour. I've had many flavours of coconut before, but this struck me as unusual.
Two bitefuls of dessert, a tamarind jelly, and a tiny rum cake with marzipan and raisin (the cylindrical things). Nice mouthfuls.
This was the only thing we didn't like. A 'black b'. A tiny hard molasses ball. Didn't know what to make of this one. They offer a few different options for matching drinks, which I think is a nice touch. A non-alcoholic version. A bigger match (I think it was 8 glasses? Guess who had that?). And a smaller match (4 glasses, had by husband). They were OK. Some interesting selections. An orange wine. A sake. A cider. Nothing mind-blowing.
And then, I honestly can't remember telling them it was my birthday. So, I was really surprised and pleased when this beautiful dish came out with a baked Italian meringue…
And complete yumminess spilling out… A very charming sommelier who took care of us, and good service all around. This is a special occasion place; it's expensive, and while we weren't overstuffed, it is a lot of courses, which adds up. Not something you need to do (or should do) regularly… but boy did I love this meal. I wonder if anywhere else in the world is doing something similar. It makes me feel lucky to have tried it.