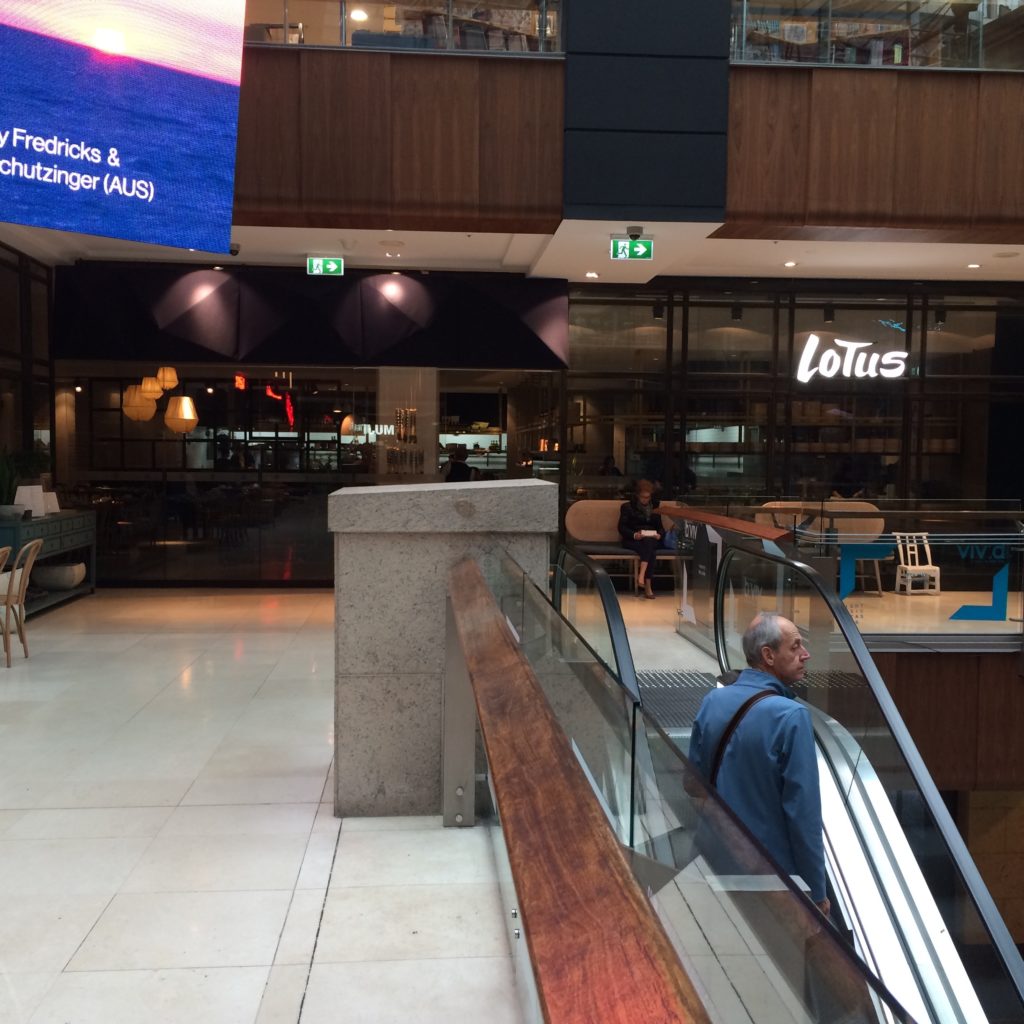 In some countries, fine dining can't be found in shopping malls, but these days in Sydney, there are some pretty swanky choices. Lotus, in the shopping centre, the Galeries, at George and Park Streets, is upmarket and chic with very modern furnishings. It all looks very shiny and new. The menu is modern Chinese, and it was hard to decide what to order. It all looked pretty interesting.

The occasion was a casual lunch with fellow foodie, Lai Heng, and the food was really very delicious. The oysters, with a very light Asian-inspired vinegrette were perfect.
These gorgeous little Xiao Long Bao, soup dumplings, had mud crab in them! Adding to the richness of the pork and the broth, they were earthy and luxurious, and look how pretty they were.
I'm not sure about the deep fried eggplant. The execution was perfect and they were crispy, with a bit of sweetness. The chili and the coriander offsetting the oil and honey. There are many other ways of cooking eggplant that I like better (hmm, like steamed, or really fried up with some spice…)
This was a standout. Shanghai pork spareribs. Almost like a crispy honey garlic ribs, and not exactly like sweet and sour ribs. Somewhere in between with a bit of vinegar and honey, very crisply fried, tender, delicate. Yup, this was a good one.
So, I was unprepared for such an elegant meal in more ways than one. I had an appointment to get to, and thought as an Asian meal, it would be relatively fast. Instead, the waiters were really trying to stretch out the experience, make sure that we got our dishes one at a time and with a break in between. Even at the end, when I finally had to indicate that I was in a rush, asking for the bill early, and trying to arrange to pay, it took them forever, to fix up the bill, to bring the takeaway container for the leftovers (too much for the two of us). Bless them, they really seemed to be trying hard, and yet it all felt a little slow and awkward (and they forgot the rice). It was a mismatch between what I needed (a casual meal, not too leisurely) and what was provided.
Still, I was pretty impressed with the elegance of the place and the interesting menu, and I wouldn't be averse to giving it another shot. Ah, and almost forgetting this dish: native crystal ice plant with enoki mushrooms, cucumber and black vinegar.
So, apparently, the crystal ice plant is a succulent that grows near the ocean (the waiter said it was from Western Australia), related to Barilla, Saltbush and Seablite. It had a really interesting flavour, almost as if it was holding in moisture, and I absolutely adored this melding of a native Aussie ingredient with Asian ingredients and coming up with something very contemporary. A dish like this does make me want to return. I'll just make sure next time, I'm not in a rush.