Australia's only Cypriot food… authentic, farm to table and homemade ingredients.
There's something really interesting happening at Kerasma Souvlaki Merchant in Newtown. My friend and I were shouted to a special meal there by Peter, and we discussed it afterwards. In a way, this is cutting edge Sydney dining.
They're curing sausages and making their own haloumi in the kitchen, using their own olive oil, and importing rabbit and goat from a farm in the Hunter valley. It's all about fresh, seasonal, local cuisine. Other restaurants are using the same philosophy and are considered at the cutting edge of Sydney dining. But my friend, F, points out, it may be hip in Sydney right now, but it's also very, very old.
I think the slightly confusing part is that the restaurant looks so humble. On the busy sidewalk outside Newtown Station, remodelled and cleaned up a number of years ago (Kerasma has been around for three years), I think the restaurant has to appeal to the mostly modest tastes of Newtown. Accordingly the prices are very reasonable, and the menu is accessible. Yet people may think they're having more regular food than they are, and if they're expecting regular Greek food (and souvlaki), they may get confused.
If you're lucky enough to be in the know (and if you're reading this, consider yourself in the know), there's something quite special and fine dining that's peeking up through this cooking, though it seems humble.
Check out that the kitchen takes up about half of the whole floor space of the restaurant!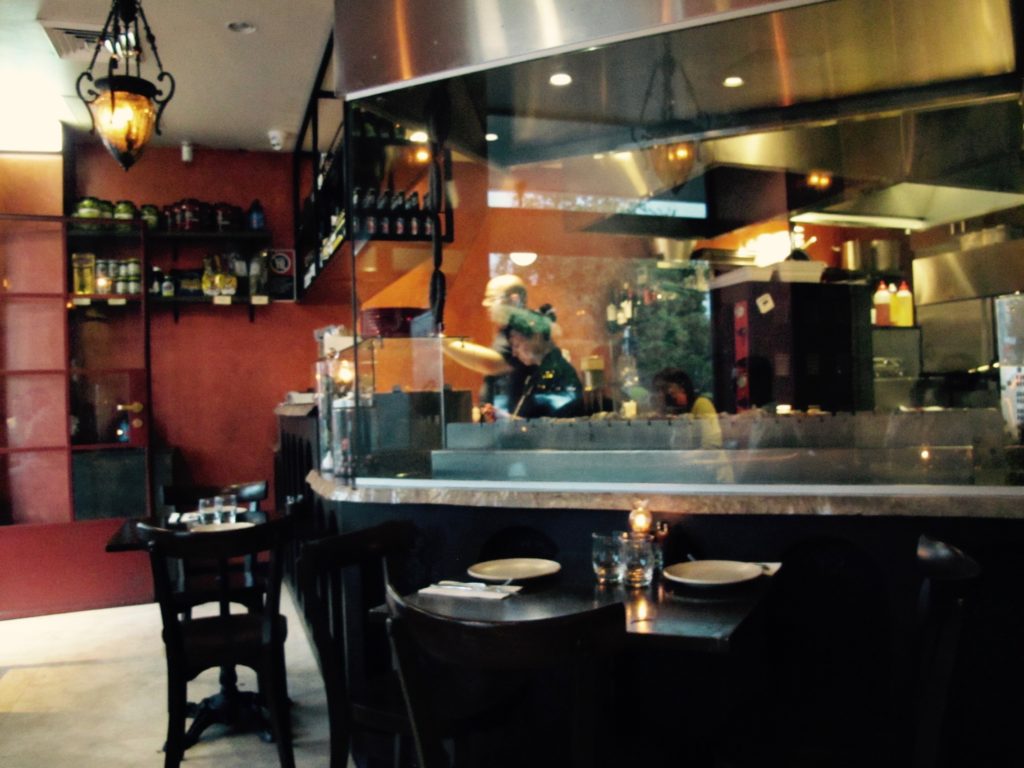 Skate as an appetizer, confit in their house olive oil, was absolutely delicious, and quite exotic. I'm not sure another time I've had skate in Sydney!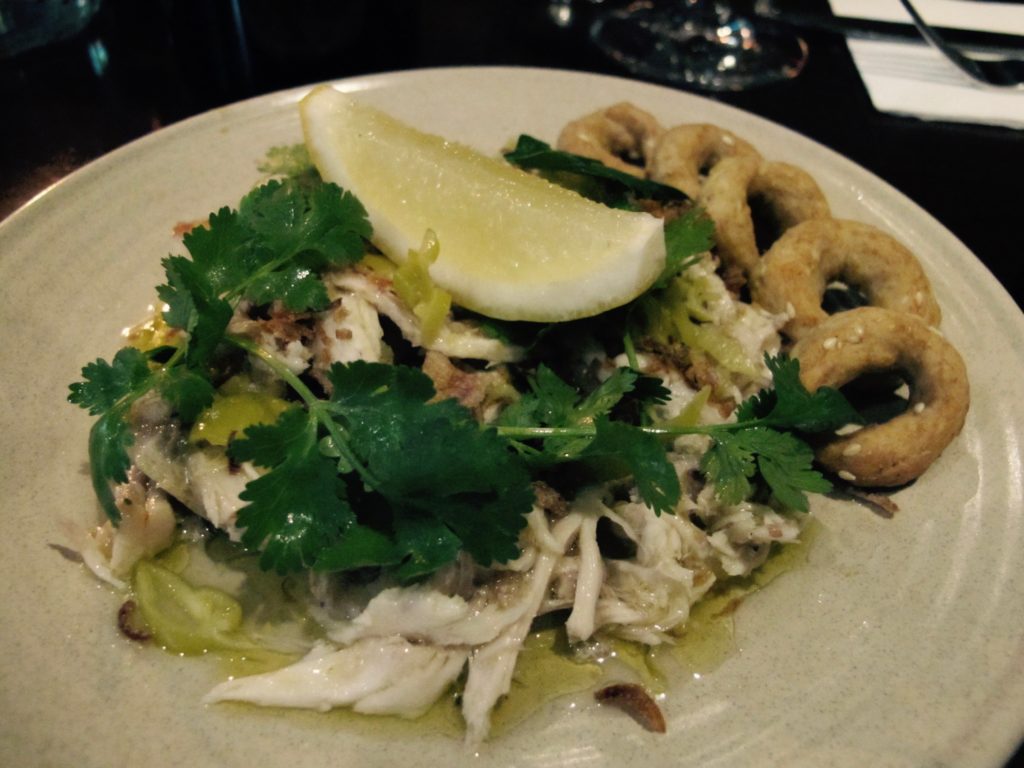 I always like these bullet-shaped pastries made of bulgar wheat and filled with mince beef. I found these very, very delicately done.
And then the haloumi. My god, this is tasty. Homemade, half of sheep's milk, half of goat's, it had that fabulous rubbery sound and texture when you bite into it, and was delicious. Not a delicate dish but something very special about the flavour.
We opted for one of the grilled souvlaki dishes: this was a homemade sausage, rich and dense. F. particularly liked it!
Splitting one main, after all those first courses, was enough (and wise): we had goat, very tender, stewed and with some crunchy baby potatoes in the mix (see the photo at the top of the post). I like goat. It's got a distinct flavour. I suppose it might taste like lamb or beef if you weren't paying attention, but I think it's unusual. This goat (and the rabbit) is from the Hunter Valley, and the goat is very much like the goat you would get in Cyprus, apparently.
Ah, we washed all of this down with a beautiful, soft and smooth red wine, a 2013 Enotria Red, a Cretian wine. Strangely, Vivino tells me that this wine is cheap as chips in the USA, a average of $7.50 a bottle. We'll ignore that little fact (also that I suspect you wouldn't be able to find this wine easily elsewhere in Australia).
Finally, for dessert, triandafillo: a simple rose and almond milk scented custard, 'watermelon rind spoon sweet' and slivers of toasted, crispy, sugared almonds. Very nice and not too heavy after all the rest.
We had a lovely chat with Peter after the meal along with some fresh, hot Greek doughnuts (yum) and a little Greek brandy (very smooth, chilled).
'Kerasma' means to shout or treatment someone for a meal or drink, and there's a rather good story about how a monk gave Peter the name for his restaurant, in the same script that appears on the sign, inspiring him to take the step and open his own restaurant, after being a chef and executive chef for others.
Peter believes this is not only the only Cypriot restaurant in Sydney but in Australia as well. His passion for food and his philosophy are inspiring, though I think he's far too modest a sort to turn Kerasma into the next hip eatery with lines out the door. So sneak in here yourself, pay particular attention to the daily specials (and the recommendations of the wait staff) and tell all of your favourite people about this unique place. It's a gem.