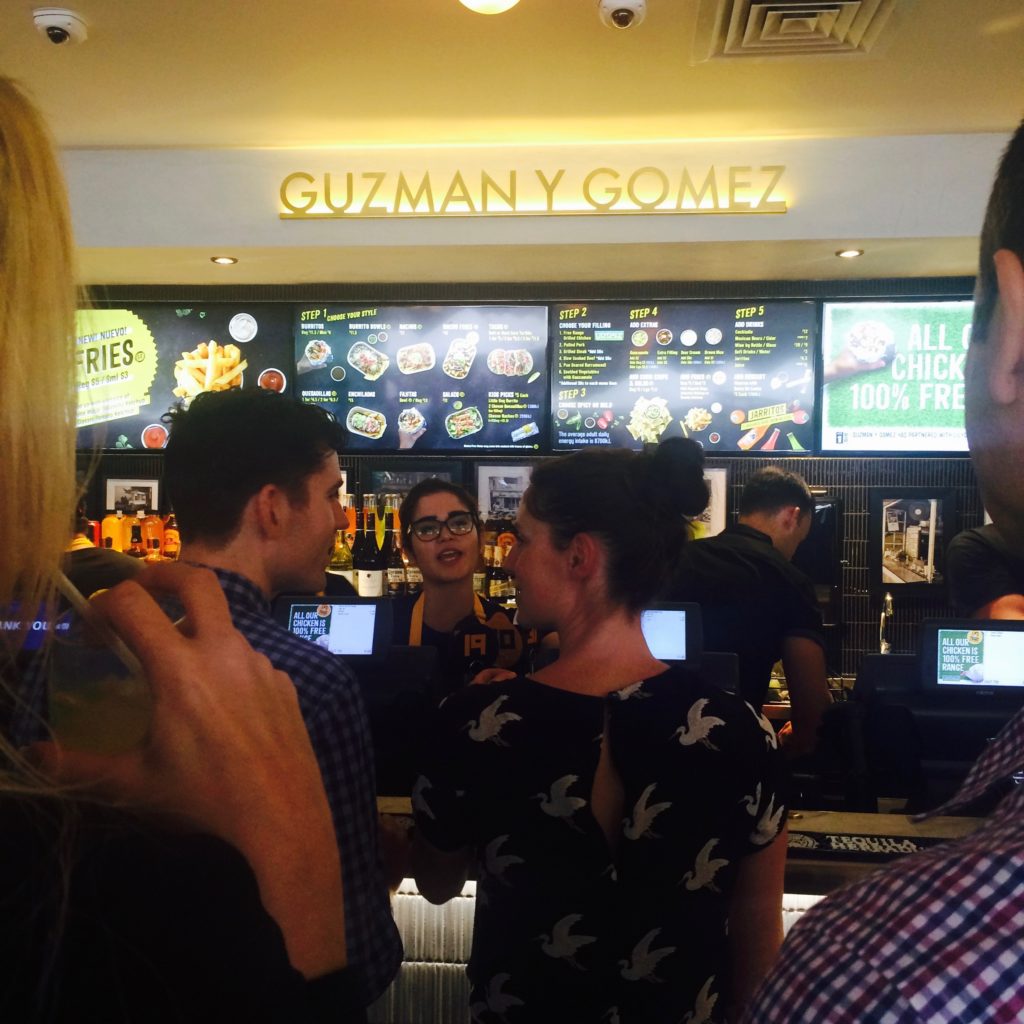 Reopening in the courtyard: fiesta!
Guzman y Gomez celebrated its 10th birthday on Wednesday night with a move on its Australia Square location from inside the Food Court to outside in the courtyard. It's a perfect location really. This place is packed all the time with workers, and I reckon now they'll go from having an after-work bevvy to having a bevvy and a taco.
I remember when Guzman y Gomez opened in Newtown. It was always a great concept: bringing high-quality, authentic Mexican fast food to Australia. As a North American, I was used to cheap Mexican food at chains, but missed having it when I arrived in Sydney.
I've always found them dependable and tasty. The burritos are kind of way too massive for me and stuffed with rice, but then the last time I was in New York City, that's the way they were serving up burritos from the many El Salvadorean, Mexican and other Central American casual eateries around town. But that's an aside.
G y G are now an empire with around 20 locations in Sydney. This branch is now serving margaritas, not the frozen kind, but very tasty, on ice, with Herradura tequila (wow, amazing they're using an expensive tequila; the cheapest tequilas can really be nasty).
It was a fun party. The Corona beer and Margaritas were being passed around, and food was coming out at epic speed from the kitchen, as they were not only passing around trays but taking everyone's order. Amazing how many people they were serving up!
Aside from the afore-mentioned tasty Margarita, I caught some fries (crisp, tasty) and some nachos, and finished off with two quesadillas, one with barramundi and the other with chicken. G y G have gone completely free-range, and all power to them. I think it's a great ethical and marketing decision. And really, this food is all of what Guzman y Gomez are about: fresh, tasty, high-quality ingredients served up perfect and piping hot with authentic flavours. It's Mexican street food that happens to be fast, but not the fake Mexican fast food of old (well, of ye olde days in North America, did they ever have fake Mexican fast food in Australia?)
In any case, one of the founders gave a touching speech, everyone was in a jolly mood, I got to hang out with amazing blogger Lisa from Weekend Food Escapes, and saw Simon and some other foodie-types. And then I had to cut out early (which was probably a good idea considering how I am around free alcohol).