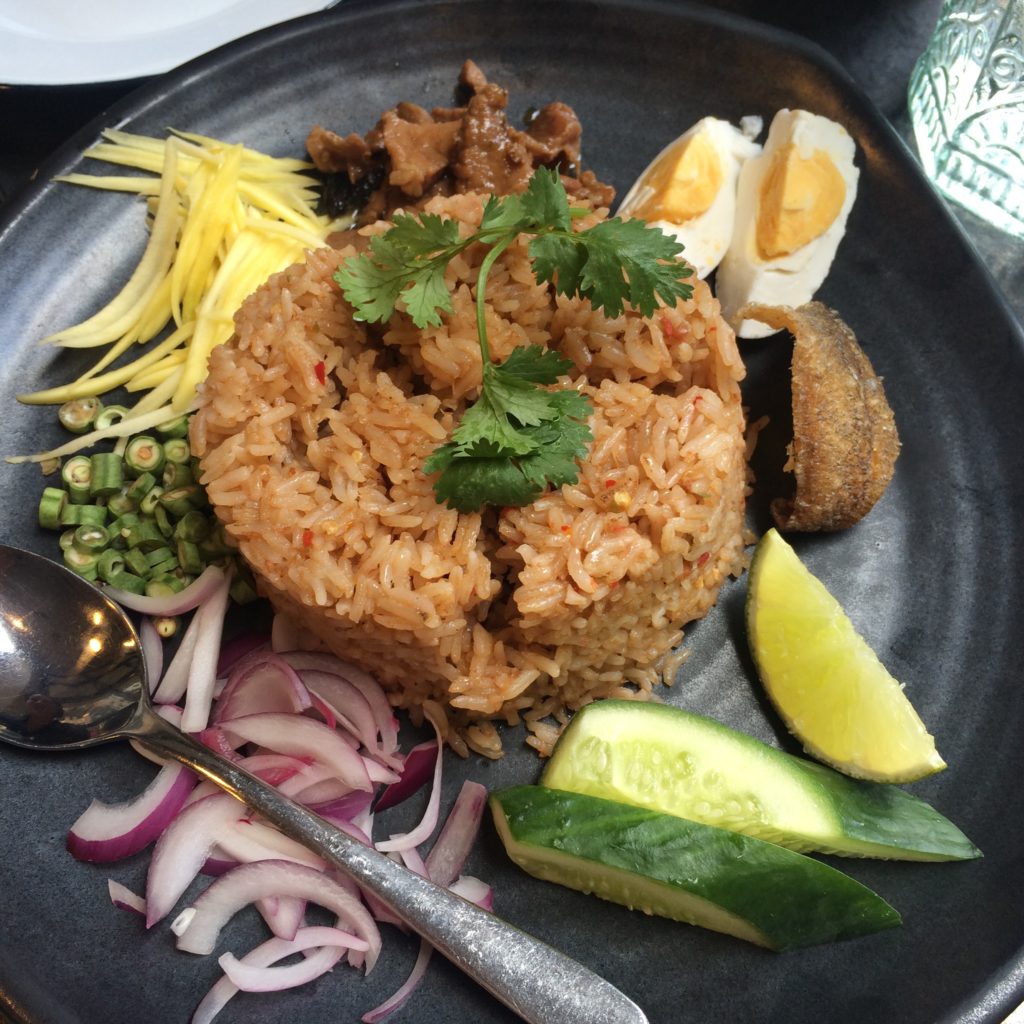 The idea of a cool fusion Thai cafe in the middle of an excellent Thai grocery store is pretty appealing; when the folks bringing it to you are Chat Thai, that's even better.
I think that's the reason why I didn't write a full blog in September 2015, since I didn't have a great experience then, but didn't want to slam the place.
As a food reviewer, unless the food or service is really heinous, I think we should try to allow a bit for human failings, and hope that it's an anomaly rather than the norm.
So, I'm pleased to report that a quick, casual lunch at Boon Cafe last week was… delicious, and made me interested in going back and trying out all their dishes. Such an interesting menu!
Admittedly, the spicy seafood noodle salad ('Yum Ba Mee') was too spicy for both of us. I always think I have more tolerance than I do. And I loved the zing, and being challenged by the spice… but ouch. A little too hot.
I thought the Boat Fried Rice would come with ingredients all fried together rather than presented individually, more like an Indonesian Nasi Lemak. It was tasty, and each individual side here had loads of flavour (photo at the top of the post!)
My last time here, when I wrote the short review below (viewed 3330 times, apparently, in about 14 months on Zomato), I had the century egg with pasta, which was really delicious. Minced pork, fried basil, yummy egg noodles: the texture combination was great!

'Oh man, I was so hungry. Sunday lunch. Popped in this packed little cafe, the left-hand third of a Thai grocery store, and sat down to quintessential Sydney: a wonderful fusion of Asian sass with Sydney hipster food; a charmingly worded and interesting menu; lovely Thai waiters. Associated with the amazing Chat Thai around the corner, it seems to be a bit of a fusion of Thailand and Sydney, a bit of experimentation and fusion going on.   Not sure what was happening though, the service was super-slow and coming out one dish at a time.
This chilled matcha latte helped. Mmm. Sweet as it was (and sweeter than I expected).
And then these fresh egg noodles with thousand-year-old egg was sooo very tasty. I hope the service is quicker next time, but by god Thai food in Sydney is great.'
I think the flavours really sing here at the Boon Cafe. It seems like the service during my first visit was an aberration. All is forgiven!