I like the Australian word 'spruik'. Except I've been pronouncing it wrong. It's sprook, rhymes with Luke, not sproik, rhymes with… well, not anything I can think of.
It means to either promote or publicise something or to loudly advertise something outside a venue, with your voice, like the guys in front of the strip clubs in Kings Cross.
In any case, if it sounds like I'm spruiking Nyonya High Tea at Ho Jiak, my new favourite restaurant, it's because I am. You can stop in here on an afternoon on a weekday for bubbles and Malaysian snacks, a few favourites and mostly sweets. You could also actually have tea (or the Malaysian mixture of tea-coffee that I've never really inclined towards) but hey, why would you?
The idea of it, really, is pretty wonderful. I'm up for bubbles anytime (in this case, it was a basic and tasty Australian drop, the Brut Carview Marview 2003 from McWilliam's) and I like Asian snacks. While I've tried a few of these already at Ho Jiak, I haven't tried all of them, and my Malaysian friend, an expert in Nonya cuisine (Malaysian cuisine with a Chinese heritage, her grandmother made it) and I chowed down. It was a very, very pleasant afternoon.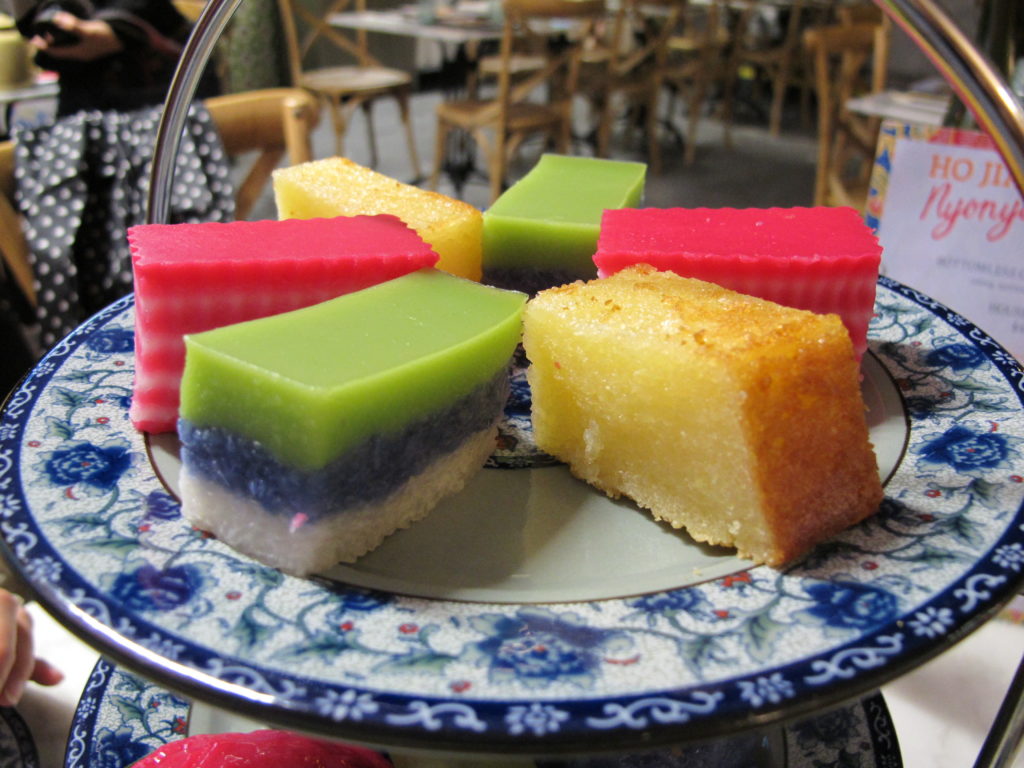 $25 for bottomless tea and coffee, and $40 each for bottomless bubbles… along with these lovely plates of delight. Special mention this time to the one with the blue rice and coconut jam on top. Scrumptious!
In the meantime, Ho Jiak seems to be preparing new menu items. I like that they're always trying to do better, and make more interesting dishes, and shake things up. There seems to be a real commitment to quality and innovation. I'm looking forward to the next meal there already.