So, what could be better than a little izakaya next to the water in Sydney? Not much, I think! Hicksons Izakaya has not been open that long, and is a welcome addition to the dining options in Walsh Bay. It's a location that has its benefits and drawbacks: it's busy every time there's a show at the Roslyn Packer Theatre (formerly Sydney Theatre Company) but quiet the rest of the time. They're trying to build up their lunchtime trade too; we were there on a very quiet Tuesday night.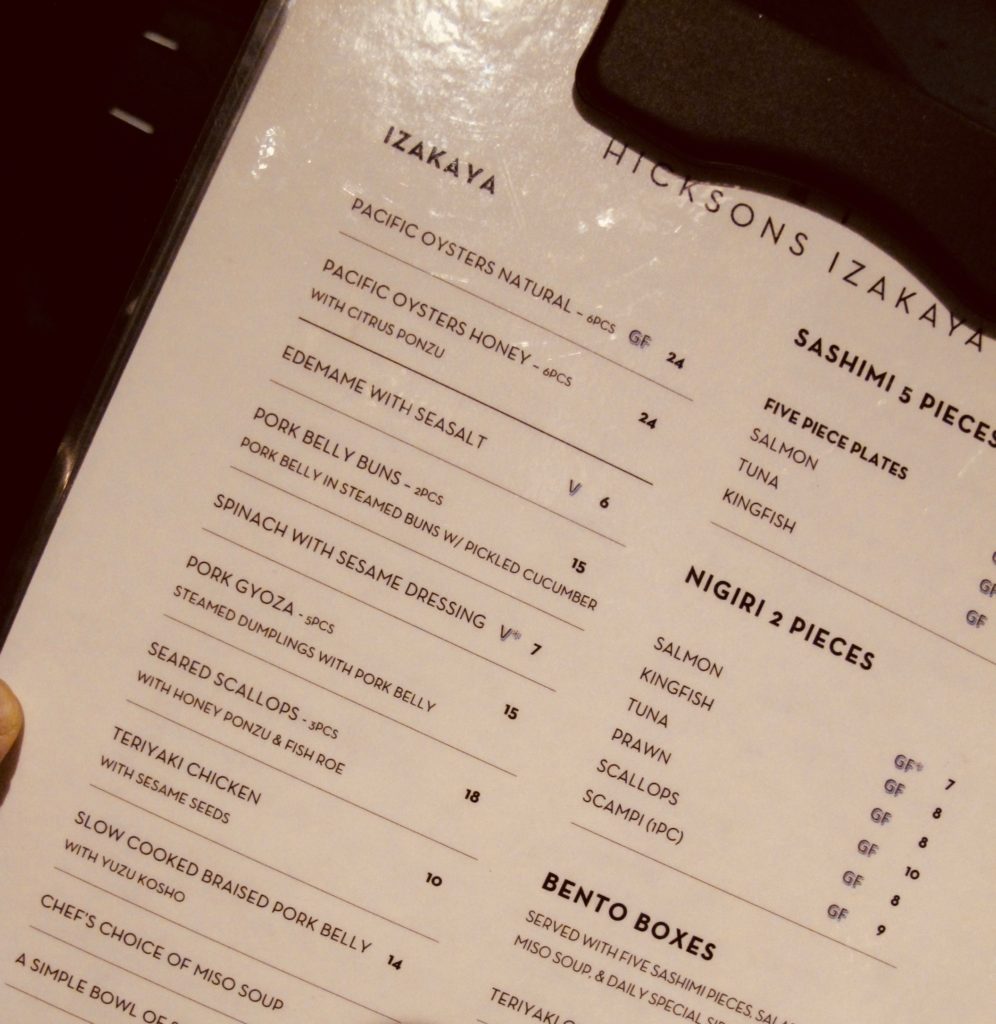 Izakaya is, I think, the original degustation, but much less formal. Originally Japanese pubs that served small plates of food, it's a great way to get a varied selection of tasty treats. And basically everything that we tried that night was very delicious and beautifully presented.
I love that they have a little sake tasting set; it was only $10 for a taste of three. We had a set each and both opted for the two dryest, Karatamba and Jumnai Chokra, and a fruitier variety, Jumnai Daiginjo. Very nice.
The spinach with sesame dressing ($7) was perhaps one of the nicest versions I've ever had of gomae (Japanese spinach salad). I mean, look at it: it's sculptural.
Seared scallops with honey ponzu and fish roe ($14.50) were cooked delicately, seared and had a sweetness, as well as a beautiful texture.
Five pieces of sushi: delicious. And pretty.
The classic gyoza with… I think they were threads of… chili? Beetroot?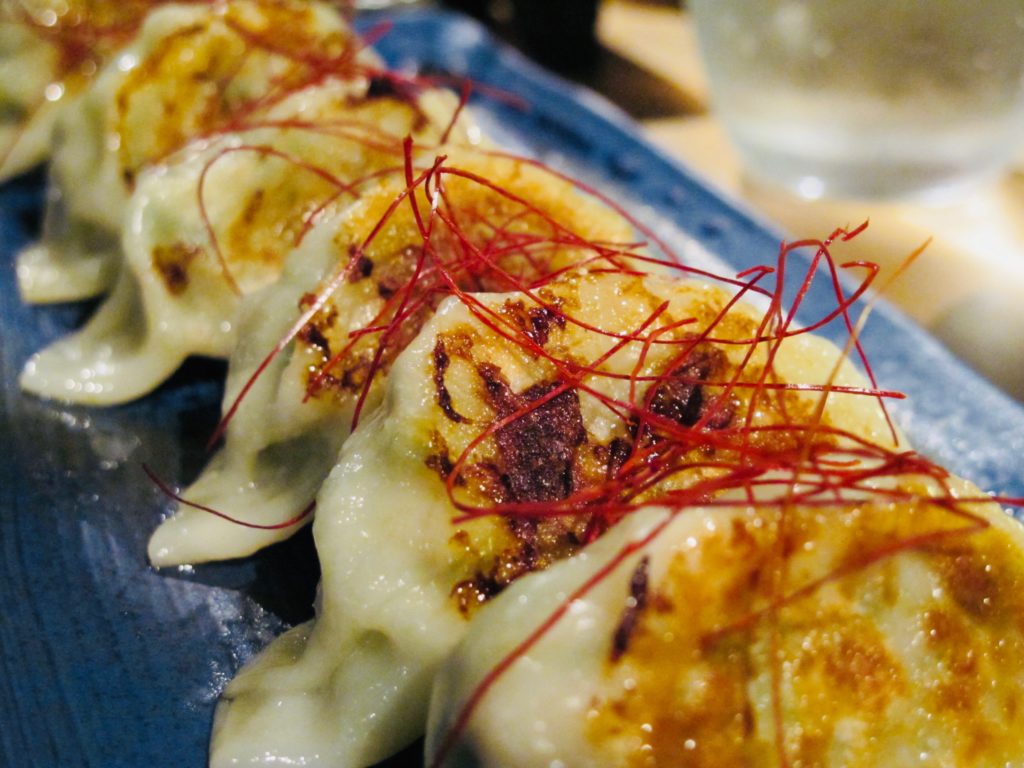 The main, and final savoury dish, was seared salmon filet with a miso cream, barely cooked ($24). It was delicate and scrumptious.
We were particularly amused at how pretty the plating was – and the salmon roe tasted good too.
Finally, for dessert, tiny balls of ice cream wrapped in mochi and with chocolate sauce ($10). I've tried these before (maybe in Hawaii) but I'm not sure I've had them elsewhere in Sydney. I love the texture of mochi, a rice flour wrapper, and it's a nice and surprising match for the ice cream.
We were really, really impressed. Great setting, delicious food, and very good prices actually (restaurants around here tend to be pricey). I'll definitely be back here for a pre-theatre meal, and I give it a high recommendation!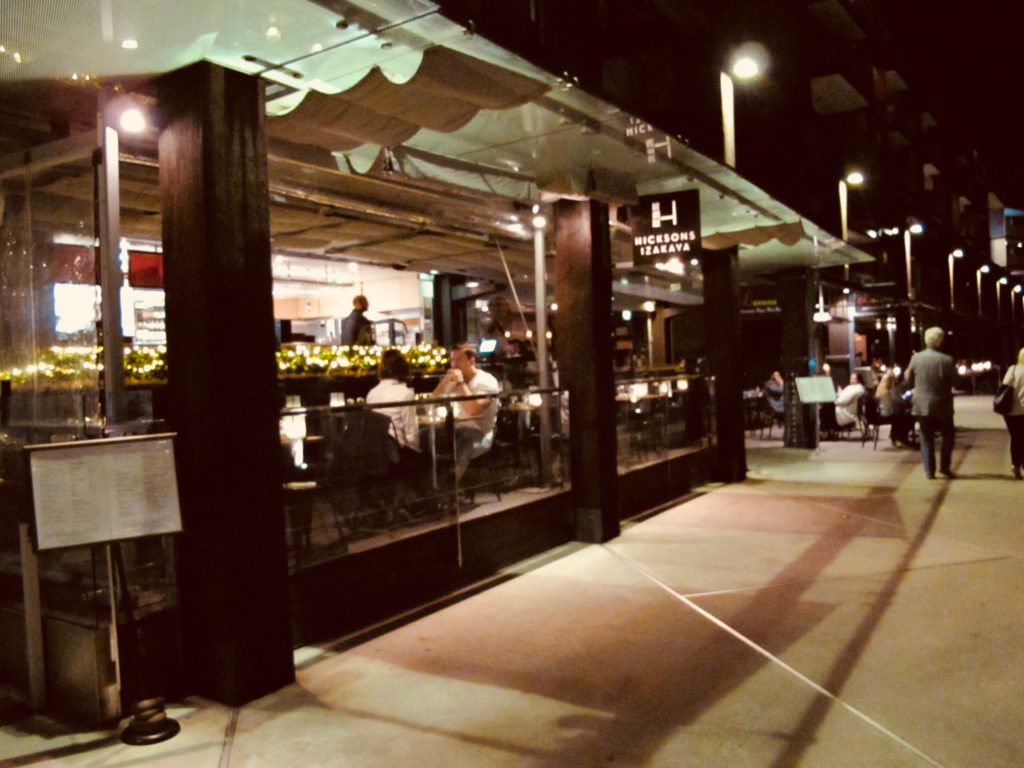 We dined as guests of Hicksons Izakaya; the opinions are my own.