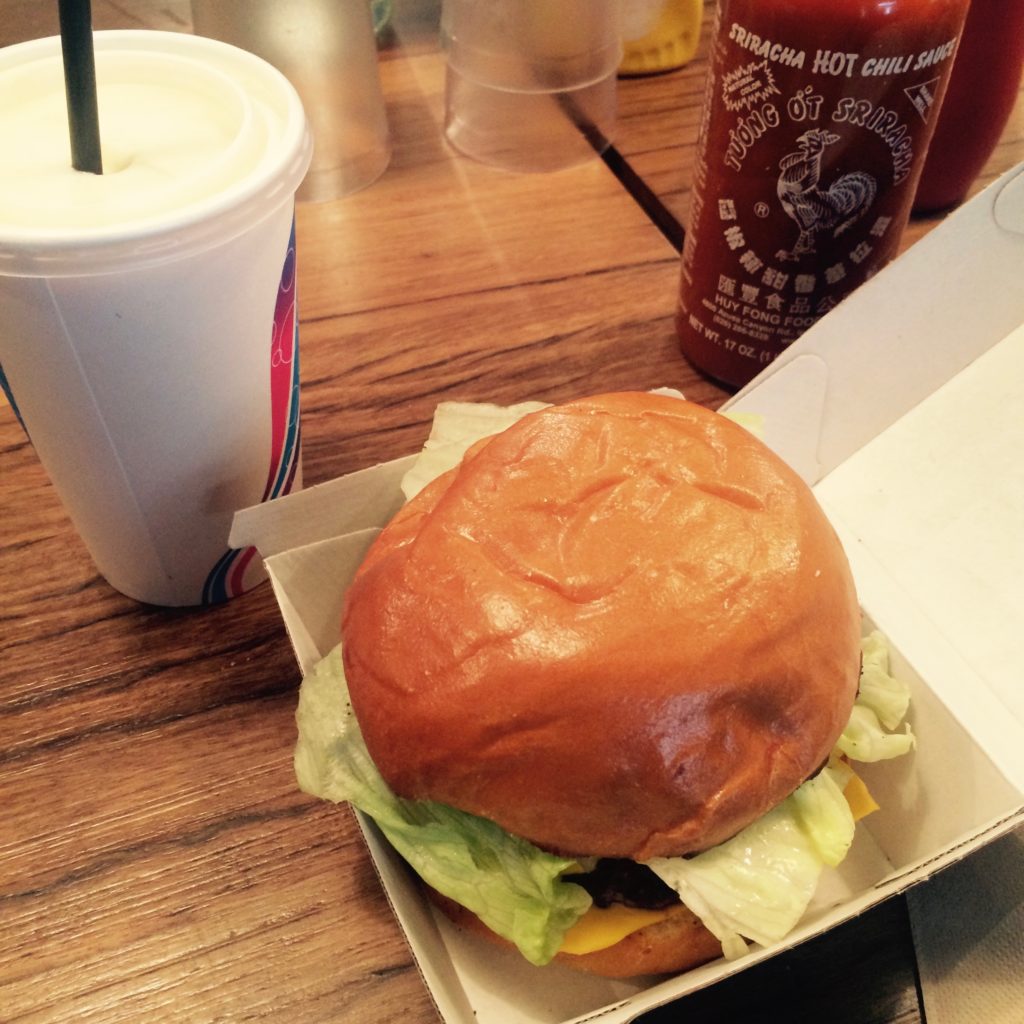 A number of years ago, I used to go the restaurant Tomislav, a stone's throw from the Coke sign in Kings Cross. I loved it. I remember it being inventive and high-end, with sensational service, and reasonable cost. The delicious food and something about the attitude and approach excited me. So, I was sad when it disappeared. It took a while but I finally heard that Tomislav had resurfaced, as a consulting chef for a casual burger place in North Sydney. He was only there for a few months, but his name was enough to make sure I clocked this place to try sometime. It took me yonks to finally manage to get up there… it's only open for lunch on weekdays.
It's a simple menu. There are shakes. There are fries. And there are burgers. My lunch pal and I both couldn't resist "The Bronx",  a grilled beef pattie, double cheese, pickles, bacon, tomato sauce, aioli, onion jam, mustard and iceberg lettuce.
And though I tried to resist, we ended up getting shakes too. Mine, salted caramel, was thick but not too thick and very rich, and quite sweet. Delicious, and a manageable size.
And the burger: something so common, but how do a few stick out? Because this one does. It's salty, it's meaty, the chargrill bits and perfectly crisp bacon contrast with the super soft milk bun. The lettuce, the sauces: perfect alchemy.
Five Points, by the way, was a small neighbourhood in Lower Manhattan, crime-ridden and poor, in the 1800's. It doesn't look like it was more than a few blocks wide and long, where Chinatown and Little Italy are nowadays.
I'm curious how long this burger craze will last in Sydney. Is it the beginning? Or we in the midst? It feels like sliders are starting to slide off the menu, but the many prominent burger places – Chur Burger, Mary's, Bare Grill and others – seem to be going strong. I guess Shake Shack and Five Guys aren't disappearing from American cities… so perhaps this is the new burger landscape in Oz.