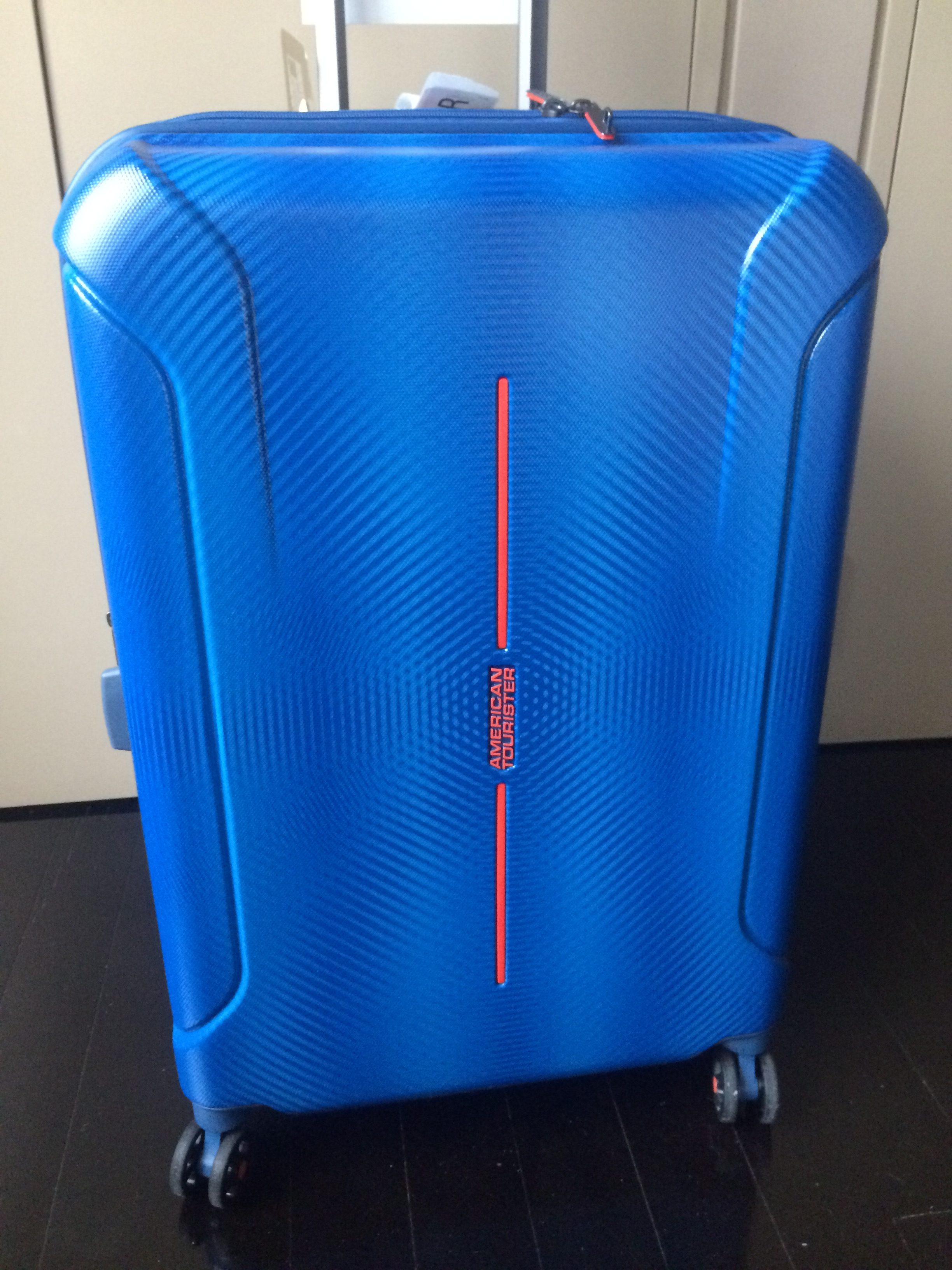 My last review on the Air Force 1 Suitcase (also by American Tourister) is one of my most-viewed blog posts, so I thought I should review the Technum as a public service!
So, here's a funny story: in the first months of 2017, I bought a new suitcase, the afore-mentioned American Tourister Airforce 1 to replace my trusty ten-year-old fallen-apart Samsonite.  As you can read in that review, I really do like this suitcase … except that I found it too big. It was the first hard-sided suitcase I've owned and the first four-wheeler!

But packing for three weeks in Italy in July 2018, I thought to myself, 'This is ridiculous. I can fit everything that I need into half the suitcase'. Even though the Airforce 1 suitcase moves like a dream, and wouldn't be hard to get around half-full, I had the idea to get the medium-sized suitcase of the same brand. Also, I saw that once again, luggage was on sale at Myers and I had enough credit card points to cover pretty much the whole purchase.
So, stressed out from packing, but with limited time, I used my last free afternoon to head down to Myers. The same model of American Tourister wasn't available but there was a good array of other suitcases, which I'd checked on their website beforehand. I sort of fell in love with the Technum, used my credit card points to pay for nearly all of it, and brought it home. It did confuse me that it seemed more expensive than the website's price but I didn't pay much attention since I was using my points. It was 40% off the regular AUD $359 price tag (still pretty cheap, I thought) so ended up costing $215.

I ripped off all the tags, and repacked my stuff, and yup, it was a better size. Except… it actually wasn't that much smaller. So. I pulled out my other suitcase and… Well, even though I had bought the Airforce 1 76cm and thought I was buying the Technum 68cm model, I had, by mistake, bought the Technum 77cm spinner, which as you can see really does look substantially smaller than what is supposed to be the same size Airforce 1.
Sigh. I'd ripped the tags off and I had no time to go and explain my mistake and try to get a refund. So, I went to Italy with it. And you know, that smaller size really did make a difference. It was just that much easier to get around trains and metros, move around airports and get into the trunk of rental cars.
It's a gorgeous colour. I like the textured pattern and the bright red contrast colour. It has the same really beautiful interiors as the Technum. I love the colour details and the various zippers and straps. I am really happy with it and loved travelling with it. I'm still a little curious whether the 68cm model would have suited me (It's $259 regular price, but is still on sale at Myers for $155). I'm not unhappy, with what happened but now I have a beautiful extra suitcase that I probably won't use. I suppose I could try to sell it on eBay or Gumtree!