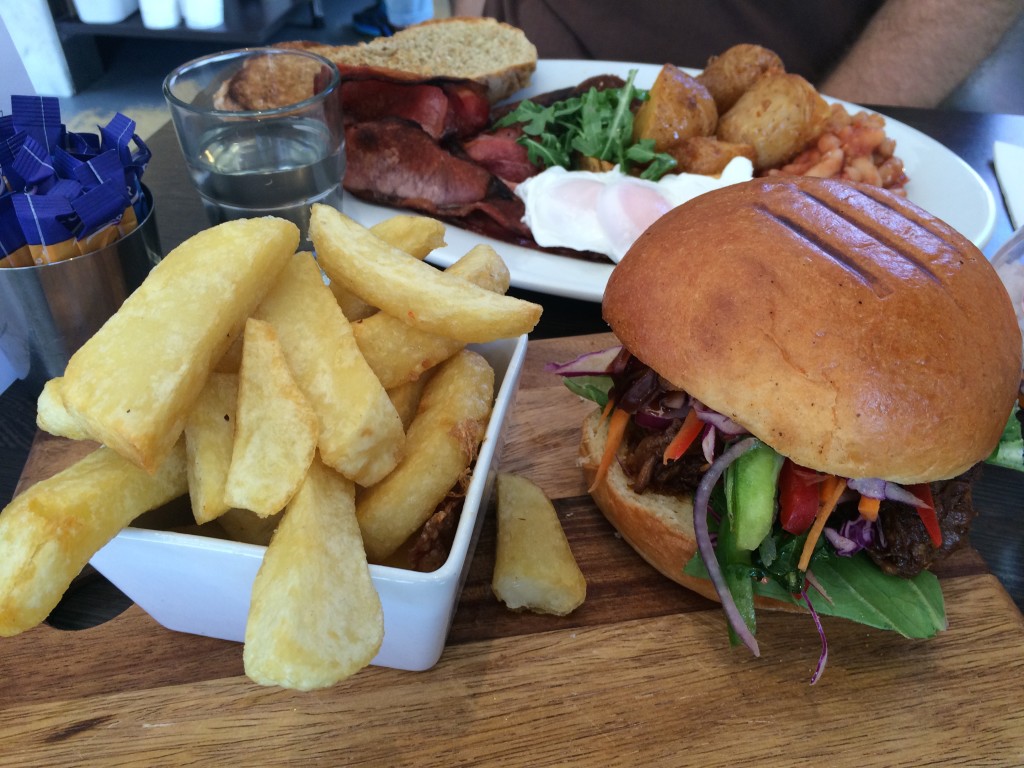 If you've followed my restaurant reviews, you'll know that I'm always intrigrued by how a restaurant gets a good ranking on TripAdvisor. Twenty 8 Acres, a humble cafe, tucked away in Darlington, near the university, is coming up with 100 reviews, an average of 5 stars, and is currently the #1 restaurant in Sydney.
Go figure.
If I was to guess why, I'd say that it's got everything that's good about the cafe culture in Sydney. Great coffee and service. Delicious, fresh food. The chef-owners were at Forbes and Burton for a stint, and I remember their good food from there, so it wasn't a surprise to get a delicious beef brisket burger and some fine chips. My lunch pal thought his Full Irish Breakfast was delicious, with particular compliments to the soda bread and blood sausages (two types, one light, one dark). Everything is homemade, including the baked beans, and it's too much for one person to eat.
I think it's a necessity these days for chefs to put their own personality and cultures into the food, so I love the Irish spin at this cafe, and I chatted away to the chef before my pal arrived, and he had a chat to Tim while I was in the loo. Very amiable, lovely, friendly place. I can see why people are giving it good ratings. I also like that they've got a little description up of who they are, and how they've named their cafe in honour of local history. Breakfast and lunch only, and I suspect the weekends are a bit of a sh*t fight to get in and have that Irish breakfast. Today, a Thursday early lunch was nice and quiet.
Twenty 8 Acres, Darlington
Corner of Boundary Lane and Ivy Street
http://www.twenty8acres.com.au/