I've always loved little Japanese bars and restaurants. I love, in my visits to Japan, that some specialise only in a few kinds of food, and that the experience is an integrated one: have a drink, and have a delicious bar snack to go with it.
So, I love that Tokyo Bird has opened up in my neighbourhood, in Belmore Lane, near Commonwealth Street. Their specialty is yakitori, the delicious BBQ skewers of chicken, meat or vegetables, and they actually serve more than that. They have an interesting list of cocktails and Japanese whiskeys though I find it impossible to go past sake when it's on the menu.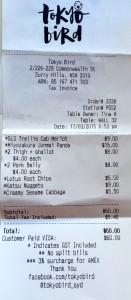 It seems to all be run by a young group of stylish and hip young Asian-Australians, and I loved the vibe. Found the lotus root chips a touch too salty, the skewers of chicken thigh and pork belly delicious, and I tried this weekend, but failed, to recreate the delicious creamy sesame dressing on a deceptively simple cabbage salad. Oh, and the chicken mckatsu nuggets were as expected. Yummy. A perfect light dinner for the two of us, with nice drinks. 60 bucks. I'll be back!
Tokyo Bird
2/226-228 Commonwealth Street
Entrance on Belmore Lane
facebook.com/tokyobird