So, a financier (which is a good word, isn't it?) named Matthew Byrne has financed a 'social enterprise' restaurant and cafe called Folonomo (For Love Not Money) and Grazie respectively. I'm expecting they pay their staff a proper wage, and then the profits go all to charity. Who would have thought?
Andrew, who I went to dinner with, pointed out it's a far cry from Lentil as Anything, the non-profit pay-as-you-want vegan cafe from Melbourne (but lately of Sydney as well). He said the food is awful there…
And really, though I knew that I'd feel good eating there, I still couldn't quite match up the concept of a charity restaurant with the fact that the FOOD IS SO GOOD. The spanner crab rolls in zucchini. Delicious. Like an interpretation of a sushi roll.
Very nice harissa chicken dish, also a lamb dish, and cauliflower rice. All designed for sharing. The food was both hearty and elegant, very Modern Sydney.
Not sure about the purple mood lighting in terms of how it makes the food look, but it looks good from the outside of the restaurant (we're sitting in the casual cafe side, as we didn't have a reservation for the slightly more formal looking area next door).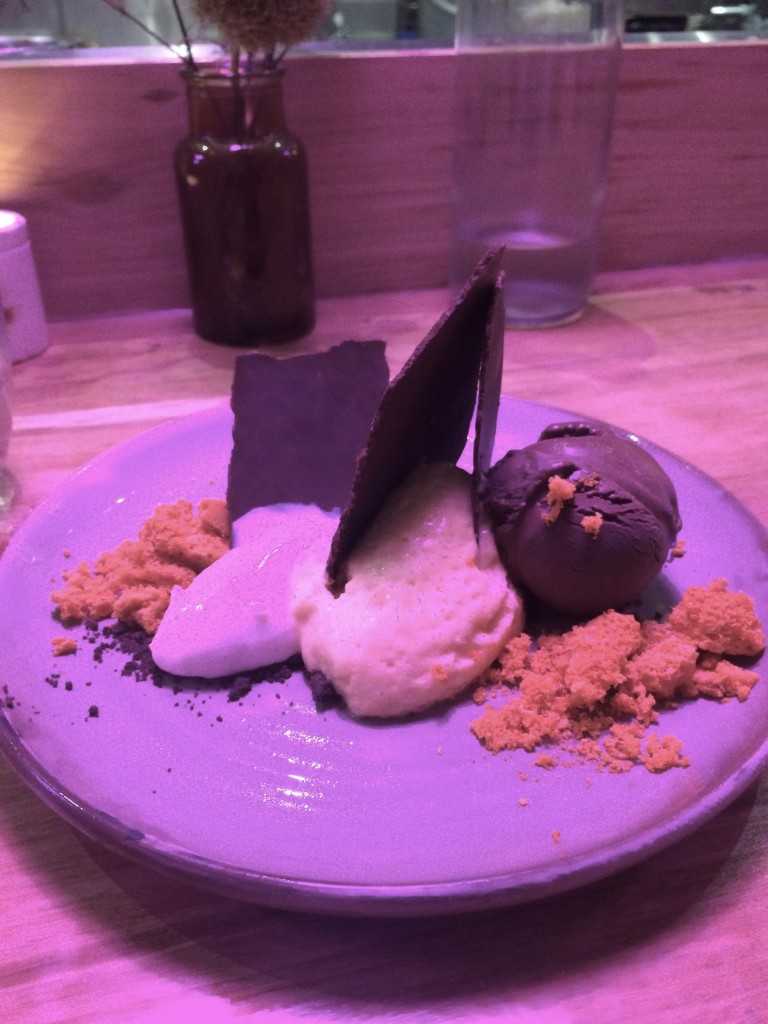 Ah, and finally, a vegan ordered dessert, without finding out before that the dessert was not vegan. And they gave it to us! A nice treat, adding to the crazy feel of a Rugby Sevens night where the streets were filled with pirates, flamenco dancers, cat people, and more.
We brought-our-own rosé, from Logan winery. Attentive, friendly service, and we got to watch the very-zen cooks in action. All up about $140 with $10 for corkage and a tip… Eat great food for good causes, and your own selfish palate!