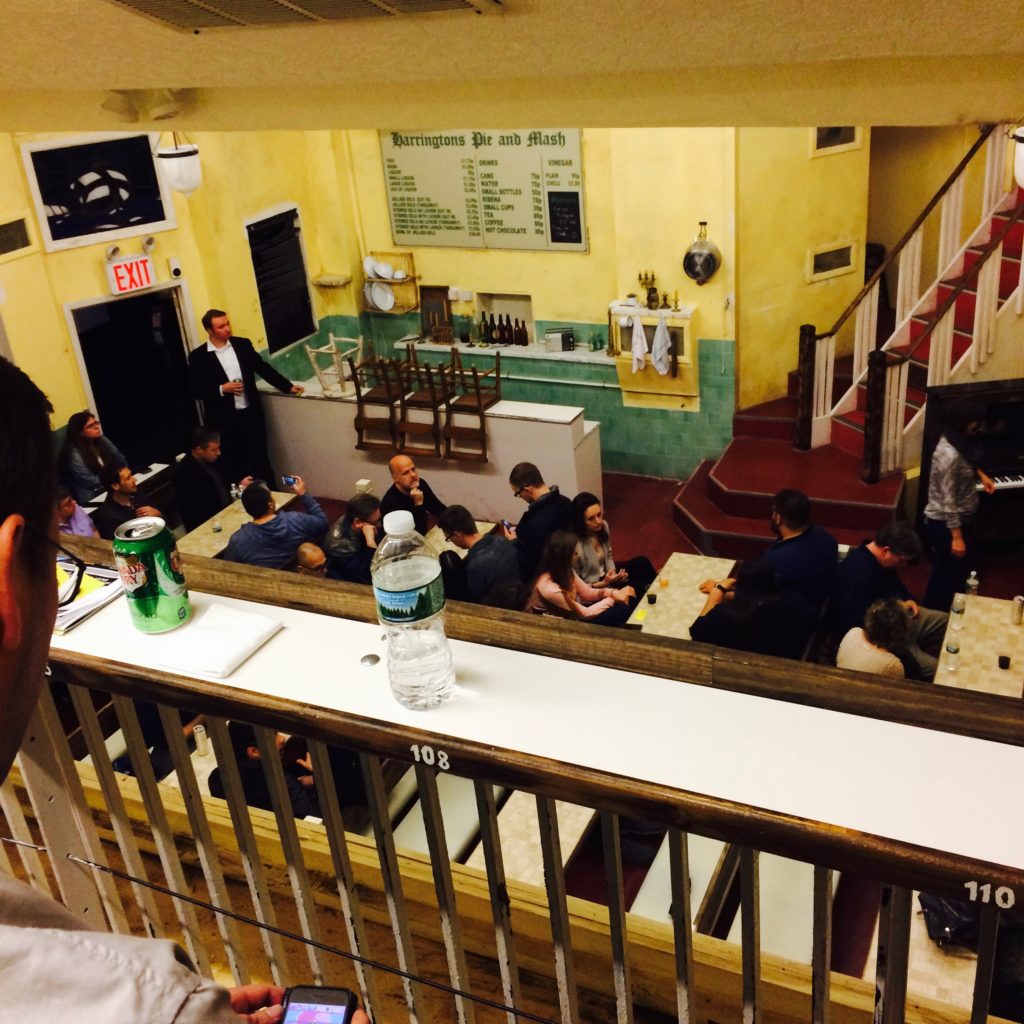 On my second night in NYC, I decided to try out my TodayTix app on my phone and noticed they had a lottery to see Sweeney Todd. I'd read about this production. Originally staged in a pie shop in South London, some theatre-goers get to eat pies beforehand! And I recall something about it being intimate and innovative. My app told me I hadn't won the lottery… but I got a phone call not much later asking if I wanted to come. Did I?!
For $39, I was ecstatic about this. Most of the audience gets to come in early and eat a pie (made by Obama's piemaker, they sound really good) but they didn't have any extra leftovers for the cheap seats. The theatre has been done up to recreate the London pie shop, with patrons sitting at long tables. The orchestra was simple: an upright piano, a violin and a clarinet. And then the ushers and waiters suddenly revealed themselves to be in the show, and it began.
Honestly, this was thrilling. I barely stopped to wonder at how, with lighting, and innovative staging, and sensational singing and acting, that the whole story unfolded in a humble pie shop. I was reminded of just how good the plot is, how every character has motivations and how there are twists and turns. And in a smaller, more intimate setting, I was blown away at how complicated the melodies and harmonies and counterpoints all were: this is really amazing music, also tuneful and beautiful and memorable.
All the leads were amazing, but it was especially exciting to see Norm Lewis, who I'd last seen on Broadway opposite Audra McDonald in a hair-raising version of Porgy and Bess. His beautiful operative voice and solemn presence brought the right gravitas to the role.
I've often found standing ovations at musicals a bit cliché as if we paid our money so we might as well have enjoyed ourselves enough to stand up. But when this production finished, we all just rose up, simultaneously with the joy of it, unconsciously clapping and shouting praise.