'Wow. That food was so bad I think I'll have to give it two stars.'
'Give it a one.'
I guess what surprised me was that my pal Freddy also found his food bad. I mean, here I was thinking: that food was terrible. And then he said, without my prompting, that food was terrible. And sometimes a restaurant can have a miss but two misses? And three, if you count the charcuterie plate. As Freddy said, it's hard to get bad food in a Sydney restaurant. But we succeeded.
Let's take a step back. I LOVE the idea of a place dedicated just to rosé. And if we stuck with drinking, this would be 4 or 5 stars. We did a little tasting of the premium rosés, 5 glasses (modest pours) for $40 each. It was really fun to taste the difference in character, and our waiter (sommelier?) was knowledgeable and charming. I love the converted terrace house, and the slightly over-the-top decor. Our other waiters were super-charming too, including a young Belgian fellow.
But the food fell short. First, the charcuterie platter, large, supposedly. Five tiny toasted pieces of baguette. Foie gras or paté, piped out in the shape of a fleur-de-lys. It was dry and tasteless. And then a mean portion of different meats. Some pickles. One cherry tomato, cut in half. I mean: this was a really stingy plate of food. The photo makes it look bigger than it was. Then, there was an unfortunate wait, and our main courses arrived, which were from the specials list, which implied they would be special.
'What was wrong with yours?' I asked Freddy. I mean, it looked good. I thought it was fun, the idea of a deconstructed lamb shank pie, the bone sticking up from the middle of the dish. He said that the cauliflower was cold, and that all the rest of the dish, the potato gratin which he'd been looking forward to, and the meat, was all mixed together and you couldn't tell what was what.
'Undifferentiated?' I suggested. Sorry for the terrible fuzzy photo though as far as I can tell, this is how it tasted.
The problem with mine, Blanquette de Dinde, a version of a classic French dish with veal, but with turkey instead, was that no amount of the pleasant, creamy sauce, nor the vegetables (again, this was a small dish, and for nearly $30 each, was overpriced) could make up for the turkey: white meat and so dry and overcooked that it was unpleasant to eat.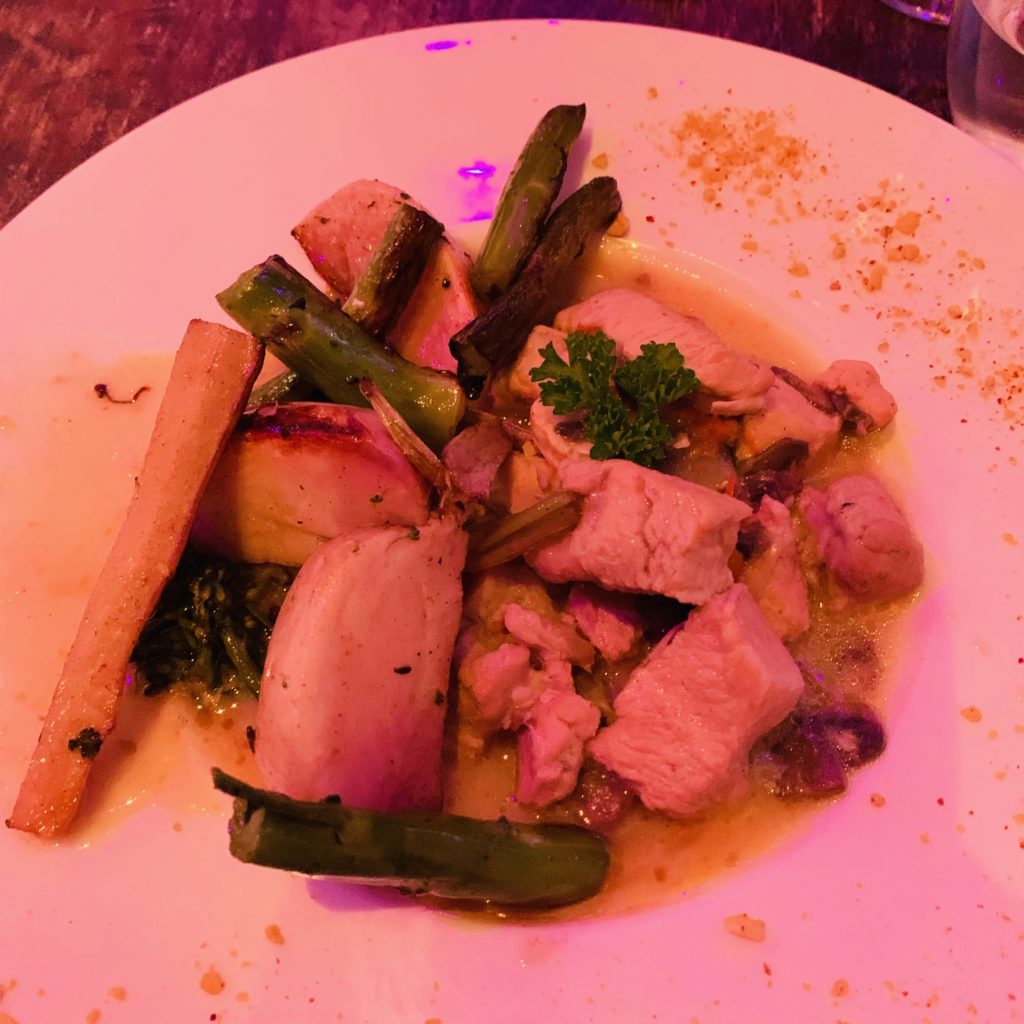 We were glad to have $40 off from the Entertainment guide, as $140 for the two of us was way too much to pay for terrible food. I don't like giving bad reviews to restaurants, as I know how hard and how costly it is to run a restaurant. But what went wrong? Was their regular chef on holidays? Why is the food so bad here? In the meantime, I WOULD recommend it as a place to go for a night of drinking. It's a good concept, and you'll enjoy a variety of great wine with friendly service.