Yellow is destination dining, offering a stunning vegetarian degustation.
Instead of thinking of vegetarian and vegan food as lacking in meat, why not think of it as a particular culture or style of eating? For a visit to Yellow could be like making a choice to eat at a particularly fine French bistro, or an unusual ethnic restaurant, except the specialty here is high-end vegetarian cuisine.
Many moons ago, anytime a special meal was required for a non-meat eater, I recommended (or took them to) the Bentley Bar on Crown Street. Brent Savage served up amazing food, meat and non-meat, but there was a special flair for the vegetarians compared to most restaurants. So, I love the idea that Yellow has gone completely vego. I eat probably too much meat myself. I think it's best in moderation, both for general health and for the environment.
The dishes at Yellow should convince anyone but the most stubborn. The dishes were presented beautifully, with really interesting combinations of textures and flavours. Saturday night is when they roll out the full degustation (7 courses instead of 5) but it was pretty booked out, so Steve-O and I went on a Friday night.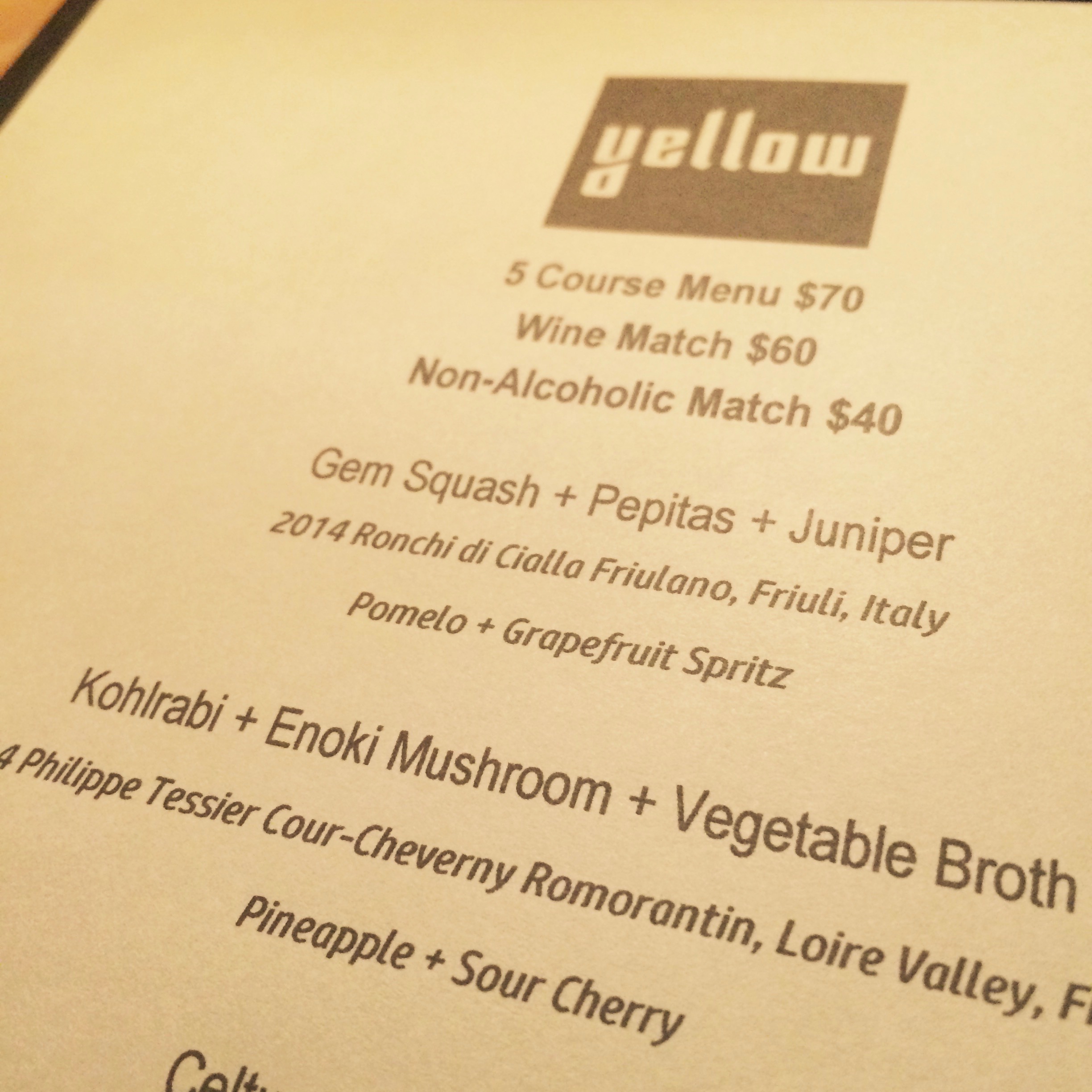 We also splashed out for the matching wines, which were delicious and interesting… for example,  Fond Cyprès Premier Jus 2015, a young French red, but full of flavour, or this interesting shiraz from Stockwell in Adelaide Hills.
The menu was this:
Gem Squash + Pepitas + Juniper
Kohlrabi + Enoki Mushroom + Vegetable Broth
   Celtuce + Buttermilk
Sprouting Broccoli + Amaranth + Radicchio
Pumpkin Ice Cream + Licorice + Kumquat
Looking at the photos reminds me of how stunning the food was. Superb. And reasonably priced too, for what you got. I'm coming back from the 7 courses!