So, we were off to a movie at the Hayden Orpheum and what to choose among the dozens of restaurants along Military Road? On this quiet Monday night, I felt like ramen! I checked with the ratings of Sydney's resident ramen expert, Ramen Raff,  and saw that he liked it. So, we dropped by for a casual meal.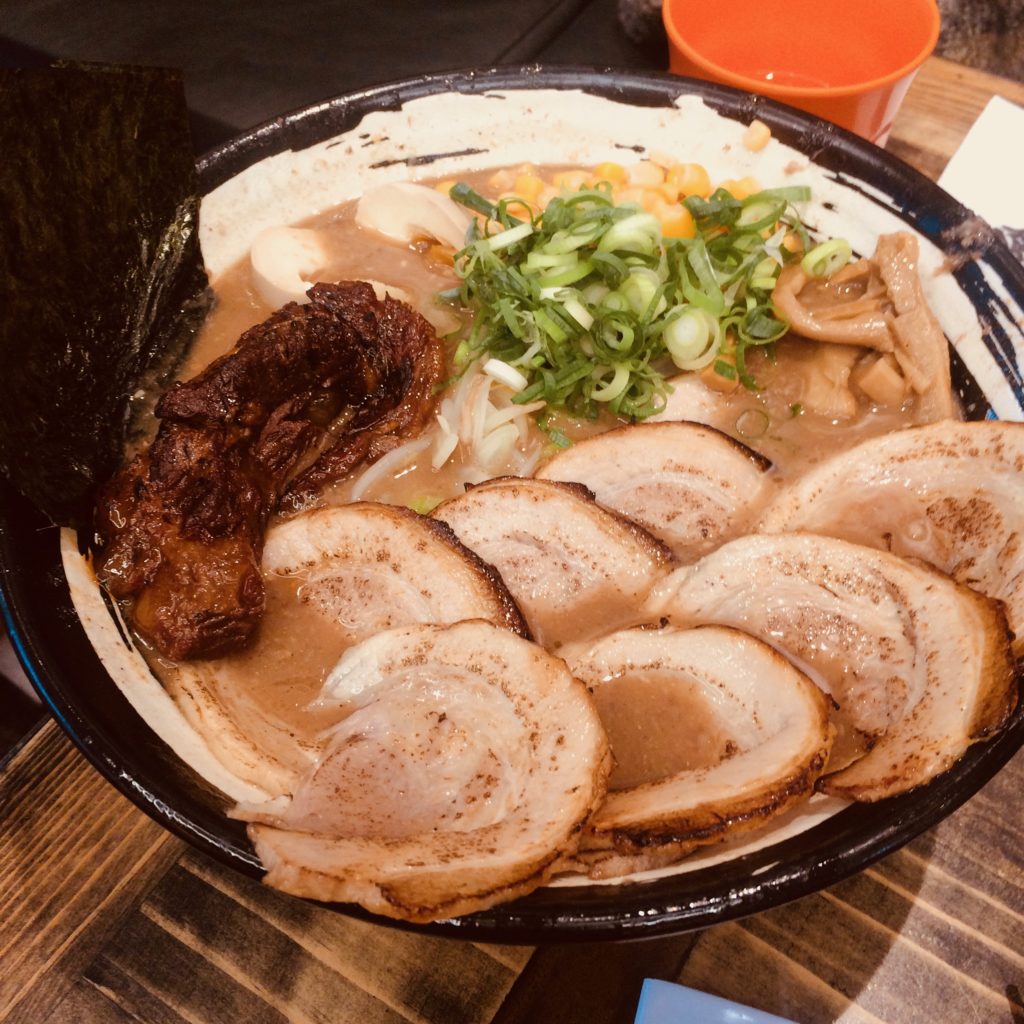 I felt lucky that there were two of us, and that husband was amenable to trying the Mashi Mashi King, a double portion of ramen that offered all three meat options available: pork belly charsu, kakuni (soft bones) and a wonderful grilled spare rib. In addition to a hard-boiled egg, bean sprouts, corn, a wafer of nori, and an incredibly rich and thick miso broth, this put us into a meat coma. I was sweating meat after. Oh, and we ordered the firm noodles with a free extra portion (so that there was enough for two people) and these were also delicious.
The broth is of the variety called 'tonkotsu', not to be mixed up with 'tonkatsu', the delicious breaded and fried meat, Japanese style… This is a broth of pork bones, cooked so long that it becomes cloudy and gelatinous, available in three varieties: shio (with salt); shoyu (with soya sauce); or miso (with miso). What we ordered was so thick and rich that we couldn't finish all of it… but while that might say I should try one of the lighter varieties, it was soooo good.
The kakuni, a specialty of the house, was a surprise: it's not only soft and juicy inside but slightly gelatinous with the soft bones and then flame-grilled crisp on the outside and with a sweet marinade. The spare rib came on the side. Perfect. And the charsu was good. I made a bow to something green with a small side of seaweed (actually, it was because I love this seaweed).
Even though the chalkboard mentioned sake and beer, we weren't offered a liquor menu and didn't seen any signs of it. Probably a good thing considering how full we were on leaving. This place is so awesome, I'm going to try the CBD location next. But maybe not eat for a day beforehand…