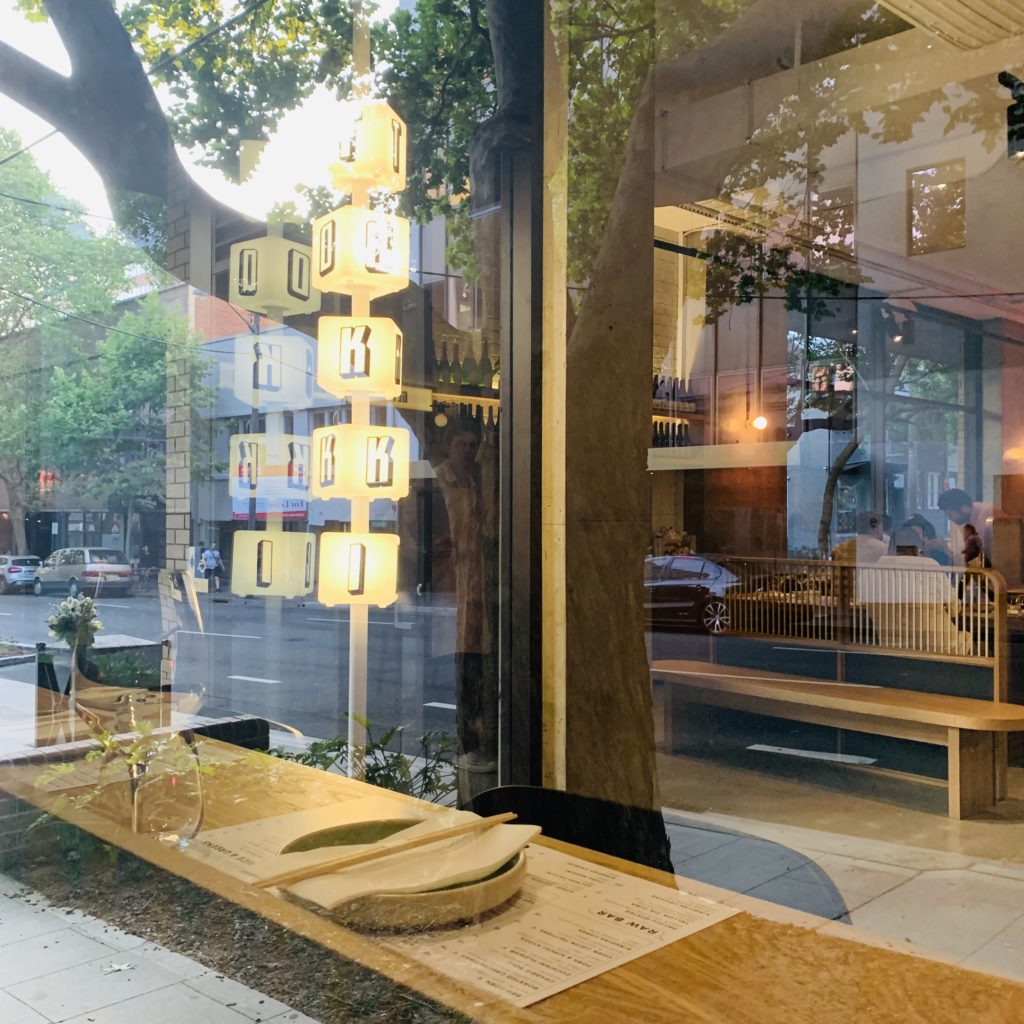 Described as a Korean, Japanese, Asian Fusion restaurant, just opened on Foveaux Street in Surry Hills, I thought: what's not to love about that? I've really developed a passion for modern Korean food lately from some excellent eateries in Sydney (mostly in Surry Hills) and have always been a fan of Japanese food and Asian fusion. How exciting.
I can't quite remember what would have been there before Tokki: an office building? It's just renovated and has a lightness about the colour scheme, wood furniture and lighting which makes it feel amiable. We opted for the smaller of the 'Tokki feeds you' options, one at $65 and one at $85, though we did sneak in some extra kim chi and edamame to start.
The menu said it was assorted kim chi but it mostly tasted of the cabbage rather than the daikon. It had a rich, fermented flavour: husband said it was almost sparkling, and it was delicious, especially matched with some of the later dishes. We also had edamame which were salted with truffle flavour; tasty as usual though it was a type of bean that had a weird waxy sort of shard in the middle, that was easy enough though to remove from one's mouth.
Ah, and I also snuck in a cocktail to start, a 'Cactus Jack' with Mezcal, lime, pineapple, ginger, agave and basil: it was lovely.
The first course was kombu salmon. Generous pieces of salmon sashimi swimming in a sauce of mandarin oranges, with kombu seaweed on the side. A really interesting flavour combo, which we both thought worked. The salmon was glistening.
The bao, made famous in this style by David Chang at Momofuku, I believe, come in three varieties. We got ours with Korean Fried Chicken and oh my god, it was perfect. So crisp and tender. At other tables, we saw the full serving of KFC and it looked enormous. Like you wouldn't be able to eat anything else but the chicken! So we were glad to try the KFC in this way.
The next dish was called 'Menbosha' with DIY prawns yuzu siracha mayo and brioche, but to me it was basically a version of the Cantonese prawn toast that you get at yum cha, small crisp deep-fried toast, with shrimp on top, except these had a luscious sauce on them and also came with some nice guacamole.
We were surprised that the next dish was a platter of BBQ with sauces. Really, really tasty, and not a surprise once we found out that the chefs are two Korean brothers who have been serving up Korean BBQ mainly in the last years: this, I think, is their foray into contemporary Asian-Australian fusion. The meat was rich, heavy and delicious.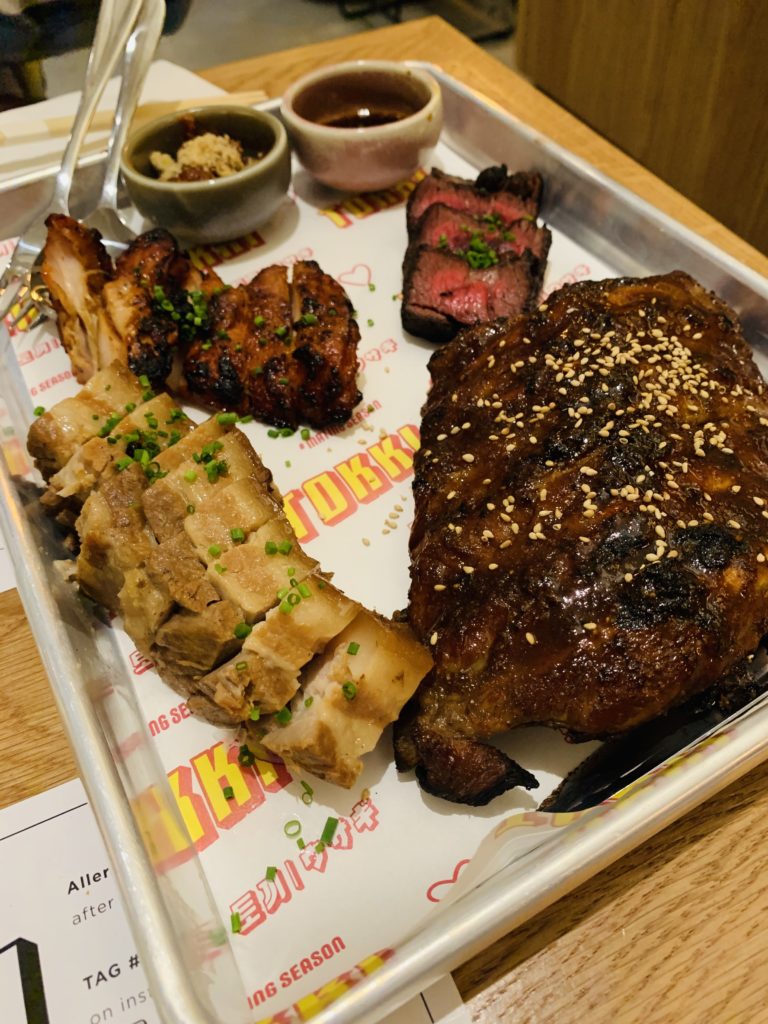 So, the next dish surprised us, pork belly with some deep-fried gyoza skins and a rather luscious peach pickle mixture. It was tasty (I mean, pork belly: of course) but after the meat tray was too much. We would have preferred a seafood dish or salad.
Our final course, the dessert, was also a surprise: a delicate tart filled with red bean paste and jam and whipped cream. Husband has never liked the very Asian taste and texture of the red bean paste. I thought it was fine.
So, a really beautiful meal, and an exciting one. The service was very quick, so I'm thinking it's a more of a casual and fun night out, though the quality of food means you could treat yourself to a fine dining experience here. We'll definitely be back.
We dined as guest of Tokki (somewhat unexpectedly, I wasn't sure how it would work on this night for media and food bloggers). While being treated made me want to post my review more quickly and more widely, it didn't change my opinion of the food and drinks.