When I saw news that Orana coming to Sydney, and not a ten-minute's walk from our apartment, I knew I had to book in. They took over the Longrain space for about a month or so, bringing down some core staff from Adelaide and hiring a whole new crew of folks in Sydney for the occasion.
My husband and I have dined at many top restaurants from around the world and this experience was up with the very best.
Right from the entrance, with the decor carefully thought out and beautifully executed, we were enthusiastic participants in this journey. Look at the special touches on this gin and tonic!
You can check out the menu and try to match up the descriptions to the photos. I took photos of most of the courses.
It was more than a meal. It was an experience and an education. And how to meld, seamlessly, the experience of fine dining with, say, the outback? Damper that you grilled yourself: magic!
The focus was on Australian produce and so there were flavours and ingredients I'd never tried before. Crocodile lardo and boab on top of these sweet shrimp? Wow.
The food was surprising but always tasty.
Also, beautifully presented. It reminded us of one of our favourite meals ever, at Geranium in Copenhagen.
Modern, creative and interactive. This was surf and turf and the curried toro (tuna) was so tasty.
At one point, a Scottish fellow served us a course, kneeling down for a short chat and joke.
It took me a moment to clue in, then I loved discovering that the chef, Jock Zonfrillo, had done a stealth service to the table without even introducing himself. How modest. How fantastic.
I was ridiculously amused by this dish, because not only was it sensationally delicious, but it is called 'tongue in cheek', the tongue being lamb, and the cheek being leatherjacket. God, I love a good joke. I reckon I can make my own version of this with beef cheek and beef tongue…
This gorgeous kohlrabi dish was the only one that confused us a little: is kohlrabi native to Australia? It was delicious anyways.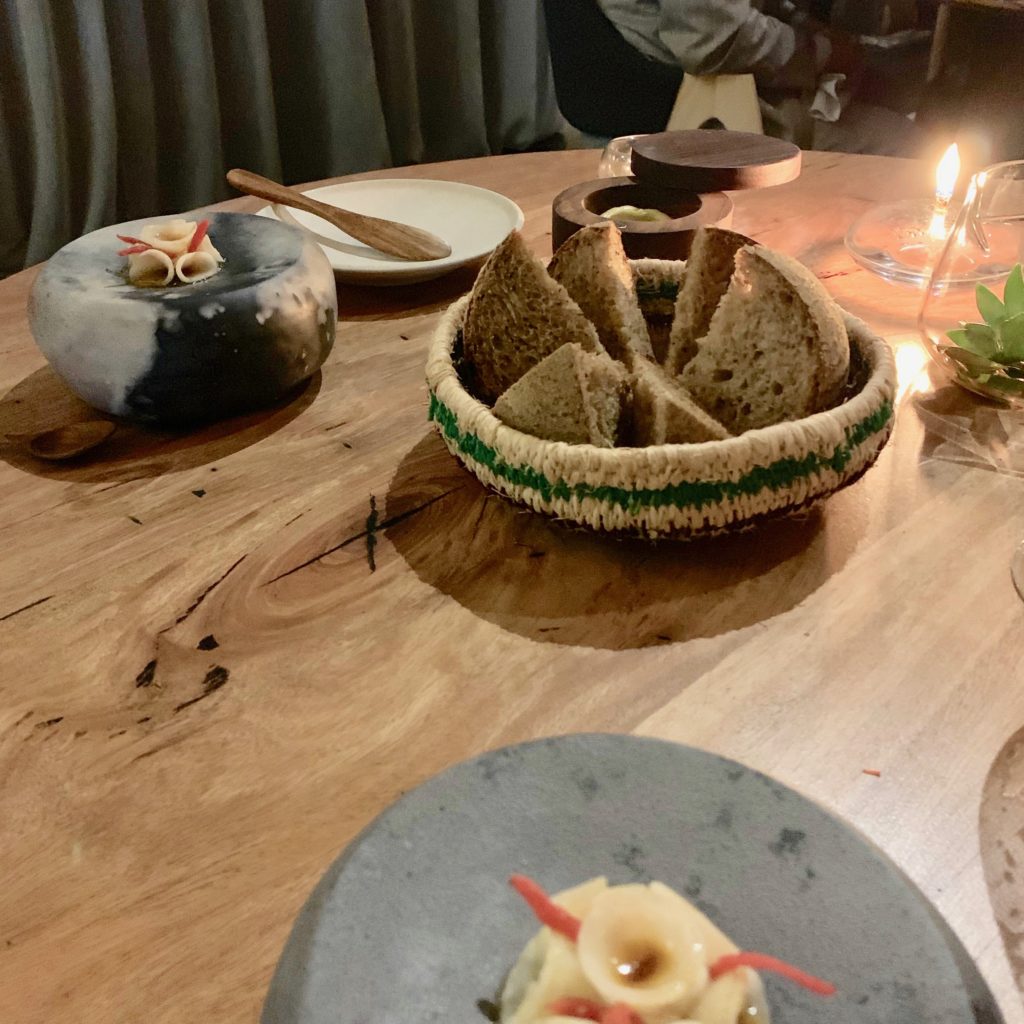 We were also delighted that the bread dough was proofing in a glass bell jar, on the table, as we sat down. They whisked it away before the first course, and returned it baked.
I think I missed taking a photo of the razorfish, a sort of triangular shaped clam. I love trying unfamiliar foods!
Speaking of which, Moreton Bay bugs in green ants… It was yummy. I didn't think about the ants.
The way Jock has described his philosophy came through the moment we entered Orana in Residence and continued right until the finish when, before leaving, we were presented with beautiful copies of the menu.
The envelope contained both the food menu and the wine pairing I chose (local, interesting Australian wines: delightful, it was the cheapest option, actually).
But there were two lovely dessert courses at the restaurant before then.
And we got to meet the pastry chef: I like that personal touch. She seemed very cool, and these were delectable.
It was such an interesting experience to get to know the chef, Jock Zonfrillo, through his actions, his restaurant, his food … rather than reading up anything beforehand. His passion, care and expertise came through with such sincerity and clarity that the whole experience became a personal one, rather than transactional, and we both felt elevated because of it.
Still, he's a really interesting fellow and I may just become a super fan. Check out this interview in Gourmet Traveller. He comes across as an amazing person: honest, humble, great at what he does, dedicated to his food philosophy and just kind of all around cool.
As if the desserts weren't enough that were served at the restaurant, we got a little box of chocolates to take home. I decided they'd go nicely with an amaro.
We may just have to make a special trip to Adelaide some time to see Orana in its native habitat. It was an outstanding night at an outstanding restaurant.