Way back in the mists of time, I discovered that the revolving restaurant at the top of Australia Square, Orbit Bar, and then called O Bar (and now O Bar and Dining), served great cocktails and had the best views of Sydney, particularly at nightime, with the CBD aglow all around you, and a slightly different view everytime you noticed. It was where I took all my out-of-town visitors.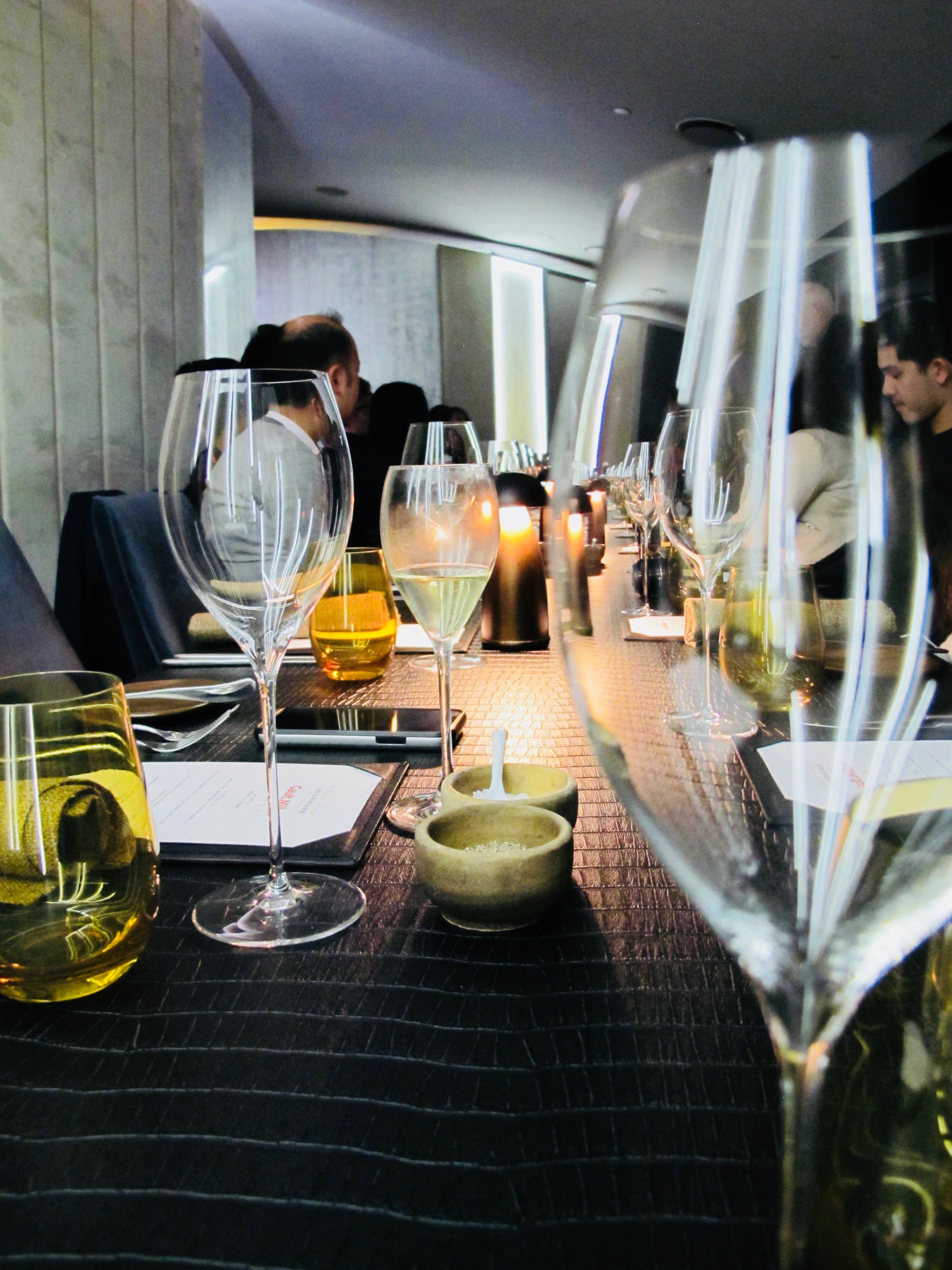 But I lost track of O Bar … until invited by Weekend Food Escapes as a poor substitute for WFE's photographer. Yes, I got to be Lisa's plus one at a special Gault&Millau dinner at O Bar and Dining where for the last period, head chef Darren Templeman, chef and owner Michael Moore and their team have been bringing the quality of the food up to match the view, as the restaurant has apparently been through peaks and valleys over the last decades.
It was great to be introduced to Gault&Millau (it's pronounced Go-Me-Yo, which confused me the first time I heard it!). I've certainly chased around Michelin-starred restaurants in Europe, and followed Australia's Good Food Guide quite closely, I'm not quite sure how I'm not taken notice of this crew. They seem a good bunch, friendly to food bloggers, and doing some important work to promote restaurants and the people who make them happen. It was great to meet them.
The meal was, simply, wonderful and I would return to my first recommendations for the place: you must take out-of-towners here, though it might also remind Sydneysiders of all the things to love about our city.
Or our nation! Highlighting Australian produce on the menu is a smart choice and these were my highlights. The seared wagyu blade, with green onions, collard greens, french girolles and fresh truffle (so decadent), was such high-quality meat, with so much flavour and intensity. Gosh, this was a good dish.
Split and grilled Western Australian marron, with fermented black bean butter and preserved lemon salsa had all these earthy flavours matched with fire and then the ocean's marron: a memorable trio of elements.
On arrival we had various beautiful canapes, champagne, and cocktails. I was too impressed with the view to take proper notes, I have to admit.

I thought it was daring to have two soufflés in one meal, one savoury and one sweet. The twice-cooked parmesan souffle with cauliflower puree and oberon truffle sauce was surprisingly restrained. I've had twice-cooked souffles (and made them myself, they're pretty actually easy to do) swimming in cream and cheese, which I love, but I respected this quieter version.
The dessert version, passionfruit and chocolate bonbon souffle with passionfruit sorbet, was more decadent, and even with all the courses before it, it was so inviting I somehow made room for it.
I mean, really. How could you resist?
I didn't take the box of O Bar and Dining petit fours home with me… as I just grabbed a few to sample.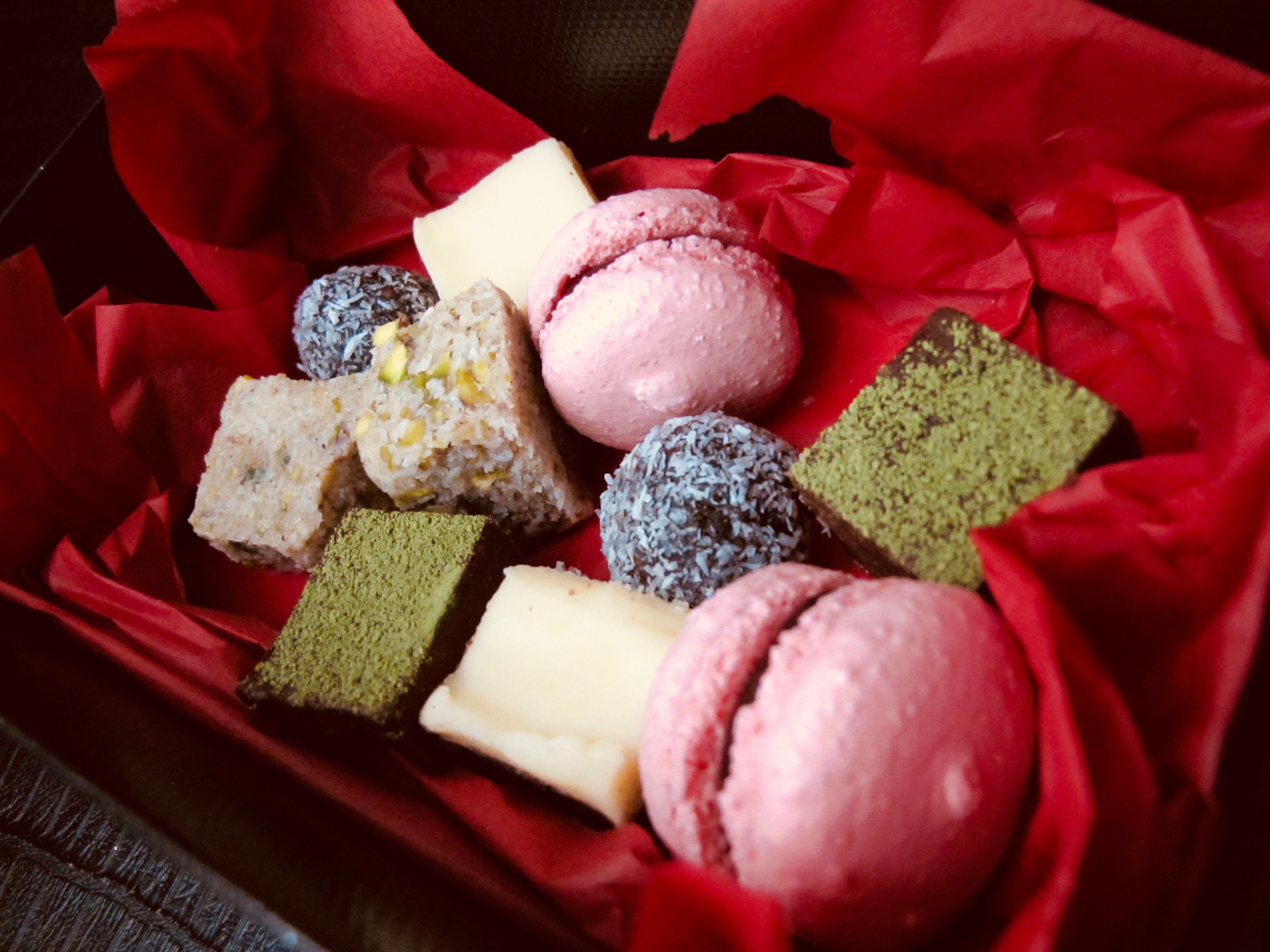 I really should mention the charming service as well, and the wonderful matching wines. It was really special occasion dining. It was also a blast hanging out with food bloggers Grab Your Fork and Chocolate Suze. As Weekend Food Escapes explained to me, we may be dinosaurs (as bloggers, compared to those upstart food instagrammers) but Helen and Suze were around long before us, so must be fossils…
I was lucky enough to dine as a guest of the venue and Gault&Millau but the opinions are my own.