I'm not sure whether Malabar is the best Indian restaurant around… but I think it may well be the best Indian restaurant around Darlinghurst. I don't know of any other elegant Indian restaurants nearby; there are a few storefronts with samosas and bain-maries so in comparison, these are lovely, elegant surroundings, with full windows around the rounded corner of the restaurant, and the place is always jumping with customers.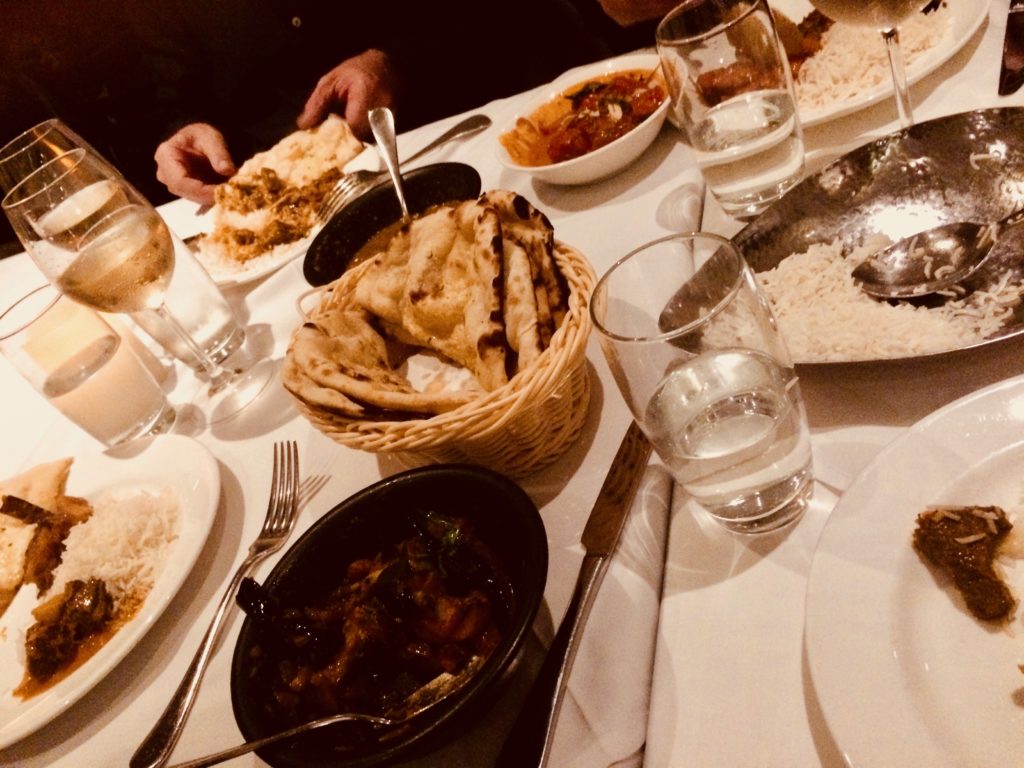 They've been around for a long time but I don't think they're resting on their laurels. The menu is more interesting than your basic Indian restaurants, with explanations of where the dishes are from, and the service is earnest and friendly.
I'm not sure if I'm following dosas around or dosas are following me, but I was happy that we split two between our table of six, enough for a delicious bite of that crispy pancake and tasty filling. I think my favourite of the night though was another appetizer, the cauliflower bonda was delicious, flavourful vegetable dumplings, almost, with a crispy chickpea coating.
Other than that, I thought the dishes were good, not outstanding, and the environment fun and we liked the white wine we ordered. If you're in the 'hood and craving Indian food, this is a great option, as well for groups of people, or, as you can see from a previous review below (where I show again, my obsession for dosas), that they serve up a nice lunch too.
And in June 2015 (viewed 6,280 times since then, Zomato says), I wrote this:
Friday lunch and we had the lunch special while a host of regulars and others slowly poured through the doors. I've walked by in the evening, when they're packed, and it's good to see them doing so well. I love a dosa, and the dosas as appetizers were pretty much perfect: light, crispy, moreish. With the mains, an extra order of garlic roti (lovely and light) and a very generous serving of rice with a chicken curry and a curried vegetables, neither one distinguishable from the many other mid-range Indian restaurants in Sydney. With an entertainment coupon, and a glass of wine each, the bill came to $30 each including tip. I should do Friday lunches more often.