It's good to feel confirmed. Since the other two times I've been here, I've been impressed. So a third time makes me feel pretty confident to say: this place is amazing. Modern Lebanese food. A Modern Australian twist. Reasonable prices for what you get. Friendly service. And most importantly: delicious food (thought the lighting wasn't great for my iPhone).
The squid dish was a nice surprise. You really can't tell where the squid is until you dish it out, and my first bite, without the squid, with orange segments, pomegranate and hummus, confused me. But then when you get a bite of the squid with it, it all makes sense. It's delicious.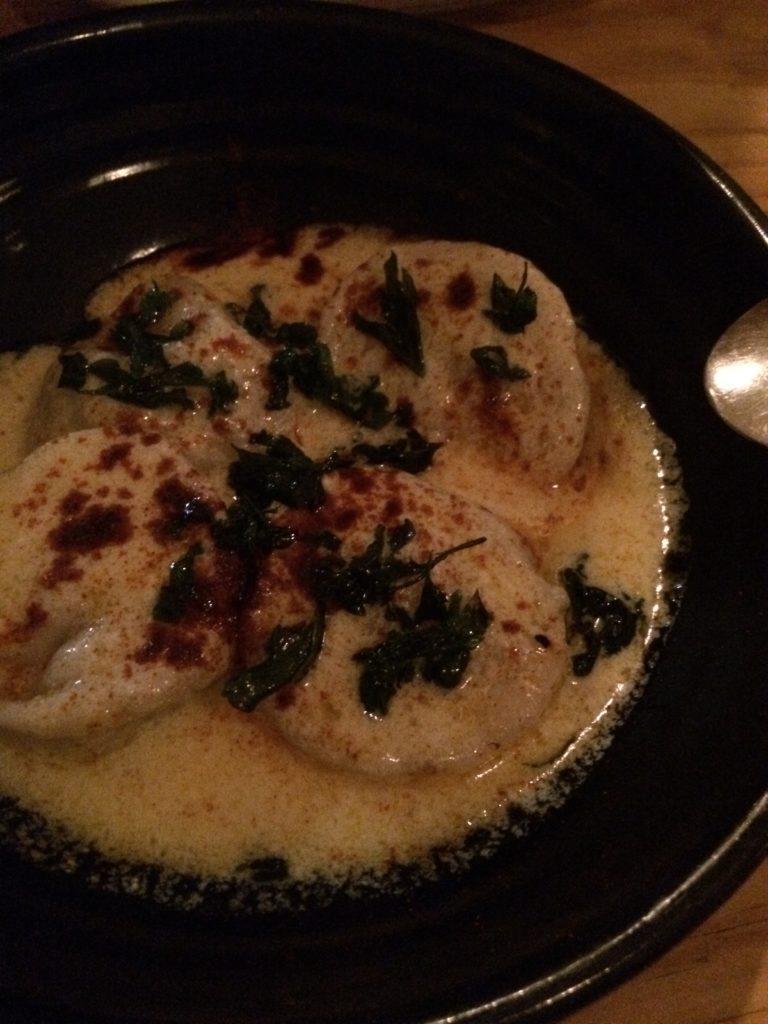 It's rare I meet a dumpling that I don't like… And these lamb dumplings in a creamy sauce were up to par.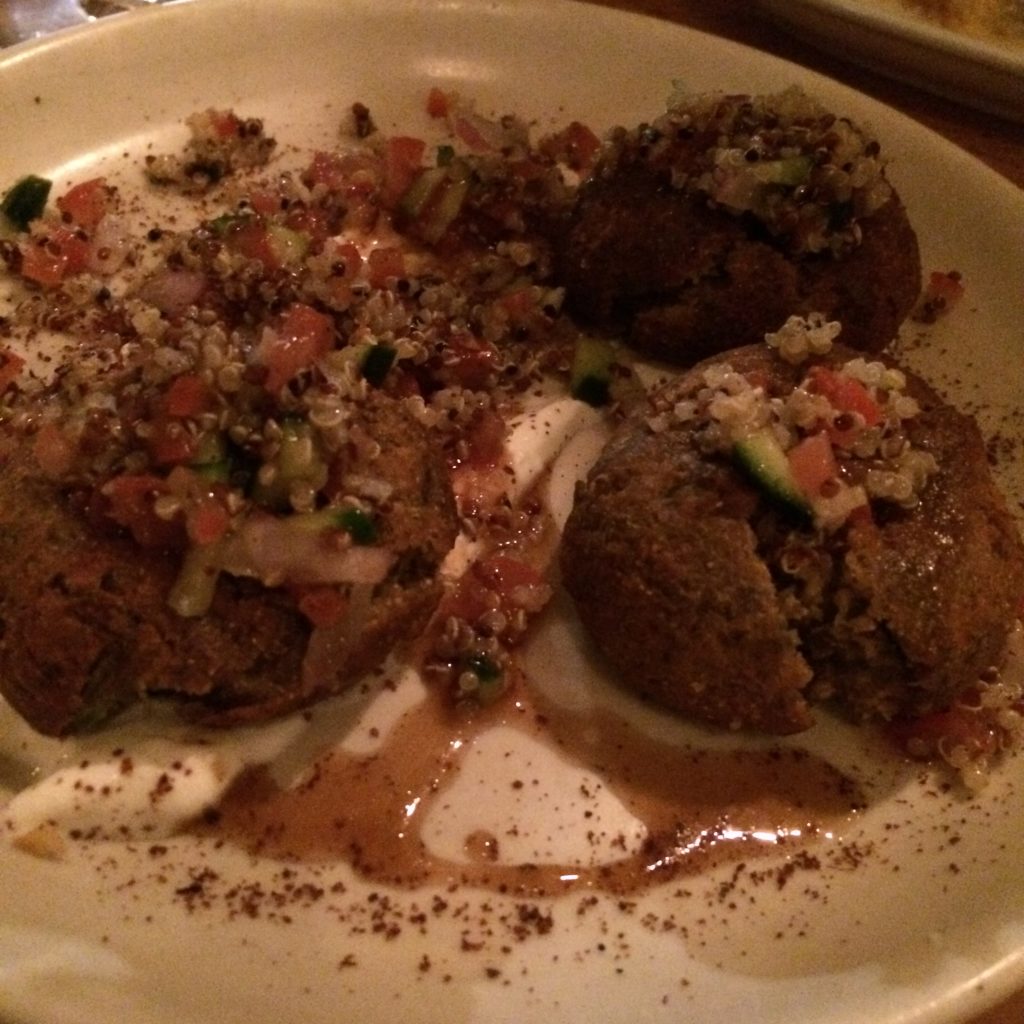 Trevor really like these deconstructed falafel, but for me, this was the least successful dish. I like a bit of crunch on my falafel. But then with the other bits on the plate, I could see how other people would like it.
We chose one main meat dish: beef cheeks (We ordered correctly for two people, deciding to risk our own choice rather than the banquet, and had one appetizer, one fish and two meat dishes).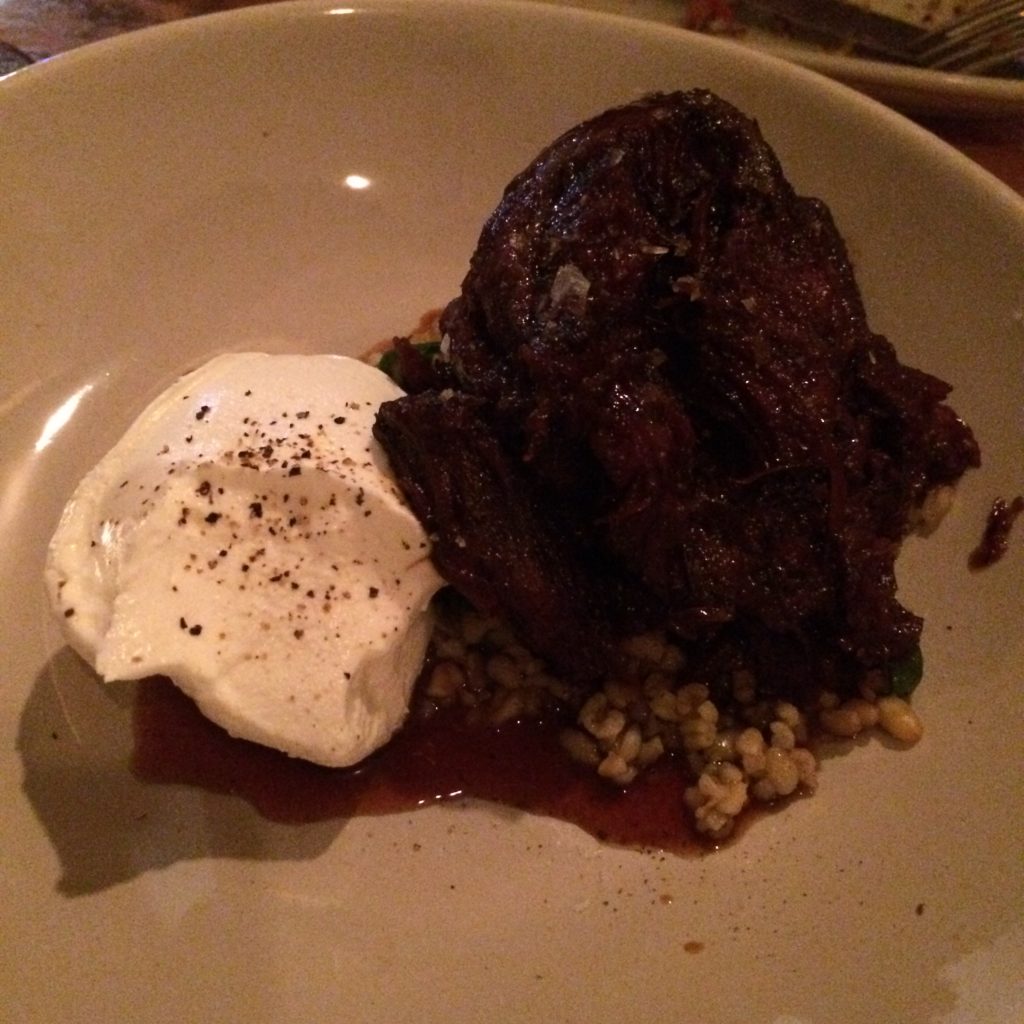 The last time I bought beef cheeks to cook at home at the Everleigh markets, I was a bit sad how expensive they were, and how they shrunk to two tiny little cheeks. So aside from this being a really wonderfully delicious dish, I also marvelled at how generous a portion it was. The photo doesn't do it justice.
I convinced Trevor that we had to the the Knafeh since the only other time I'd seen it was at the pop-up Knafeh stores. I liked the almost savoury cheesiness and the coconut sorbet and mint leaves, though Trevor thought it was too savoury, like a cheese course (and the pop-up Knafeh stores are out of this world and have probably spoiled me for all other knafehs).
All in all though: an evening of elegant food which could have cost much more than the $75 each we spent (including a nice bottle of pinot noir, and two dessert wines) or $85 each without the Entertainment coupon that i used.