I like a good concept and Jimmy Blanco is both playful and brash, announcing itself as a hybrid of Latin America and Australia, and a lot of fun. But branding wasn't enough to save Jimmy on Friday night.
I've actually eaten at this restaurant in at least three different incarnations, maybe more. It's got a long, strange shape, facing off against an Asian restaurant as a mirror image, and I suspect that the kitchen is small, and that's the reason why the restaurants always serve tapas and casual food.
We came for the Pisco Sours. And they were very good, served in a champagne flute. Love me a Pisco Sour. But otherwise, it was a bit of a series of disasters, even though the charming manager did his best to try to save the day. They had messed up our reservation, so we sat right at the front, at a non-table. The manager gave us a complimentary first round of drinks for that, which was kind (and valuable, as the Pisco Sours are $17). The two young waitresses were very inexperienced. Sweet but it looked like it might have been their first days on the job. It was really hard to get their attention for the first half of the meal, when the restaurant was busy, and then they hovered over us during the second half, uncomfortably.
The beef enchiladas were very tasty. The ceviche was served on a bed of rocket. I thought the lime was too harsh, but the Chilean at the table liked it (and she would be a much better judge of ceviche than I). The guacamole was pretty delicious with chunky avocados. But when we asked for more corn chips to finish it, we were told we'd have to order a completely new dish. No extra corn chips!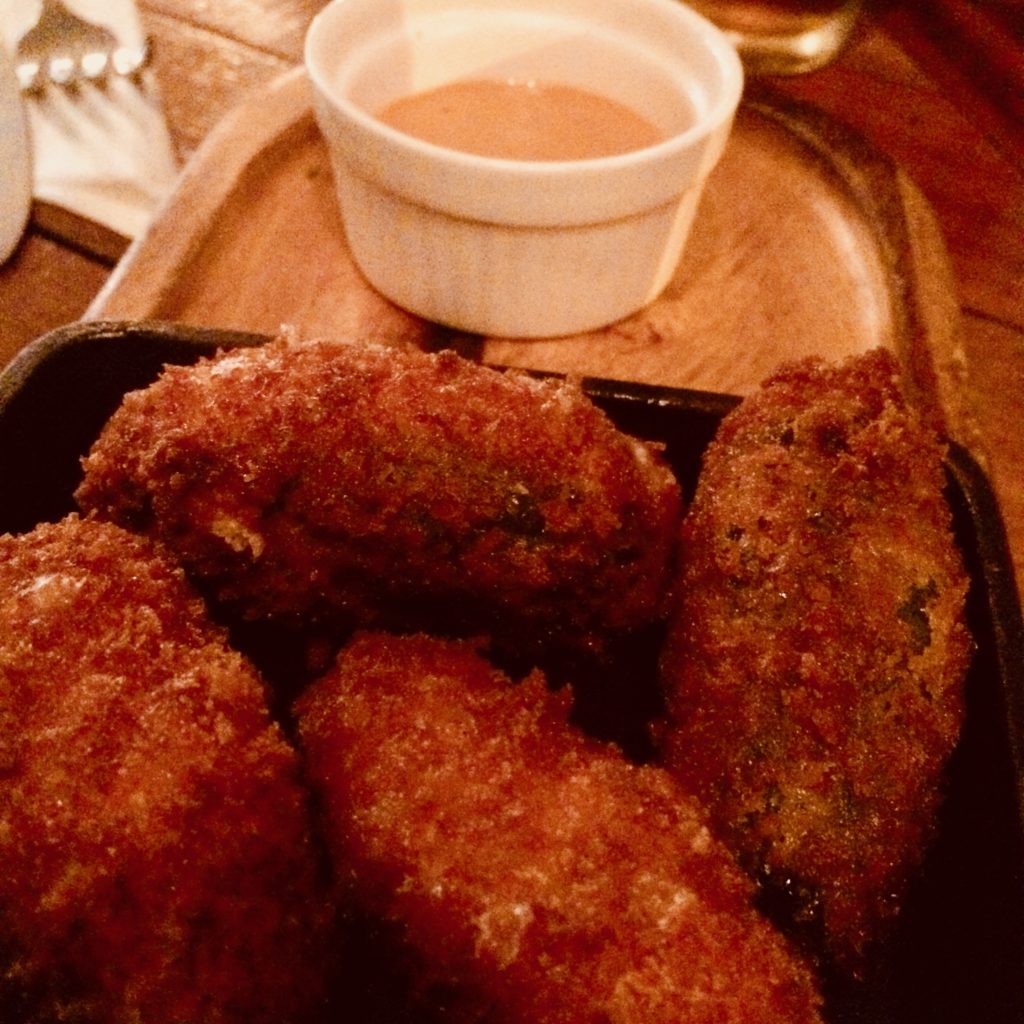 We wanted to split a main; there were only two on offer. Beef nachos and some ribs. We ordered the ribs… and it took the manager quite a while to come and tell us: there are no ribs. The menu is pretty casual and other than the snacky type things offers burgers and burritos. Two of us had a buttermilk chicken burger which was… fine. A bit plain.
Also had some jalapeño poppers, which I thought were dee-licious. Hard to go wrong with deep-fried things with cheese. At the end, trying to pay, their printer was broken, and they couldn't bring us the bill either. To be fair, the food was OK and the pisco sours were great, and the manager really did try to salvage the night. But I think in this tough Surry Hills market that it will be, very much like the section of Foveaux Street that they're located on, an uphill climb.