This ain't no hawker stand. While the restaurant is cannily designed to feel like you're in an outdoor market, the dishes are refined, unbelievably tasty and for most Sydneysiders will be a revelation, tasting the best of Nonya cuisine, from Penang, Malaysia – Chinese cuisine that came to Southeast Asia taking on Malay and Indonesian influences.
My favourite memories of food are never about being hungry. Or sustenance. They combine a strong emotion – excitement, pride, love, nostalgia – with the bodily sensations of taste and smell and sight. There was no better guest to take to Ho Jiak then, on the kind invitation of owners William Xie and Junda Khoo, also the amazing head chef, than my friend Lai Heng whose grandmother cooked Nonya food. She was familiar with all the dishes we ordered, able to help with explanations in addition to what we learned from Cassandra, our able host, and Junda, and found the lunch an emotional as well as sensory experience.
It was Friday lunch and there was a line up outside the door. Ho Jiak has a mother ship location in Strathfield and their Chinatown location has only been open about a month, so it's great they're doing well already. Lai Heng pronounced herself, mid-meal, in heaven and deemed many of the dishes the best she's ever had in Sydney, but more so, brought back to the happiest memories of childhood and family. And yet for me, there was excitement with dishes new to me, though the flavours were familiar.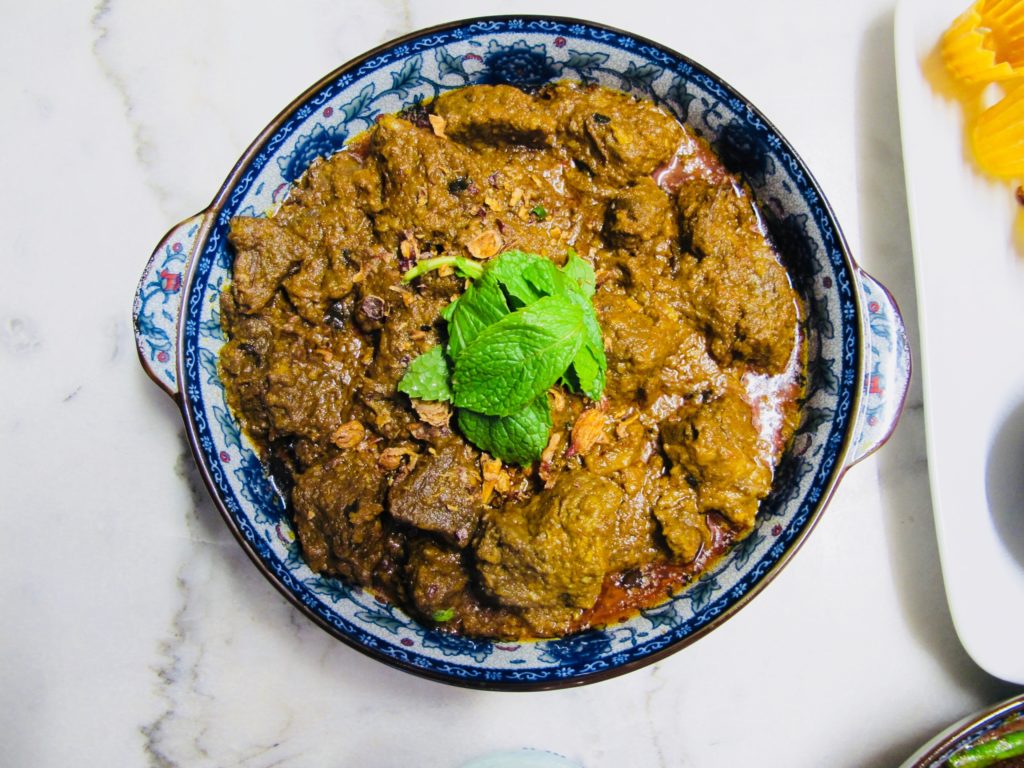 Let's start with the Beef Rendang. This is a pretty known dish but at first bite (of a huge, generous portion), I thought: this is not regular. It has heat, but not too much; it's a beautiful balance of spice. But the meat, simply, was incredible, more than tender and melt in your mouth, as any good beef rendang is, but something higher quality. I was right! Junda tells me they only use a high grade of wagyu beef (4?); and Lai Heng confirmed it's the best Rendang she's had in Sydney. At $30 it reflects the quality and the size of the portion; when I come here, I'm going to order it no matter how much other food we order. I'll just take home the leftovers!
Sam Wong Dan is a good contrast ($15), three kinds of eggs: century, silky and duck. A humble egg dish. Steamed eggs, done well, take on a light, creamy, delicate texture, and here there were many textures with the addition of the century egg. As explained in the menu, Junda learned to cook from his grandmother in Penang; this in fact the inspiration for the whole restaurant. This dish tastes of home cooking and love. A humble dish elevated. Out of some great dishes, this was my favourite.
Lai Heng tells me that Pai Tee, delicate pastry shells that you fill with turnip and crab (or vegetables, or shrimp) is so difficult to make that she's never seen it on a menu in Sydney, and in fact, the last time she had it was at her wedding! Perfect little appetizers ($17).
Razor clams are rare in restaurants in Sydney (first photo, up top). I think I've only had them as part of high-end tasting menus in Europe, and very occasionally in British Columbia, my home province, at a Chinese restaurant or elsewhere. I love them: they're crazy. Clam goodness elongated to the shape of a long thin crayon. We ordered them with the Kam Heong option, so they were stir fried with dry shrimp and belachan, and surprise, a perfect bed of crisp green beans were underneath ($25). This was such a treat and luxurious to have these. If you like molluscs, I implore you to try this dish.
As a "grill house", we were interested to try one of their specialties. We tried the fish ($25), bar cod, which came with two very tasty sauces. I couldn't quite figure out the marinade, a balance of sweet and spicy and a bit sour; the grilled, charcoal flavour was sensational. Lai Heng said the sambal belachan, the deep red sauce, was the best she's tasted, and certainly not store bought.
Finally, Kiam Ah Nui squid, battered in salted duck egg yolk with butter and curry leaves… ($25) I've had this salted duck egg yolk mixture at Malacca Straits (with their addictive eggplant dish) and I can't get enough of it. It's so moreish. The squid was very tender.
It's of note that Junda likes his wine and recommends on the menu which different kinds of wine or drink might pair well with particular dishes. I've seen this rarely in an Asian restaurant, and I love a white wine paired with the spice of an Asian dish. Our pinot grigio (and then pinot gris… this was a Friday lunch for the ages) went very well with the food. Ah, we also loved the beautiful porcelain dishes they serve on, and they have their own branded cutlery too.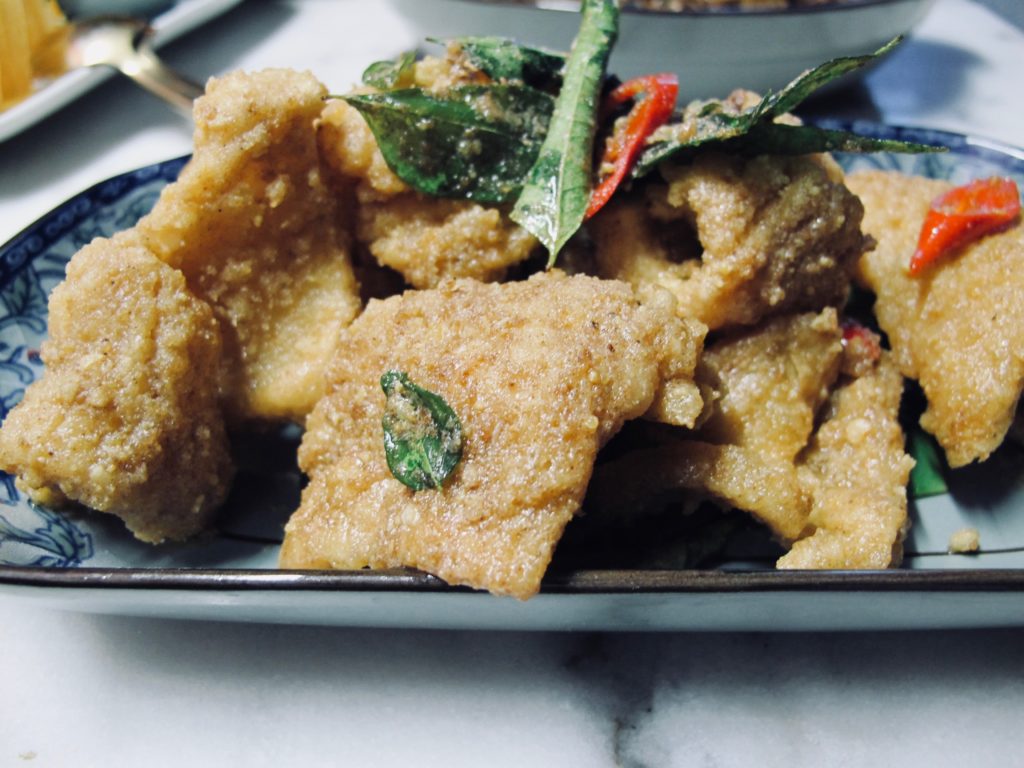 The menu is not only extensive but intriguing. I wanted to try everything so this will be a tough one, when I return, wanting to try new dishes yet I'd reorder everything we had! We were invited upstairs at the end of lunch; there's a space for special occasions, and it's decorated to look like Junda's maternal grandmother's house, rather than the hawker theme of downstairs.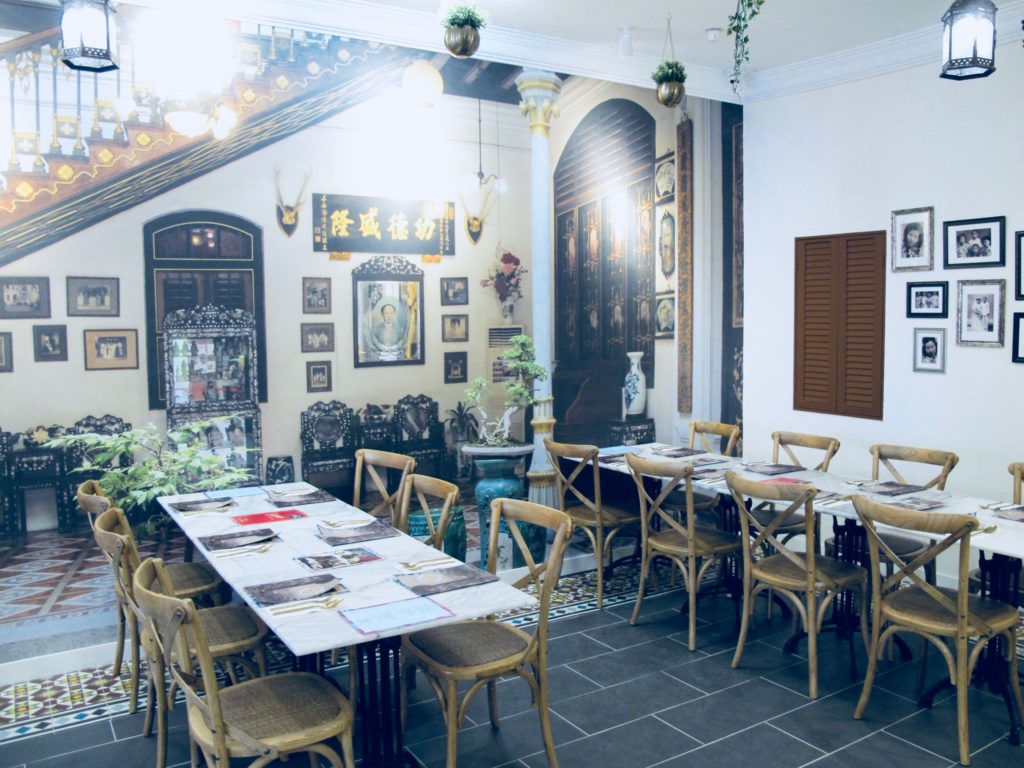 It reminded me of the Chinese family association's headquarters in Chinatown in Vancouver that my Dad used to take me to visit as a kid, up some dark and rickety stairs (here the set of stairs was brightly lit but a similar set) to rooms with ornate wooden chairs and framed photos of ancestors. I like the vibe and would consider it for an event or special dinner; there's even one room which basically looks like a big Chinese family dining room.
Or course, one ends a meal with dessert. Ho Jiak offers an afternoon tea where you can have sweets (and savouries), washed down with tea or… champagne. Sounds like a fun way to spend the afternoon. We were treated to a selection of traditional desserts. An expert grandma and her assistants come in EVERY MORNING to make them.
These were delicate and tasty,  the slightly sticky texture of the sticky rice and various coconut variations. They reminded me of some Thai desserts that I've had (and certainly not like any of the Cantonese desserts that I've had..) Love the crazy blue colouring on the rice in the middle treat.
Between the desserts, the main dishes, my dining companion and our hosts, I finally understand Nonya cooking, Chinese techniques of cooking but with ingredients, like coconut and various spices, that you wouldn't get in China. The southeast Asian flavours, like in Thai food, chili, lime, are muted here; there's often a savoury, pungent, earthy note, say to the richness of the Rendang or the razor clam sauce. With so much xenophobia in the world, multicultural societies and their results, like amazing cuisine, can give me a Kumbaya moment.
Junda, William and Cassandra. Thank you for an amazing meal and experience. I'll be back… with friends!