A kushiyaki restaurant has opened up in Surry Hills, just a few minutes's walk from me. What used to be the casual Mediterrean restaurant, the Reservoir, has suddenly morphed into a chic, buzzing Japanese place that specialises in grilled skewers. I'm a little embarrassed that I originally wrote it was a yakitori restaurant but yakitori refers specifically to chicken: all parts! So, while they serve yakitori, it is not just a yakitori restaurant!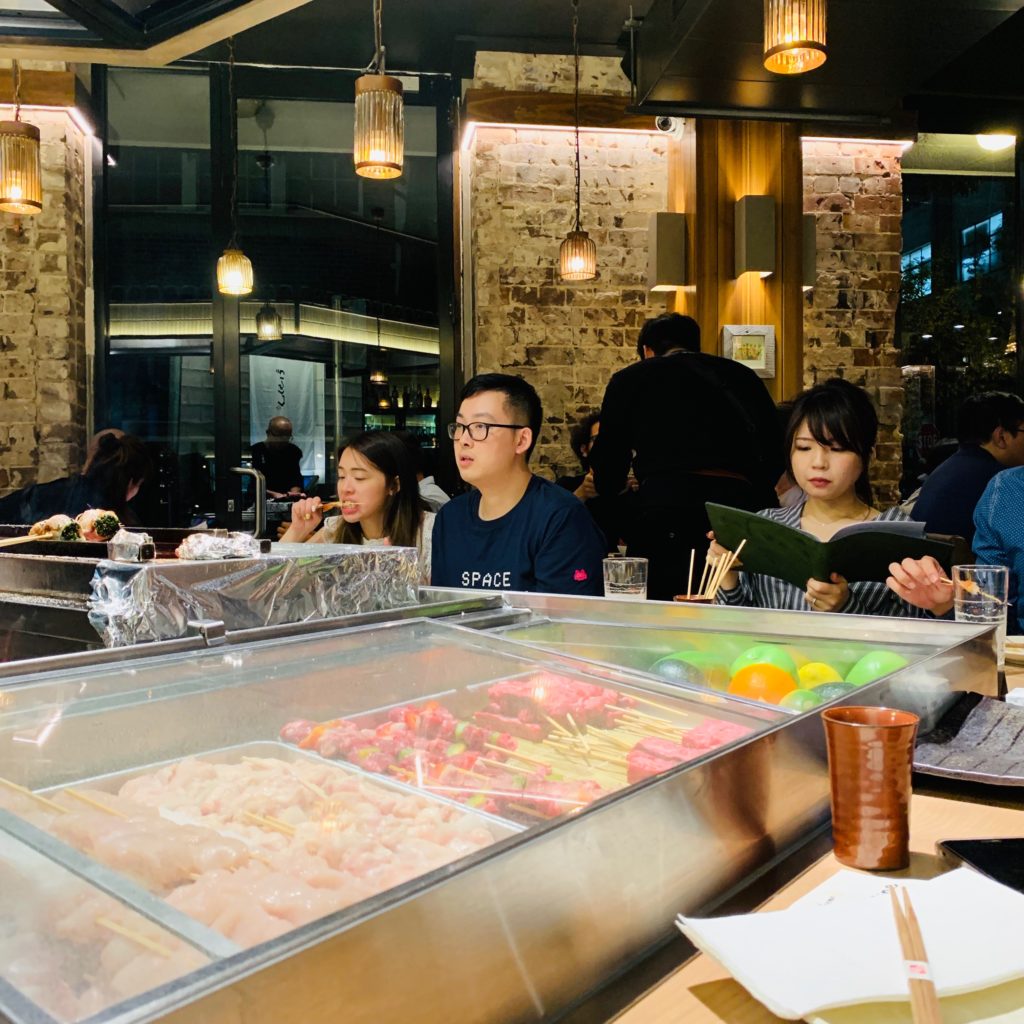 I had seen the work on it, but no menu posted, and happened to walk by on their opening night, which was packed. It seems Surry Hills is ready for yakitori.
In Tokyo one trip, one of my most memorable meals was at Birdland, where they specialised in using every part of the chicken, and the chefs were right in the centre of the restaurant, serving up skewers in front of you at the square counter facing inward.
It's an appealing concept. There's choice, but a focus. The food is cooked just before you eat it, so it's hot and crisp and tender and tasty. There's a lot of noise and bustle. I love me a sake, and thought I'd try to cheapest one on the menu, for $11. It was delicious.
The waitress had recommended getting three skewers at time, so you eat them while they're hot, and also see how hungry you are. There was a specialty that was sold out, something complicated I think about a sort of lettuce wrap on a skewer, but luckily another specialty, beef sukiyaki, was on offer.
Thin wagyu beef wrapped around a tightly roll of spinach and mushrooms, with some grilled onions, and an egg yolk to break apart and use as a dipping sauch. I thought it was sensational.
I also got skewers of chicken tail, pork sausage (basically a high-quality hot dog), pork belly and the chicken meatball, which also came with an egg yolk.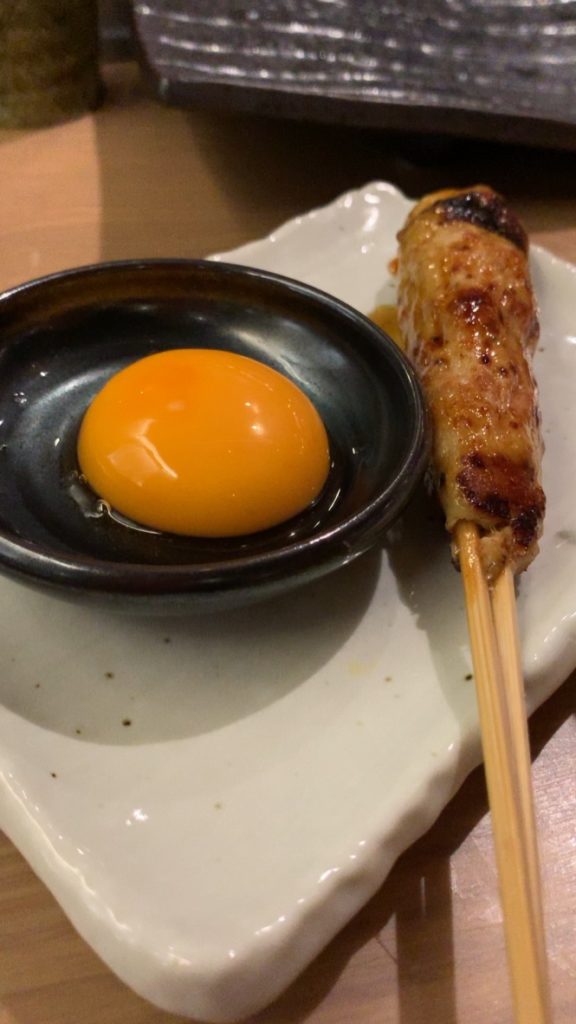 All up, it was about $45 for an $11 sake and 5 skewers, so it did feel a bit pricy for the size of the food that you got, but I didn't leave hungry, and thought it was a super-delicious and fun night.
Apparently there are branches in Tokyo in the Shibuya and Roppongi neighbourhoods. The menu, which is engaging, tells a nice story about how the restaurant was named, and the philosophy behind it. It feels like an authentic experience, with heart.
I can't imagine the skill it takes to open a restaurant and hit the ground running in the first days, with a full complement of chefs and wait staff, all Japanese. How did they do that? How did they all get working visas when they're making it so tough these days?
In any case, kampai. Cheers. I will definitely be back.