Hipster Asian-influenced Italian food in a dynamite atmosphere.
Tucked away at the far end of Bayswater Road is the übercool restaurant ACME, so named with the first initials of the four partners involved, Andy, Cam, Mitchel and Ed. We arrived right when it opened at 6pm and opted to sit in the front section, bright with light from the windows and reflected coolness everywhere (an excellent mirror as a design feature; lamps fashioned as if dynamite sticks suspended from the ceiling).
The menu is playful, interesting and mysterious, with a fair few words that I had never heard of before. After cocktails, all of them tasty and amusing (with the most amusing glass above), the three of us had a light meal with a few appetizers and three mains, accompanied with beer, as the wine menu looks fantastic but expensive (though I might go for a bottle of sake next time).
The famous bologna (I think this is called Devon in Oz) sandwich ($6 each) was simple and tasty. Awesome soft bun, tasty tomato sauce. Amusing.
King Browns (mushrooms, not snakes) were grilled, delicately, with tasty crunchy bits and herbs (as you can see).
We saw this appetizer at the next table and had to opt for it, a barbecued octopus tentacle with a burnt avocado sauce. Yummy.
We ordered a trio of pastas. They were all interesting. The pasta is cut delicately and small, and all are served with interesting sauce and bits of texture, like the nuts, bits of asparagus and green garlic sauce to go with the charcoal kalamarata. This one was $22. Between three of us, it was a healthy spoonful each.
Malloreddus, prawns, sun-dried tomatoes, and vadouvan. As I said, I don't know what some of the words mean, but it was delicious.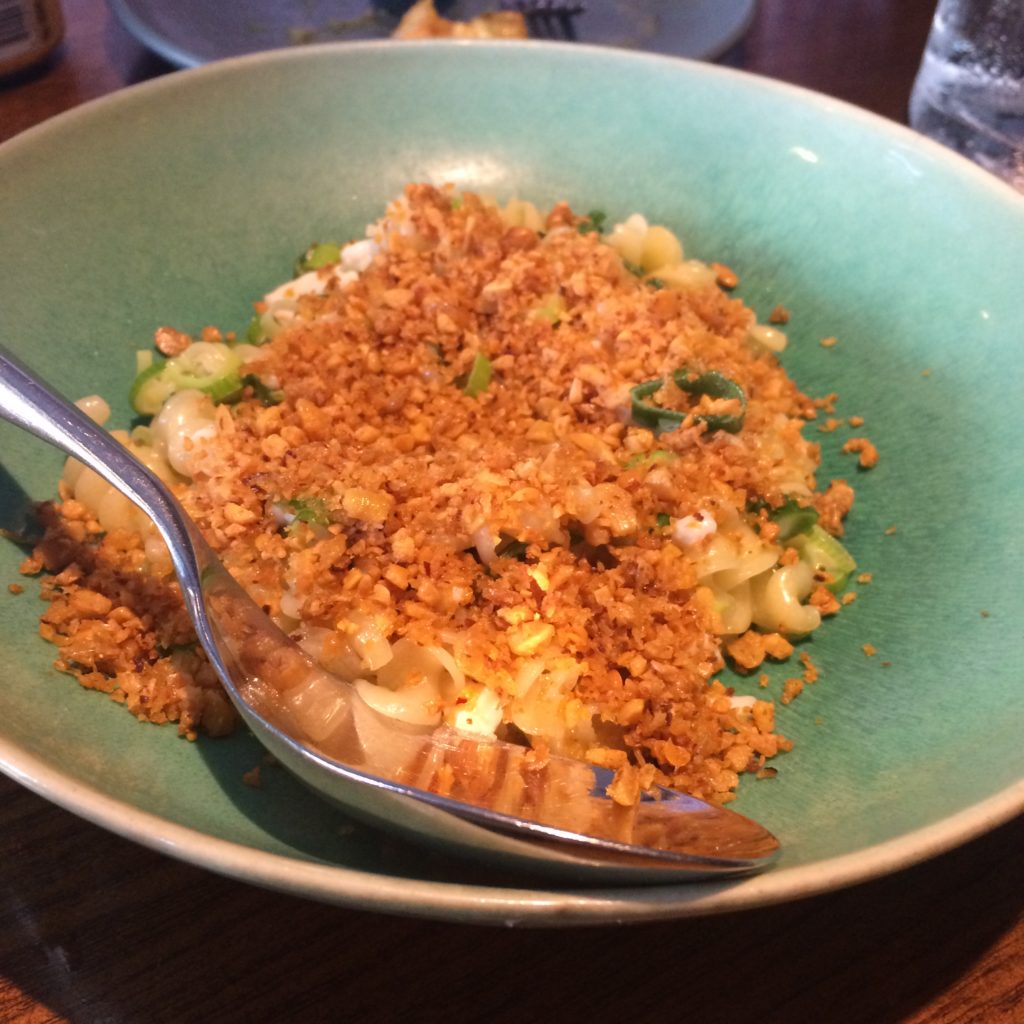 This was fusilli with spanner crab, and covered in spring onions and fried garlic, perhaps a little too much fried bits for my liking (did I really say that?). This and the dish above were $26 each. All in all, I liked these interesting and inventive pastas, more fine dining than fine diner.
For fancy, inventive food like this, I think the price point is good too: for $60, you can get a sort of chef's selection. We chose our own, and probably got a little less food, at a little less cost, but it would be fun to do the special sometime.
Service was extra attentive, maybe because we arrived so early before the rush started. I hear it gets busy here. Me wants to go back. Will take the hubby.