Il Duomo was everything I'd hoped for and more: an exquisite fine dining experience, rooted in Sicilian culture, food and ingredients that would be unrepeatable elsewhere. An elegant atmosphere, a chance to try a range of interesting Sicilian wines, and treated like kings by the wonderful staff: it was all very happy-making.
Ciccio Sultano is apparently one of Italy's most famous chefs, and Il Duomo has a reputation as one of its finest restaurants with a two-star Michelin rating. It's located just down the hill, behind the magnificent church at the highest point of this old part of Ragusa, a gorgeous place to visit. For some restaurants, the setting really does make a difference, and this added some extra magic.
We arrived when they opened, at 7:30pm. The décor is classy and quiet; there are only a few tables in each room, and multiple rooms. We sat as a table of two with another table of two across from us (but not too near). There was a window with a partial, leafy view outside, and some nice artwork. The waiters had fabulous silk ties and matching pocket squares.
There was a choice of a five-course and an eight-course option, with or without matching wines (though one could also choose a la carte). We chose the eight courses (since when are we going to back in Sicily?) and as I'm the lush in the family, I got the matching wines. Though we started with a cocktail each (at 11 euros, cheaper than most cocktails in Sydney, Australia). They were sweet but with a very complex combination of flavours. Yum.
Our menu was focused on seafood, and as explained with local flavours and flourish. There were some pretty fantastic techniques used, but mainly as an element of surprise. The food wasn't too tricky. Appetizers were awfully fun. A spoonful of raw tuna with a thin layer of watermelon over it and bottarga. From an olive, they'd somehow extracted the pit, and stuffed it with something that had the crunch of a pit but was edible.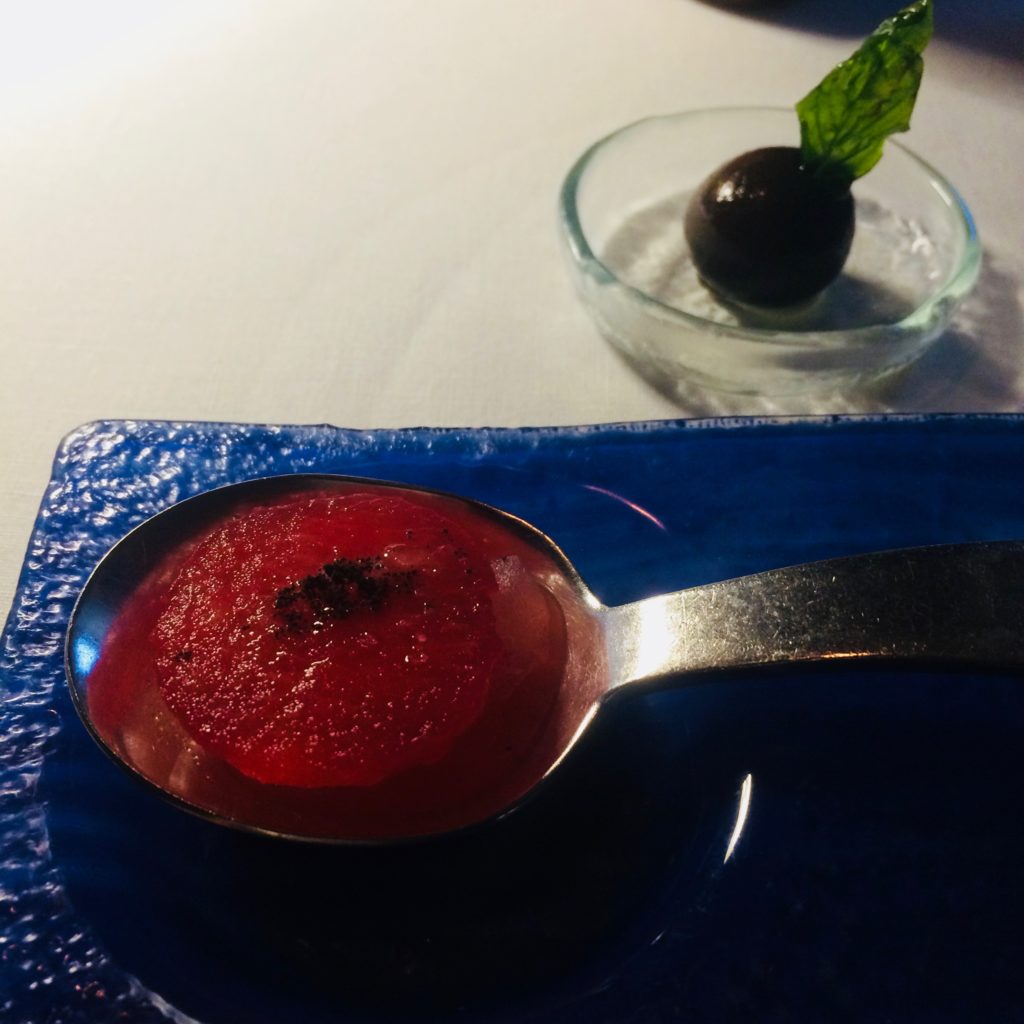 The artfully displayed tower of other appetizers, three each, was fun. A tiny delicate rice ball, a pastry with cream and blue roe on top of a raw shrimp, something that looked like an olive on top of a rice cracker.
I've never had oysters matched with pistachio cream (delectable).
And tiny pieces of a fine dining version of the local pizza… A thick, moist Sicilian pizza called Sfincione.
And on the side, a spoonful of sea urchin with cream (I can't remember exactly what it was).
Of course, there would be pasta served in Italy. This was handmade angel hair pasta, with clams and an intense saffron cream. Yum.
The next dish was a delight. A sort of pumpkin 'cake', with sardines layered into it, a bit of bottarga and cubes of basil. A fun mix of textures and flavours.
The tiny fillets were red mullet, I believe, served with a complicated molecular sauce, so wonderful and buttery and rich; I think it was perhaps a lobster butter, with that yellow round sitting in the middle of a clear circle. Sort of like an egg yolk surrounded by its white. Plus a piece of perfectly charred and crispy green onion, and a crisp sage leaf.
But my favourite was this tiny individual lasagna 'Lasagna of the Queen', with pillowy delicate pasta wrapped around ricotta and on top three pieces of the most intensely flavourful treasures of the sea: blue lobster, calamari and shrimp. And sitting in a bed of Sicilian bisque.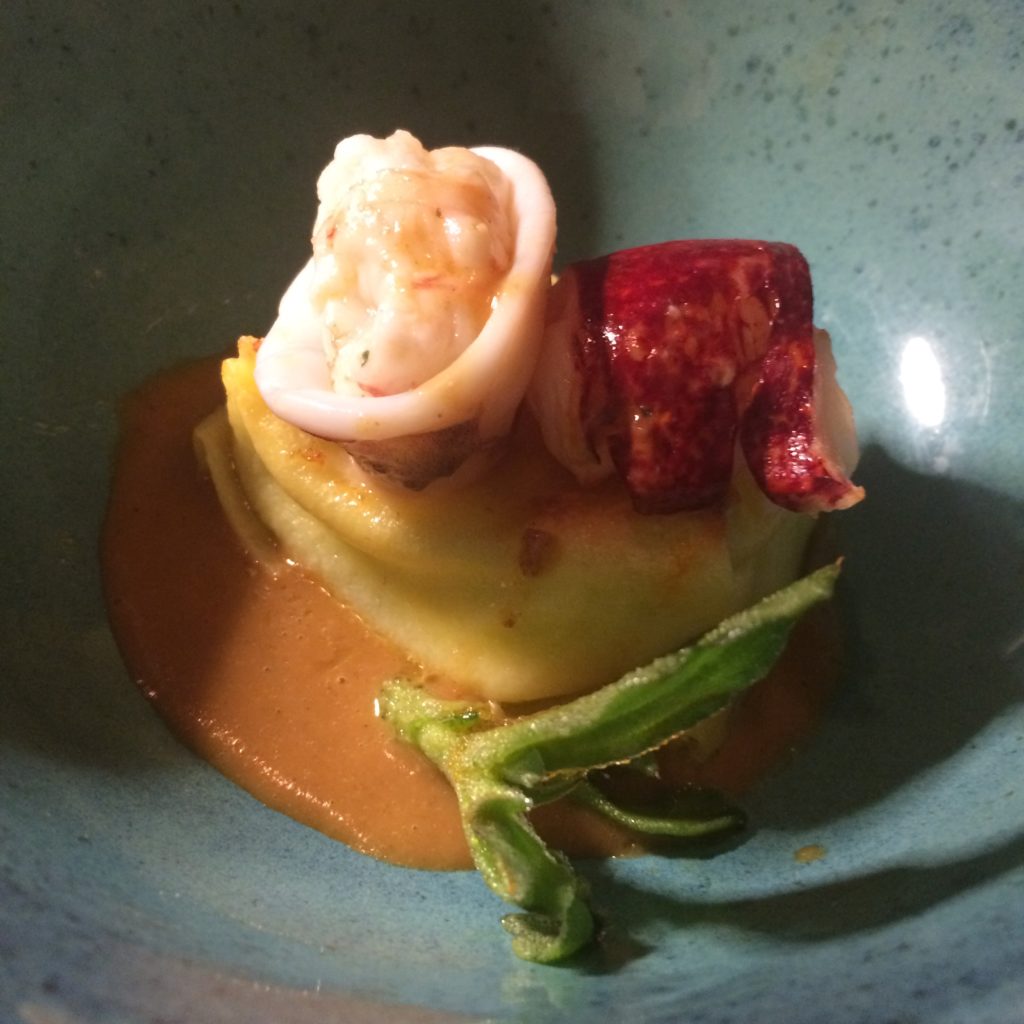 The tuna was an intense, steak-y piece of tuna, full of flavour and texture, and served in a really rich sauce ('a sauce of itself' the menu said) along with a caper sauce and a little onion that looked like it was whole, but then you slid the top layer off and it was filled with an onion confit.
As a palate-cleanser (how I love the idea of a small course in the middle of the meal to allow you to take a break…), a mouthful of truffle gelato. Seriously.
The catch of the day, grouper, was brought over in a pan, and then dished out by the waiter into each plate with vegetables on the side.
I loved, coming to the conclusion of the savoury dishes that the chef had decided to focus on seafood completely and not bother with red meat, which also meant I got to try a really interesting variety of white Sicilian (and one Slovenian) wine. I've had great seafood, in many places, so what made the dishes different were what was on the side, as the fish was cooked perfectly and simply and allowed to shine that way.
Dessert were numerous treats. A refreshing piece of pink grapefruit atop some creamy orange mounds and a gelato of yoghurt, I believe.
This was the best cannoli I have ever had and no doubt will ever have. Every component just tasted somehow better and more fine dining than anything I've tasted before. On the menu, it's described as 'Ragusa's cow's milk ricotta cannoli with warm San Cono prickly pear soup and Pizzuta almond sorbet. I was really intrigued by all the prickly pears we saw in Sicily, so I'm glad we got to try some!
We then had fresh cherries, tiny ice cream cones dipped in chocolate, a jelly and some chocolate… and thought that was the last dessert.
And then comes a gorgeous piece of pannetone, which apparently they sell as well, not just for Christmas but year round. As a side note, in Canada, growing up, my family would receive these cakes at Christmas from friends or acquaintances, and I never understood their appeal, as they were pretty dry. I think that not only had they taken rather a long time to get to Canada, but they weren't the high-quality ones. When our friend Sina in Sydney gave us a first proper pannetone, it was a revelation: soft, pillowy, delicately sweet. Having a special piece of this cake at Il Duomo was fun.
I loved that there were so many traditional Sicilian desserts, humble desserts, amped up to fine dining. The wines, by the way, were delicious. I'm not such an expert, so won't try to describe them except that I appreciated how they matched up with the food, and how they changed flavour with the food! Among the wines were:
2016 Astraio, Vioginer, Maremma Toscana DOC, Rocca di Montemassi
2012 Anas Cëtta', Langhe, Nascetta di Novello DOC, which tasted to me, of honey and mead.
2016 Kolbenhof, Vigna-Gewurtraminer, J.Hofstätter, which seemed to me to have a lemony, open flavour.
2016 Blazic Rebula (Slovenia), which was lovely and dry.
2016 Tenuta Capofaro, Salina, Tasca, Conti D'Almerita
As a final note, I'm always surprised on the food review sites that amidst the rave reviews of top restaurants, it seems like some people, because of the good reviews and reputation of a restaurant, are ready to give the opposite reaction, just to beat it down, as if a restaurant could never live up to a reputation lifted by so much praise. Then again, my husband and I see a lot of musicals and I've found that for the opening nights, or expensive shows, that people seem to give a standing ovation regardless of the quality (which is usually pretty good… but a standing ovation?) It's almost as if because they've paid a lot of money, they're determined to enjoy themselves and that what they paid for is worth it (husband thinks it's about peer pressure and cultural norms though). If I think about it, I'm like this for fine restaurants. If I've chosen a restaurant based on its reputation and reviews, and if it's going to be really expensive, I'm going to expect it to be really good AND I'm going to be rooting for it to do as well as it can.
So, on that note, Il Duomo, I give you a standing ovation. The smile on our faces was from a meal and evening that I will not forget.