We planned to be in Hobart for New Year's Eve and wanted to go somewhere special. S. had read and written down the name of Les Garagistes from an article that mentioned it's one of Tetsuya's favourite places to hang out in Tasmania. Being fans of his restaurant, we thought it was a good recommendation – so how lucky I felt to find on their website plans for a special meal to welcome in 2012. Apparently, we were the first to book!
We arrived for 7:30pm into a big cool dark grey space with a handful of long, high tables set up to the right, and a big open kitchen on the right (and at the back of the restaurant, some cured meats, hanging, lit beautifully and peaking through a window, as if artwork.)
Not having done my research, I was surprised to see that Les Garagistes is mainly a wine bar that serves fabulous food, rather than a more formal restaurant. Also: when we received the menu for the evening — mostly European wines (having travelled around tasting beautiful Tasmanian wines, we assumed it would be a Tasmanian-focused wine list). But of course: the restaurant is named after a movement of winemakers from the Bordeaux region, creative and rebellious, and going against the grain of age-old expectations.
Hey, but imagine our excitement reading this menu (as we settled into a glass of Brut Reserve Bereche et Fils):
I think I was too excited to take photos of the 'snacks' (which I recall would have included some of those cured meats). But I was on track for the poached crayfish and its mustard, ajo blanco, young almonds, peas and fennel pollen.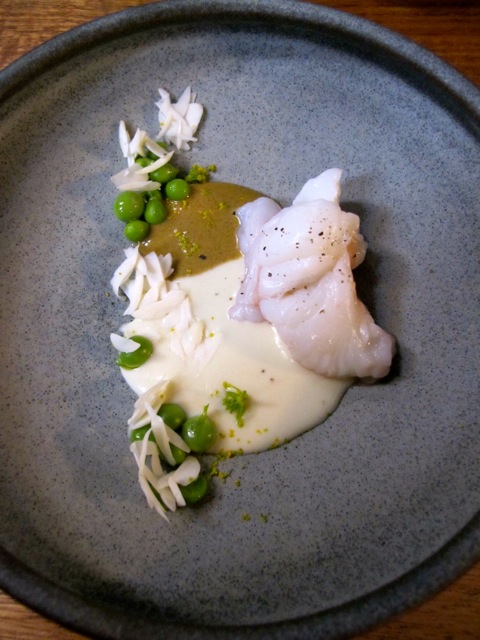 Gorgeous! We loved the interplay of textures and the marriage of crayfish mustard to the thickened ajo blanco, typically a soup of almonds and garlic from Spain. The super-fresh crayfish. And the fennel pollen –interesting, I think there was pollen and hay and flowers snuck on to the plates on my last trip to Paris– was as much a gesture as a taste: your hands open in a field, dry and yellow from the hot sun. I thought the contrast of these two signals —ocean, field— was magic.
Love the simple dark stoneware. The plating was beautiful but also not fussy. This was really special. I know abalone from many Chinese banquets but it's not something most Westerners have tried. I have no idea how they cooked them (usually, they're stewed at banquets with whole shiitake mushrooms) but these thin slices maintained the best thing about abalone: a slightly chewy texture, tougher than a mushroom, say, but softer than a clam. It might not sound great, but it is. Matched with bitter cucumber, dried morwong (a fish) and sea succulents: whooooo. I've seen these sea succulents before, and I *think* I recall someone saying they're edible, but had never tried them. So much innovation on one plate. And I love that it was served with a cold sake.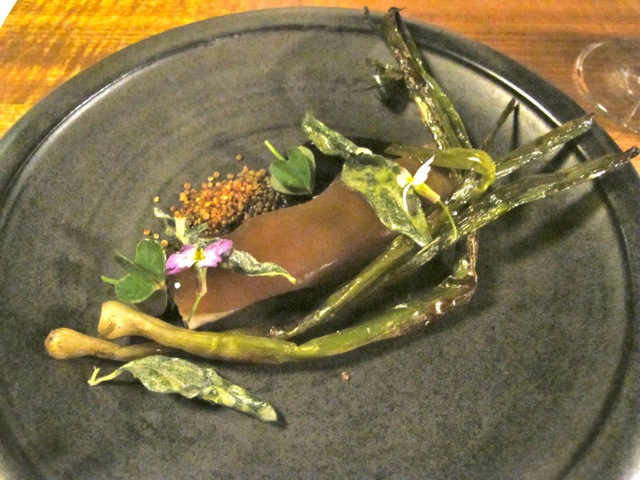 I missed getting a photo of 'richard weston's vegetables cooked, pickled & salted, pinenut moussse, smoked potato and lovage oil. The spark was in the taste more than the presentation of this dish (which I think was part of the fun, the discovery) – and I love that we learned the name of the Tasmanian producer who grew the vegetables! Instead, we skip ahead to 'smoked eel and jelly, grilled leek, toasted quinoa, black egg yolk'. Pretty, huh? So, what were we learning about the food: unusual ingredients combined but leaving the food to speak for itself, and attention to texture with a crunch hidden somewhere in the dish.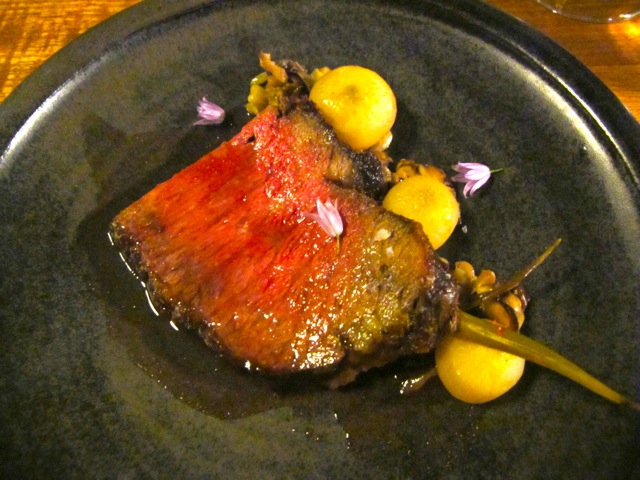 Hugely entertaining during the evening was watching the team of chefs at work. I don't think I've ever seen so open a kitchen before! The young folk all radiated concentration and care, they moved swiftly but were not rushed. The chef, Luke Burgess, was so low key, it was hard to pick out that he was in charge. They were organised and perhaps I'm projecting, but they looked like they love what they are doing.
Case in point: the whole-roasted hammond wagyu striploin with turnip, summer pickles, and cherry plum juice. We watched the fellow in charge of it raise and lower the grill, and insert a thermometer in and out of various parts of the striploin many, many times. My brother, the meat broker, told me after it was likely to make sure that the meat didn't get above a certain heat, at which point the amazing marbled fat would run out the meat and be lost.
We watched as he bound together some herbs, and chargrilled them, and then used them to baste oil on the striploin, raising, lowering, and finally into an oven to rest. It was like watching someone tending a baby!
I think I need to quote from the webpage where this meat came from: In the far NW corner of Tasmania, the Hammond family have been breeding Japanese Fullblood Wagyu cattle on their island property, Robbins Island, for the past 20 years. They run 5,000 Wagyu cattle in the operation … raised on isolated pastures with no supplements, hormones, or antibiotics – as naturally as possible, breathing the cleanest air in the world. The cool climate, salt air, and  pristine environment are ideal for raising some of the most tender and best tasting beef in the world.
So basically, S. and I think this was the best meat we have ever tasted. OHMIGOD.
I loved what appeared as a simple dish. A slice of cheese (huebergblumen 2009) –wow, it has a year– with cumquats and mustard seeds, spelt cake. Perfect (and a nice light course to follow that heavenly striploin).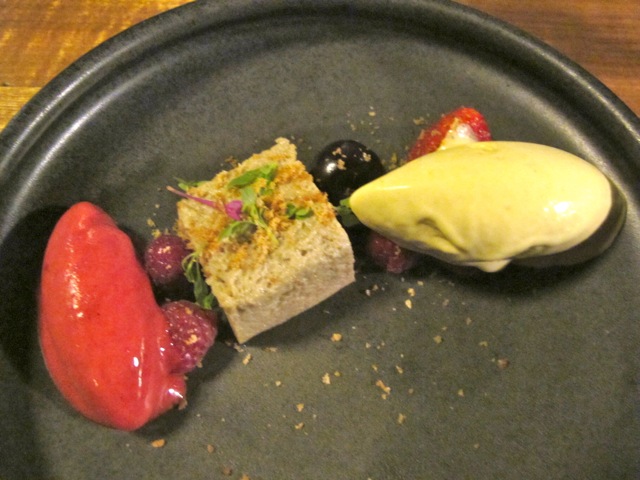 This was kunzea ice cream, anise hyssop sorbet, cherry chiboust and seasonal berries. We looked up kunzea too, a native myrtle tree. And then, not even on the menu, an extra final course:
A green jelly, a marshmallowy sort of thing, cheese? I am by this time in such food heaven (and wine, which I haven't mentioned but which were uniformly interesting and tasty) that though I managed to take a photo, I look back, and can't remember much except that I liked it. The meal finished with yet more champagne (Brut Tradition Diebolt-Vallois).
We had no idea that we were being served by one of the owners, Katrina Birchmeier (the third partner, Kirk Richardson, was serving another part of the room), until we asked who was responsible. But beforehand, S. had pointed to her as she leaned over the counter (on tip-toes, as she's not tall): 'She's on top of everything, knows her stuff, and is super-efficient'. Great, personable service: what a privilege to be able to ask her about the wine and food.
You'll know already that my verdict is good, but I'll go a step beyond. I've made it a point in the last years to eat at a lot of fine restaurants and this combines the best of what's out there: the emphasis on food rather than formality with locally sourced produce served without fuss but with such innovation and care and knowledge that the diners are the ones that can make the fuss. It was one of the best meals I've ever had. And we even finished in time to run down the hill and see the New Year's Eve Fireworks.