Le Felteu is a tiny bistro, hidden away on 15 Rue Pecquay in the 4th arrondissement in the Beaubourg neighbourhood. We had a lovely mid-week meal there, as memorable for the host's big, friendly energy, as for the food. It strikes me in Paris that whenever tourists come across a bistro that strikes them as authentic, is quirky and inexpensive, they adopt it as their own and rave about it… and certainly Tripadvisor is filled with some great reviews.
We arrived around 7:45pm to find out they don't open until 8pm. I was thinking that our early eating habits would serve us well, in getting us seats before others arrived, but when the restaurant isn't open, that's not so helpful. The host very purposefully sat everyone who had reservations first, and it seems like we were the only table to sneak in that night without a reservation. So, cheers to us.
But hey, there were barometers in the wall in the shapes of small guitars, one wall and ceiling area that looked like it would collapse from water damage and mould, and the charming chef would pop his head out every once in a while. This was a two-man operation.
The menu comes out on a chalk-board with the special of the day on one side and a relatively small set of choices on the other side. We thought it was amusing that we asked for wine, and were brought a carafe of red. There didn't really seem to be much of a choice!
S.'s pate de campagne was perfectly delicious, and my goat cheese salad, with the cheese hot and melty on bread swimming with olive oil was… delicious.
I thought the mains were slightly plainer. S's Osso Bucco, a special of the day, was served with spaghetti and was appropriately tender and tomatoey.
I didn't quite expect a whole fish ('bar'( when I ordered it. But here it is. It was perfectly done.
The real highlight came with the gratin that we ordered on the side. Do not miss this if you go! Slightly sweet, was there nutmeg and cinnamon with the potato, possibly sweet potato mash.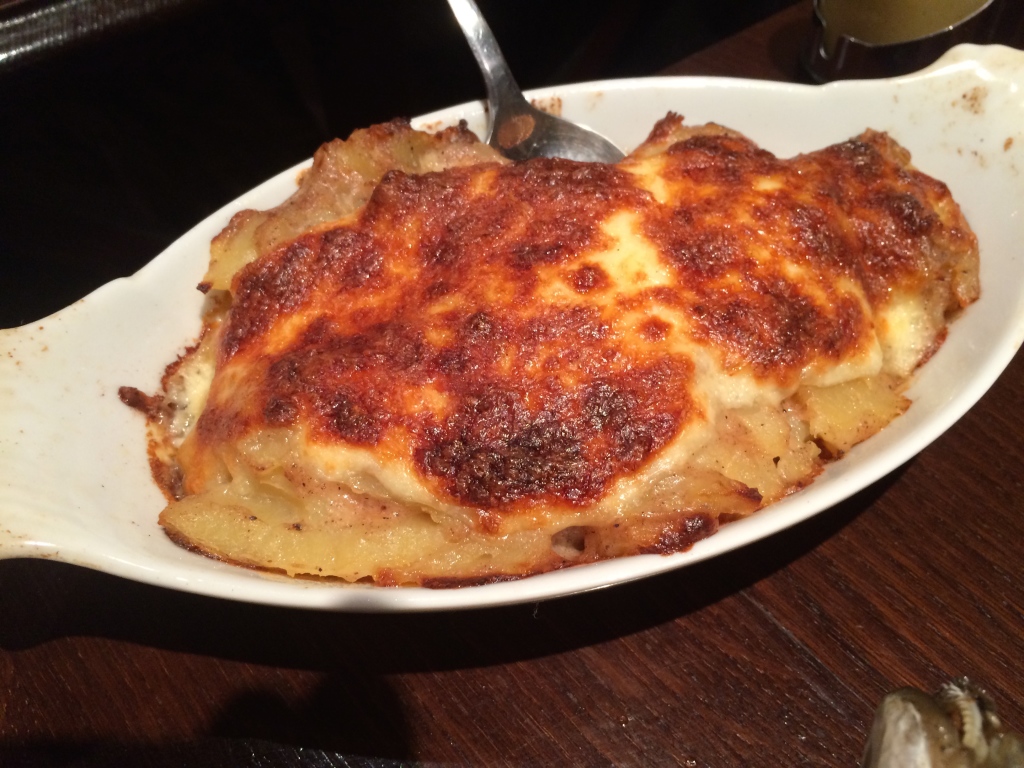 All in all, a nice quiet neighbourhood meal, probably a step above most bistros, but not extraordinary. Fun though, authentic and reasonably priced. Oh, cash only. Don't forget.