Dessance was a truly interesting and memorable meal: while saying they focus on the sweet part of the flavour spectrum, all the dishes emphasized flavour, and we loved the savoury dishes as well. 
Ah, welcome to Paris to us. For our first special meal out on this part of our journey, we headed over to the Marais, just north of the busy strip, to try a restaurant recommended to me in the most modest and traditional of French bistros, Le Pied de Fouet in the 7th, by a lovely older woman who started a conversation with me after I offered to fill her water
glass. If you're new to Paris, you must try this interesting restaurant, she'd explained. They prepare the food right in front of you at the counter. The specialty is food that has a sweet or sugary flavour, such as sugary vegetables.
In retrospect, that's what she said to me. At the time, what I understood, combining the sentences together was that they candied the vegetables right in front of you at the counter. Which is kind of an interesting image.
Not knowing what to expect, we arrived at our early dining time 7:30pm, which seems useful in Paris since everyone else arrives after us! The design is chic but also light and open. We thought that all of the staff were adorable. Of course we had to have the full tasting menu, but we matched it with a regular 5 glass of alcoholic pairing instead of the extra-special pairing.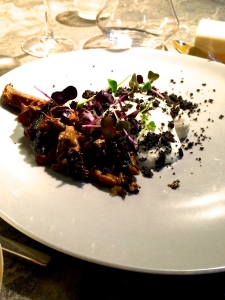 The first course, paired with a gewurtztraminer, set the scene. Artichoke puree, velvety and savoury, with three kinds of mushrooms and a sprinkle of slightly burnt crumbs, which we think was smoked mozzarella. It was a stunning combination of flavours. Loved it.
The plates and bowls by the way had a lovely feeling combining ceramic and slate. Very organic.
The next course I think was the prettiest. I mean look at this. Gorgeous. It was a sashimi of dorade (I think this is bream) surrounded by three kinds of cauliflower, including the fabulous romanesco broccoli, and a sprinkling of a herb.
I thought he said genevre, which would be juniper, but I think his English and my French failed us. The fish was slightly warm, the vegetables, some slightly steamed were cool, and the purple cauliflower was raw (or barely cooked). So, the interplay was between heat and cold, textures, colours, and a slightly salty and acidic cure of the fish and a clean taste of vegetables. This was served with a sparkling pink champagne or wine.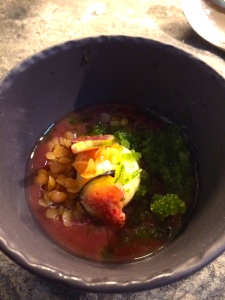 A slightly simpler next course. Lentils in a slightly sweet fig puree with a sorbet of tarragon, and possibly another vegetable creamy puree but we weren't sure what it was. Light, tasty and again, some interesting contrasts of flavours and textures.
Oh my god, did I love the next dish. Burrata, that creamy slightly sticky and strangely textured version of mozzarella, what's not to love about burrata?
With a sorbet of mustard leaf, and candied oranges below, and kind of a gingerbread crumb with it… It was offset by the sharp slightly sour taste of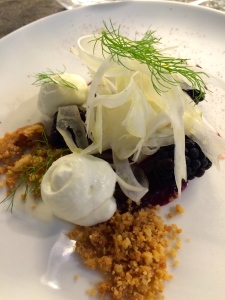 some Gueuze Belgian beer. One of my favourites of the night.
By this time what I'm figuring out is that the sweet notes are accents, and perhaps even the emphasis of the dishes, but by no means do these dishes taste more like desserts than savoury courses.
Certainly the blackberries in the next dish were a burst of fructose… but with the thinly shaved fennel and the cream and crumb pulling it together, neither savoury nor sweet were dominant.
Did I mention how fun it was to see the chefs at work? We've sat the counters of Fourteen and Momofuku in Sydney, and really enjoyed the experience and show of seeing chefs at work. But this was much more intimate and boy were they working hard! A main chef and two main assistants, composing each dish at the counter, each labour intensive and complicated. I suppose it was made possible in that everything was that everything had been prepared before service, and little required an oven, and none required a fry pan. I it was great to appreciate the thinking, planning, timing and artistry involved.
They served filtered water, both non-sparkling and sparkling, which was a nice touch. Here's the head chef, preparing the most impressive looking dish of the evening, a Baked Alaska, or as they call it here: Norwegian Omelette (because why would something from Alaska be so far away here in Paris). Loved the piping of the meringue, he'd put it into the oven and was timing it somehow in his head, and would always turn around and pull them out at the exact correct time THEN pour flaming whiskey on top of them. Once, he served with a glass top to keep some of the smoke inside so when lifted, the smoke wafted out in front of the diner.
Delicious AND they served it with whiskey. Smoky and sweet. They served a second dessert at the same time, a nice touch so we split both dishes between use. The other was served with whiskey as well, a butterscotch concoction which could have been a typically rich sweet dessert but there was such a zing of lemon hidden in this one, it made it quite out of the ordinary. Loved the red plate too.
(Here's a photo below of the Norwegian Omelette in its full glory).
Just when I thought I had eaten far too much and couldn't eat any more, they brought out a final little plate of treats, marshmallows with pink pepper, a piece of pumpkin with kumquat sauce, that looked like a little raw egg, and a Magnum, frozen red berry sorbet covered in chocolate.
We were très happy with this meal, the incredible food, the show and the service. The host asked us something as we left, after he complimented me on my bow tie, and I completely missed it in French so he translated it into English: When would he have the pleasure of serving us again?
Definitely again, we answered, before we leave Paris!