Come dine with us at Geranium in Copenhagen. You've saved the best for last (well, the last of the Nordic restaurants that we dined at in September and October of 2013). Your lunch companions for today. S. at the start of the meal, looking refreshed… and me, partway through the meal, looking sloshed already.
While we settle into this gorgeous, light restaurant with a view, oddly located a little outside the centre of the city near a sports stadium, let me tell you a story. One of the reasons for doing our Nordic tour, or so we joked, was to get into Noma, the world's number one restaurant. I did my research beforehand, and I even tried a trial run of getting a reservation (you have to book, online, at a particular time each month) the month before we were to be there. I clicked with two different laptops… for about 20 or 30 minutes, before I finally got on a waitlist. Same thing a month later when I tried making the reservation for when we WOULD be in Copenhagen. We resigned ourselves to probably not getting in. My friend Sofia said, "You don't want to eat there anywhere. People got sick." (Referring to a well-reported food poisoning incident). Geranium was the restaurant she referred us to and I happily booked for a Saturday lunch.
A week before due to arrive in Copenhagen, we were in the swimming hall in Helsinki. My phone rings. I search around to find it, first thinking it was S.'s and then seeing a number from Copenhagen come up. Why would my friends call me so early, I thought. They know I don't arrive until next week. In that two seconds of decision-making, the phone stopped ringing. When we left the swimming pool, it dawned on me that it might be Noma. But what to do? Their reservation office is only open for a few hours each day. And in the meantime, could we really afford to have two very expensive meals two days in a row? Of course, the answer is: YES. But it was too late. I wouldn't be able to call them back until we actually arrived in Copenhagen, what with our travel schedule. When I arrived, I called right away, on the train from the airport to the centre. Had they called? Yes. To offer us a Friday night dinner reservation? Yes. Was it available now? No.
I leave it to your imagination to think of my reaction.
In any case (and so I tell myself), I think our experience at Geranium would have been much less special the next day, and we were both a bit squeamish at the idea of the current dessert, live ants on blueberries. Here's our menu for today:
Seriously. It was that long. We actually didn't get presented with the written menu until the end of the meal, which was lovely as the very skilled and expert staff explained it all to us with each course. You could choose between having it served with wine or juice (or neither). We opted for one of each.
…this was great since we got to try each other's pairings…
So, let me put it out there. I do feel both disloyal and flighty that I've said a number of times in my life that I'd just had 'the best meal of my life' but hey, times change, and at least I'm on an upwards trajectory. I rated this the best meal and dining experience I've ever had for the incredible food, the showmanship, the perfect service, the extra touches and the warmth and hospitality. It was stunning. I don't need to really describe the food that much, I think I'll just put the labels as everything tasted as good as it looked and was truly amazing.
I will say that often, the edible part was only a portion of the dish, i.e. here, the vegetation at the bottom of the dish was not for eating (above), nor the decorative salts and ashes below the glass (below).
This would have been one of my favourites for presentation though. The thinnest slices of pears with the herb verbena nestled inside.
A non-food interlude.
The plates, the décor, everything was beautiful – I'd assume the majority of it all Danish design! The next course was a lovely little puzzle. The Jerusalem Artichoke as a dipping sauce for the Walnut sticks, which looked like the twigs they were resting on, but were not the twigs. I suppose some people might find food like this a bit tricky, but I was enchanted…
Geranium by the way is also in the World's Best Restaurant list, just a little further down the list from Noma, and its chef, Rasmus Kofoed, has won numerous prestigous chef-type awards.
We also felt a lovely connection with our main waitress who had just returned from living in Australia! She, and all the staff, were amazing. It's a real feeling of being taken care of when multiple folks are taking care of you, and really, this was to a level of style and professionalism that I don't think I've experienced before.
Ah, this course was adorable. It was as if the dried flowers and dried apple had been wrapped in a clear tea bag that melted in your mouth.
The soup was packed with flavour in just a small serving.
The oysterleaf is a plant that tastes a little like an oyster! Bleak is a sad name for a fish.
I don't know how the potatoes got so black…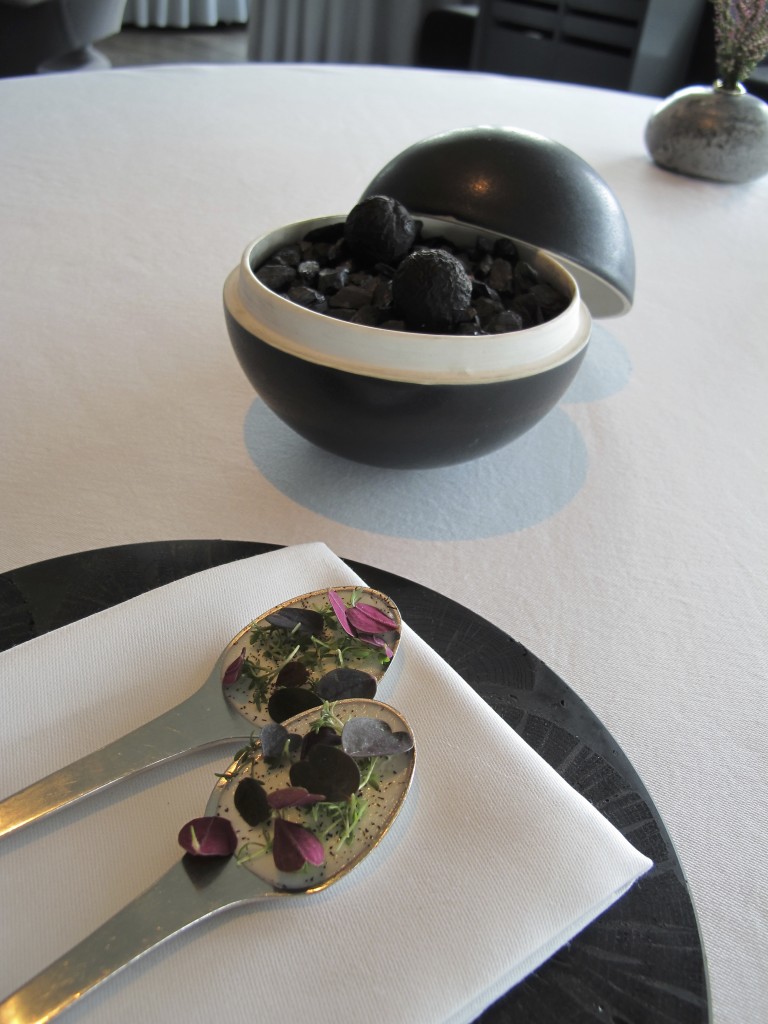 "Charred Potatoe" & Sheep Milk Butter
 This was a crispy piece of salmon skin… As I recall, it came with a bit of theatre: the smoke was swirling around inside the bowl until the lid is lifted off in front of you.
I think we'll finish this section with a light, refreshing soup… (the ham flavour is resting in the jelly on top of the 'tomato water).
I split this blog post into two because it was getting so long, but it's amazing how many people don't click onto the next post. Go on and click: you won't regret it. The next courses are just as amazing as the first.