Come dine with us at Helsinki's A21 Dining!
A21 is the sister restaurant of one of Helsinki's hottest bars, apparently, and is described as 'A story told through flavours'. We were in Helsinki on our first night, headed to find some traditional Finnish food (seriously, Lappish food: reindeer and the like) and we walked by this restaurant. We stopped to look at the menu, and were too intrigued to not go in. Plus we'd just arrived in Helsinki, it was pretty cold and this seemed like an easy option.
What luck for us! A21 was truly original dining, wonderful food with cocktail pairings, and we had the most amazing experience, as we had the manager/owner/barman all to ourselves. Yup, we were the only ones in the restaurant (it was a weekday). There are two sections of the restaurant, tables with funky fireplaces in the middle for cocktail consumption…
And a lovely area in white. We decided just to hang out around the fire for the whole meal though. How much more cozy could that be on a cold Nordic night?
The idea of a menu paired with cocktails sounds dangerous, both in terms of the amount of alcohol consumed (and I was feeling tipsy two-thirds of the way through) but also whether the typical sweetness of a cocktail could be matched with a variety of foods.
The problem is solved here with a light touch and a bent towards the savoury. A sauvignon blanc laced with saffron and a hint of white vermouth had no hint of sugar. The use of dark Chinese tea as a flavour touch for two of the drinks was also an example of giving depth and earthiness to the libations. There was a carefully constructed bridge of flavours between the drinks and food – and on consideration, I realized that mixing an expert cocktail takes more effort, which I appreciated, than pouring a glass of wine, no matter how exquisite that wine is.
But first off, let's talk about the concept, for I've not been in any other restaurant like it. A21 creates different menus according to the season and creates a menu. Literally. Not just a particular combination of courses but the most beautifully designed menu I've ever seen with glossy photos describing each course. Check out a preview of their current menu on their website.
As you can read, each course is focused not just on the food, but the feeling. Listen to this course described from their winter menu:
LOIMU A moment in the Laplander's hut A gathering by the fire is a moment for the magical stories of the North Onion soup and oxtail In a glass Sencha tea & sherry  
Literary and imaginative, I can imagine confusion from less creative types, but we were charmed. The course of a dinner described as a walk in the woods? A trip to the ocean? The leaves in an autumn forest? Niko, afore-mentioned host/waiter/everyperson, even explained one course as getting lost momentarily, before finding one's way again. Given the choice between 5 courses and 7, we opted for 7. We're piggy like that. (79 euros if you must know, with the cocktail pairing an additional 72).
If you're willing to go along on this journey, it's magical. I wish I'd taken photos of the menu – though as you can see, our photo quality for the food is terrible (except the one above, much better photos on their facebook page). Something about lack of expertise in food photography and this particular lighting. And my blogging and reviewing skills are pretty remiss this time around. I didn't manage to take many notes at all of the food we had.
But I did manage to ask about the beautiful plates… from Figgjo, an established Norwegian company… And you can see how artfully they combine the food with the dinnerware. Check out the way the beautiful salmon terrine is laid out on this long curvy rectangle.
The emphasis on seasonality was matched with skillful matchings of flavour and texture. As we were discovering about Nordic cuisine, the food was neither light nor heavy, with the use of milk products in a way that's not as common in the Asian-influenced fine dining in Australia.
Niko gave us expert explanations, wore black gloves for concocting his amazing potions, and was efficient and inobstrusive, that is until we asked him questions to make him hang around for a while and tell us about the restaurant and modern Finnish cuisine.
As with all of the other Nordic restaurants we went to, there was amazing homemade bread (rye) and homemade butter…
I did manage to write down a description of one course, which you can read is quite complicated though it didn't taste complicated. A mussel with carrot marmalade, cream of mussel, fennel cream, dill, leek, perch and lemon. Wow.
I think this is the one served with the cocktail of sauvignon blanc, saffron and tarragon. This meat dish was pretty awesome too…
I think there were pickled onions and garlic and… Sorry, I'm not doing this justice at all.
An unexpected bonus was learning about A21 and their challenges. From what we understood, there was a change in legislation and policies, and Finnish companies had to stop allowing their employees to write off meals. While A21 mainly had business customers before, they are now trying to increase the 20% of their business that were private customers up to 100%.
Niko lamented however that Finnish people would rather eat at a Mexican or a Chinese restaurant, and it's what they are used to in terms of going out. They're not willing yet to support the idea of Finnish cuisine.
He and his colleagues are trying to change that attitude, just as they've changed drinking mores with the A21 cocktail lounge. Rather than the Finnish attitude of drinking as much as you can one night of the week to get drunk, the cocktail bar has the mission to change the way Finns drink, to enjoy a drink in moderation but on more than one night of the week! This also applies to eating out: not just on birthdays or special occasions.
It might be a little bit of a hard sell though, because this was a very special meal! Case in point, two desserts…
One of them was their version of apple pie with cardamon and milk chocolate foam and dried apple served with cognac with bergamot and cinnamon foam.
What more could one ask for in an international dining experience? Complex, interesting, engaging and tasty food; a new concept and cuisine; nicely tipsy from delicious not-too-sweet-cocktails and a little insight into Finnish dining and eating.
Between our meal here and at Chef & Sommelier, we think Helsinki is destination dining. It may not be known yet for it, but savvy gourmands really should fly in for the food (as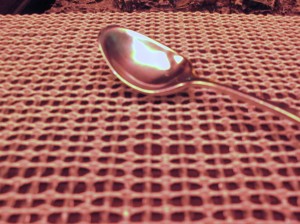 well as the cool design, buildings and people). Thanks Niko (and the shy chef) for a memorable evening. We wish you great success.
A21 Dining
Kalevankatu 17
00100 Helsinki
+358 40 17 111 17
Dining@a21.fi
www.a21.fi