Ah, you get what you pay for… Let me say first of all that while my better half refused to come to this restaurant with me, I thought: hmm, those dumplings in the window look good. See, I'm addicted to Chinese dumplings and I knew that an all-you-can-eat buffet is never a good idea, and the price of the restaurant seemed suspiciously low, 10 euros for dinner.
But hey, I thought I'd give it a whirl. It was a combination of hankering for Chinese food (being Chinese) and thinking a change from the regular French bistro food would be good. It's always busy too!
So, I went in last night, and was seated kind of in a strange position, near the cash register, which I then learned was quite a good position for reasons I'll explain. I ordered a very cheap and acceptable pichet of red wine for 4 Euros (and it was huge) and then went to get my first serving. I had a book with me, so I figured I'd just relax and stretch out this eating experience.

Then I noticed the microwave ovens, three stacked on top of each other. 'Do you have to eat up everything?' I asked, and one of the two nice women behind the cash register replied, 'Yes.' Hmm… I've never seen this before, ever. It's not only then got the atmosphere of a buffet, but of a student or work cafeteria where people have brought their own lunch and have to wait for it to heat up. There's a constant line where you're trying to decide whether to get into the small buffet area, or wait around near the door and the microwave ovens. People couldn't necessarily figure them out either, so there was an air of confusion.
There was an interesting mix of tourists here, a number speaking Spanish, a nice older American couple, some younger folks, couples and single diners. I was amused to hear a conversation in French where a man called over the waitress to complain about a hair
… either in his food or on his plate. Without missing a beat, she said in a tone direct but not defensive, 'I'm sorry that it's there, but it's a blonde hair. We don't have blonde hair.' You can't argue with that.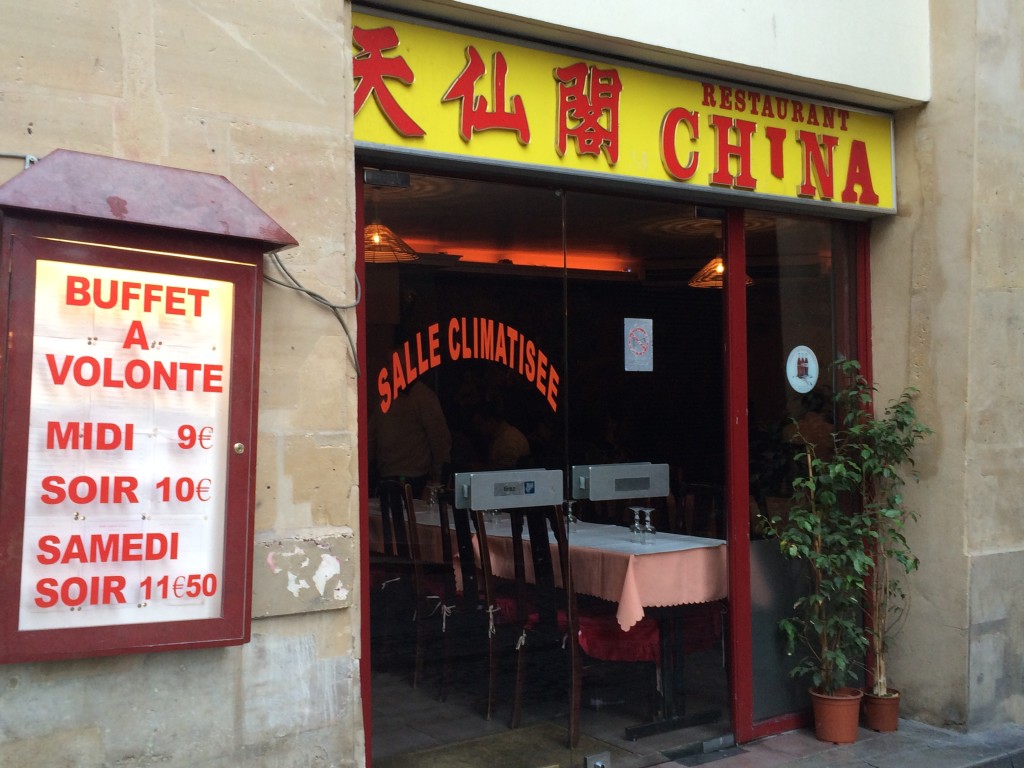 The food: what can I say? It was cheap Chinese food, and I haven't had so much MSG for ages. I was so thirsty the next morning (my usual effect from MSG, though it might have been an excess of salt too). The dumplings weren't terrible but weren't good. The soups, thick with corn starch, were kind of good. Various other dishes: meatballs, meat skewers, deep fried chicken – they tasted like cheap Chinese food, which I don't mind terribly though the thick gooey sauces weren't so nice. The problem with microwaves though is that they don't do justice to anything that's been fried; it takes away the crispness and makes it a little soggy. What could have been a lovely Vietnamese spring roll, a nem, had that microwaved fried texture. Same with the dumplings, which would have been great steamed, but tasted rewarmed, like leftovers. So, the food ranged from tasty (deep fried chicken drumsticks) to terrible (a crab claw dumpling, I think made of seafood filler).
Served me right. If you don't mind mediocre, rewarmed Chinese food, and you're happy for a bargain, then you'll find this passable. For its truthfulness, I will give it two stars, I can't give it one because it's not trying to be anything other than it is, but I certainly can't call this good food.
China
70, rue de la Verrerie
75004 Paris
Cost: 10 euros for all-you-can-eat dinner &
4 euros for a generous half carafe of red wine.