It's raining in Paris, heavily in comparison to earlier on today when it was sprinkling with rain, kind of moist all over. But it's not torrential like in some cities, and oh, this city glows, the streetlights and shoplights and restaurant lights all reflecting in the wet.
I decided that, being in Paris, I can't resist treating myself to another meal out, and I turned to Tripadvisor again. It's a funny thing, Tripadvisor. It attracts the worst and best opinions on each review, from people you might adore in person to others you wouldn't want to be within 20 feet of. If restaurants are too good, they attract sour people. Often, highly rated restaurants seem to have some general appeal to tourists and obvious consistency, but seem perhaps odd to be rated among the top restaurants in the city. The highest rated restaurant in my neighbourhood in the 7th arrondissement seems a very plain Italian place with a boring menu of pizza and pasta that was empty when I walked by it tonight. 
Still, I think that there must be some sort of crowd wisdom to put a restaurant at, say, #1634 out of 12,797, like the neighbourhood bistro I went to tonight, as compared to those in the 4000's and 5000's in the vicinity.
So, Cafe Trama. I called up to see if I could get in and was told that they *could* fit me in as long as I was out by 9pm. It was a quarter to eight so I thought I'd be fine, and indeed when I arrived, there was only one full table in the restaurant, a group of French and German work colleagues I think. Of course, I was seated right next to them, and at a table in the style I'm getting used to, where they have to shuffle it around in order to fit you in.
Still, the service was super charming, and for some reason, my French gets better the nicer they are. The waitress had full knowledge to be able to recommend wines to me, and I had a fruity but dry white wine to go with my Pork Rilette, which neighbours on both sides of me ordered as well. I wish I was like the two young Frenchwomen next to me and able to split it. It was delicious, but too rich and large a serving for only me.
My next wine was a Sainte-Foy Bordeaux, Chateau du Champs des Treilles 2012, slightly chilled and with a bit of body to go with my veal cheeks. It was SO good. My main was so beautiful presented, the individual vegetables arranged artfully. They'd been stewed along with the veal cheeks, so didn't have a lot of texture, and I found the dish a little salty, frankly, but the cheeks were tender and had a bit of chewiness that I liked too.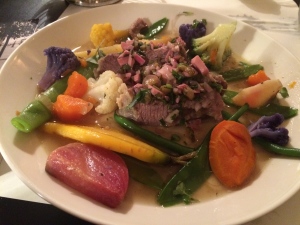 Could I exercise restraint on stop there? Ban non! I finished with a berry clafoutis, basically a lovely custard pie. I like that it was a relatively simple dish to finish with. This bistros seem to focus on creating beautiful simple dishes, perhaps traditional with a twist (as next to me, they'd ordered croque monsieur for dinner!), something pure and direct about its composition.
I find it hard to give ratings these days, though I notice that I give a lot of 4 out of 5 stars. Would I rush back for the food (indicating 5 stars)? Not really. It was lovely but not extraordinary.
But it was certainly not average. The thing is: if I was to rate a restaurant based on how I feel, to be in Paris, high on life, feeling lucky to the gills, that would be a 6 out of 5. So, I think based on how charming this restaurant is, and the wonderful, superb, friendly and skilled service, I'm going to give it a 5. I should at least try to raise its score in comparison to some of the mediocre but higher rated Tripadvisor restaurants…