The thing is, in Paris, on a Monday night, most restaurants are closed. My friends were staying near Commerce and I did a pretty comprehensive search, I thought, on TripAdvisor, and I was having troubles coming up with options. Out of the 13,000 restaurant listings in Paris, Cafe Cosmos at #5708 was looking like it might be the best we could do… But showing up, on a rainy night, the menu looked rather uninspiring. Burgers. Salads. We had a drink at a regular bistro on Rue de Commerce instead, and then we spotted Le Cafe Du Commerce out of the corner of our eyes. It looked pretty nice from the outside…
And was even nicer on the inside (I should have taken photos). A beautiful open art deco space from 1921: very charming indeed. And somehow I'd missed it in my internet research. It's ranked #2463! The service was very French, the menu was very French and extensive (and the French version offered much more than the English version). I think A. was happy with his little ramekin was aubergine and goat's cheese. W. said that beetroot carpaccio was just as excuse for the delicious chevre cheese on top. I myself couldn't resist trying the breaded bone marrow and toast, a fantastically odd dish, as you can see here…
I don't think it needed the breading, which was a bit crude, but the bone marrow was tasty and strange and gelatinous and I'm glad I tried it.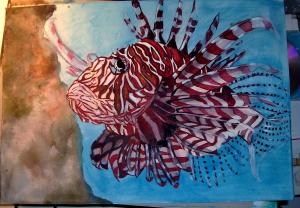 For our mains, W. had a mini pot roast, in its own pot, A. a classic steak with roquefort dressing and I couldn't resist trying scorpion fish, because really, who wouldn't want to order something that looks like this:
Though I suspect the common eating species looks more like this:
And cooked it looked rather nice too (as below). If I'm back sometime, I'll try the 12-hour pig's trotter…
Meanwhile, all washed down with a bottle of dry white wine, we were far too full for dessert…
Frankly, with Paris rainy and slick with rain, shiny and cozy, and in some of the finest company I could imagine, the food didn't really matter much at all, so the fact that we found an authentic French bistro with a menu slightly out of the ordinary on a Monday night was all we needed. That the food was tasty and the service amusing was a plus!