Wow. What happened to Annie's Bar? In my wayward youth, I know I stopped by the back bar of the Carrington Hotel for a drink or two. And it was a trashy place. Fun, but trashy.
Now, completely transformed into Surry Hills chic, it is riding an exciting new wave of food trends: fancy bistro food, Spanish and Latin American cuisine, 'nose-to-tail', no reservations… Check out the website here.
But while I like the idea of a busy, buzzy place, I prefer not having to wait, so with my trusted dining friend, J., we had a Wednesday lunch there. There were only a few tables filled, which allowed for personal service, including both the waitress and chef asking us, sincerely, how our food was.
We ordered a white wine from South Australia's Running with the Bulls vineyard, very tasty, a Spanish varietal I'd never heard of: Vermentillo. Clean and dry. I liked it.
An appetizer/amuse-bouche sort of thing was a paella onigiri. I loved seeing a Spanish word next to a Japanese one (for rice ball) but didn't expect the perfect crisp fried triangle of paella topped with crispy battered squid. Check this presentation:
It was perfect. Light, crisp, tasty, flavourful, interesting. We followed it up with a tasty chorizo dish with apples instead of potatoes. It gave it a lightness of flavour, and how can you go wrong with chorizo?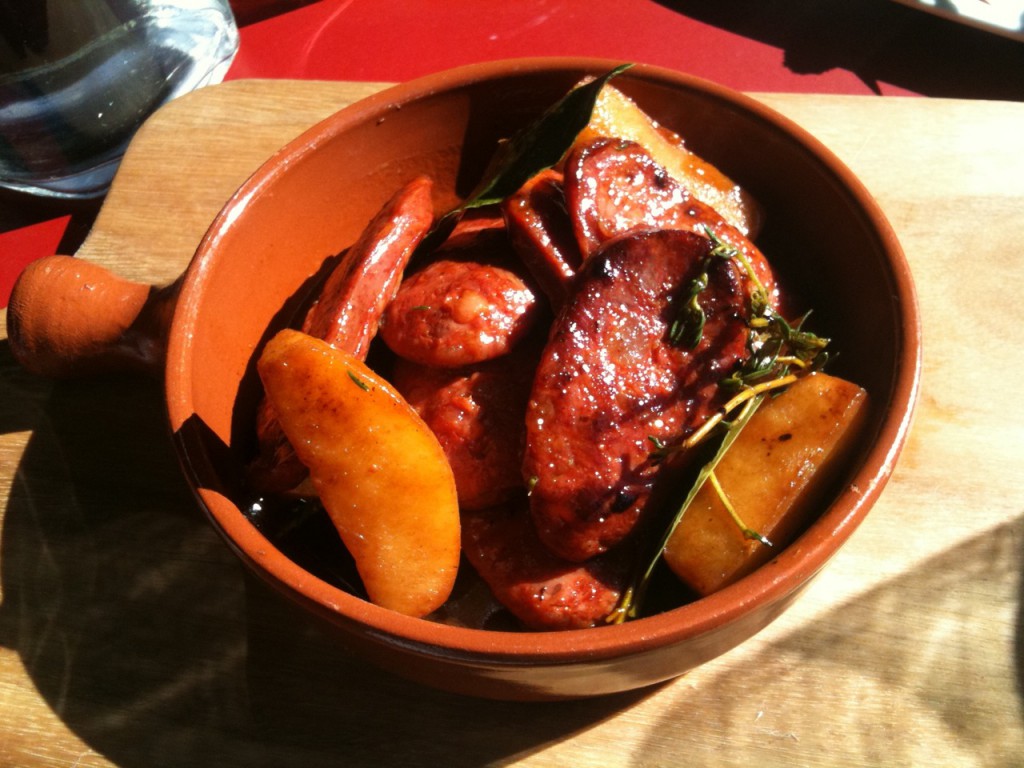 And finally, the masterpiece of our too-short lunch. Squid stuffed with Morcilla (blood sausage) with a very flavourful tomato sauce. The squid was slightly firm with a crunch, all about texture, and with a neutral flavour to offset the rich, earthy, slightly creamy and slightly grainy texture of the sausage. With a perfect bright bite of spicy tomato paste. Magnifico!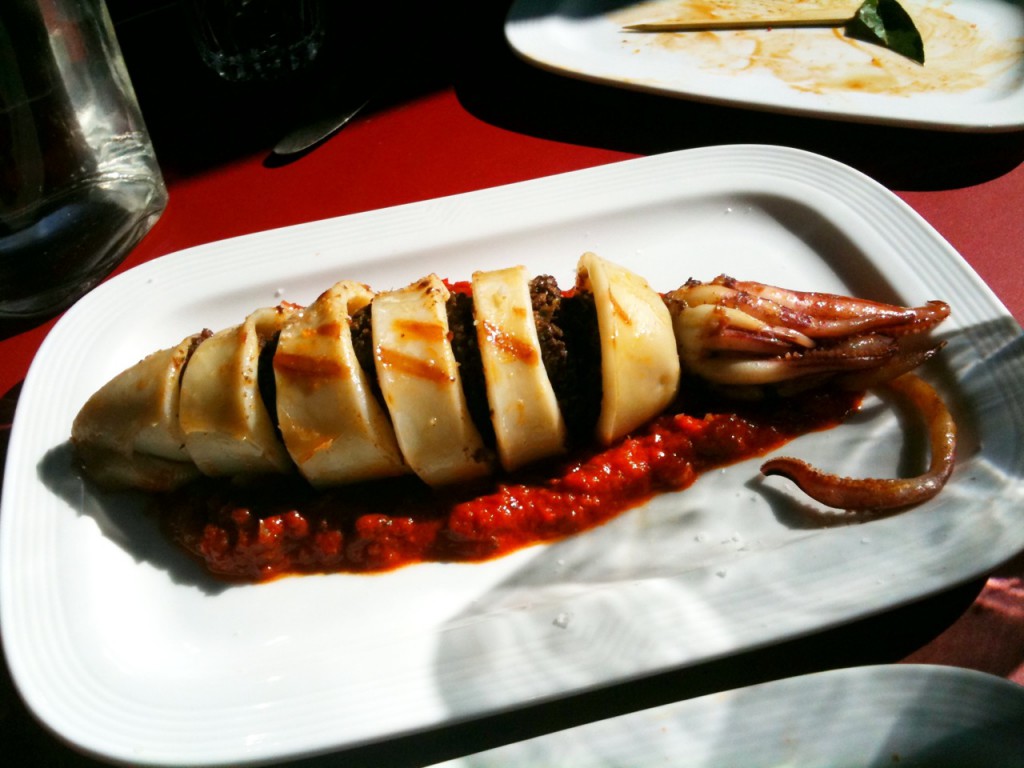 The cocktails sound fantastico too – I'm thinking I'll try the 'Single Mother' next time I'm in. J. looked up from his food in his pleasure and said this is the kind of place you could just sit in the sun for the whole afternoon and try everything on the menu, it's so good. I think we'll do that next time.
And since it had a rave review in Good Living, and seems to me Surry Hills newest hotspot (the chef smiled when I said I'd heard it was packed and said "we'll see in six months"), I recommend arriving early.