As a teenager, I always loved thrift shops because of the hidden surprises within, the bargains, and the bargain surprises. So, after developing a taste for nice clothes in Europe (with much coaching from friends who were appalled by my Canadian fleece and gortex materials and my hippie, outdoors, thrift shop style), the natural progression from thrift shops was to consignment stores or designer resale shops.
I'm not sure which were the first shops I stumbled across, but I loved looking through second-hand clothes of a higher quality, and seeing if there was something I wanted. I was scornful of designer labels in my youth, but after living in the amazing fashion city of London, I learned that there's a reason that beautiful clothes cost more, and it's not just the name of the brand. I found out that fashion is fun, that I enjoyed wearing nice clothes, and that finding something special that suited me was exciting.
It's become a part of my travel itinerary if I'm in the right city. A good city for designer resale shops or consignment shops is somewhere where people wear nice clothes, and want to get rid of them on a regular basis. Women's shops are common enough, but men's not so much. In Sydney, there's only Blue Spinach, which has wonderful charity sales twice a year, but their prices at their regular retail outlet are generally out of my range. Designer clothes are expensive in Sydney, and not worn by many – so even at consignment prices, prices don't come down that much.
After a March 2011 trip to Paris, I wrote down my results from my little mission to check out some of Paris' resale shops, known as depots-vente. That post was one of the most popular to ever appear on my blog, so after I was back in Paris for a period (Oct 2014–Feb 2015) and then again Feb to May 2016, I did some updates. Still, after travelling in NYC in May 2017, I'm not sure that you shouldn't just plan your purchases while holidaying in the Big Apple. It's shopping heaven! As of June 2019, my website tells me there have been over 35,000 hits on this blog post!
As I've discovered over time, Paris isn't a great place for consignment stores for men's clothes. So, the following tips include the broader categories of thrift stores (charity shops), outlets, and other used clothes stores.
Thrift Stores
Let's get right to the point. The Bis Solidarity Boutique in the 3rd arrondisement at 7 Boulevard du Temple is probably the store I was looking for all along. It took me until nearly the end of my first extended stay in Paris to find it, which is a shame… or is a good thing, since I would have bought a lot more. I found the men's section well chosen, and was thrilled to find a beautiful black Kenzo shirt for 15 euros, and a pair of Jil Sanders jeans for 10 euros. Not only that but the jeans, originally a 34" length, had been hemmed up to 30" so they were perfect for me. I was really happy with this store.
I went back in early 2016 and didn't find anything (though if I was a larger size, I think there were possibilities). I wondered if it really had just been luck, but then stumbled on their newly opened second store, at 19 rue Lamartine, in the 9th. The guy there did say the selection here was better, as it was newly opened, but I couldn't have been happier to find a nearly new COS sweater for 6 euros, an Agnes B. vest for 10 and a nearly new pair of pants from Scotch and Soda also for 10, fantastic bargains. Without spending time in Paris, I might not have recognised how good these brands are (and what deals they are), so I suppose that might also be advice to the truly dedicated. Spend an afternoon enjoying browsing men's clothes at Galeries Lafayette so you can get familiar with some of brands you like, and see if you can find them in thrift stores (passing up the cast-off H&M, Zara, Uniqlo and, shudder, Monoprix clothes (a bargain department store).
I'd also recommend the Emmaus chain; a newish store on Rue Quincampoix, just up from the Pompodiou Centre has really quite a good selection of clothes for men and women, some designer wear mixed in with Zara and H&M cast-offs. I never found anything there but thought there was potential.
Resale/Consignment/Depots-Ventes
Chercheminippes seems to be an empire of resale stuff. There's a women's store, an accessories store, a junior store, a regular sort of charity shop, and then a men's store at 111 rue du Cherche-Midi (in the 7th arrondisement). I actually thought the clothes were of good quality and with an interesting range. Some fabulous sweaters which I'll go back and grab when it's colder ("Pulls", they're selling them everywhere this month).
I have to say I had high hopes for Plus que parfait at 23 rue Blancs Manteaux, in the Marais in the 4th arrondisement, just off Rue Archives. Oh Paris, you're too expensive for me. There were some absolutely beautiful suit jackets and dress shirts there… from top name designers. That's the thing. Prices start at 100 euros and jump far up from there. I suppose if the original goods are 500 euros and you're getting something here for 200, it's a deal! There was a predominance of formal wear here: suit jackets, winter jackets, dress shirts. There were some shelves with sweaters and jeans in the back, but a much smaller collection. I didn't see anything that made me even fantasize about having enough money to buy it.
Likewise for Les Beaux Mecs, at 18, rue Jules Vallès 75011 Paris. Here the prices were fairly expensive, but I didn't see much that I recognised even. It's a fairly small store and seemed like an OK selection but I was non-plussed.
Unless things have changed, Misentroc (63 rue Notre-Dame des Champs, Paris 75006. Tel. 01-46-33-03-67. Metro Stop: Notre-Dame des Champs) only has clothes for women.
Réciproque (88-101 rue de la Pompe, Paris 75016. Tel. 01-47-04-30-28. Metro Stop: Rue de la Pompe), in the 16th arrondissement, is the resale shop most often mentioned on the internet. There is a whole complex of stores each specializing in something – accessories, shoes, boots. I actually visited the men's store in 2009, not this trip, and didn't find the men's selection particularly good. I bought an 'Eden Park' dress shirt that reminded me of a favourite Paul Smith striped shirt, and a 'Sergio Tacchini' zip-up athletic jacket in a shade between purple and pink that I can't name. Nice enough but neither of them were favourites.
In 2011, I was lusting after Alternatives (18 rue du Roi de Sicile, Paris 75004. Tel. 01-42-78-31-50. Metro Stop: St Paul). It was a small, charming shop in the Marais that I found locked when I got there. They only wanted a few people in at a time so they can provide good service. I was drooling after various shirts by designers such as Alexander McQueen and Dries Van Noten. As of 2015, it's open by appointment only. I'd find that awkward having the owner hover behind me while I wonder how something used can sell for 500 euros, but that's just me.
Outlet Stores
So, having reviewed consignment stores, it seems that we need to turn to outlet stores instead. That is, I think, how Paris rolls. I wasn't brave enough to head out of the city to the outlet mall which people talk about… La Vallée Village, which is near Eurodisney. But I understand this is last season's stock at about 30% off, not huge bargains.
Yet Paris seems to have quite a few stores which have anywhere from five or ten to dozens of brands of clothes, that sell clothes at reduced prices. The first outlet store we stumbled across was Numero 50 at 50 Rue Ste Anne and it had some great men's (and women's) clothes at great prices, and they change their stock to different designers every few weeks. They focus on just a handful of designers at a time.
The Piscine chain (without a website, they're found here on Facebook), I have to say is pretty fun, and I bought the most amazing winter scarf there. They have tons of high-end designer clothes, with lots of Italian names. This means that sometimes the mark-down is from 1000 euros to 300 euros, so there is still a lot of really pricy stuff. But they seem to have some better deals here and there. It also depends on the particular store. I was tempted by Bikkembergs clothes from season's past at 19/21, rue de L'ancienne Comédie, 75006 Paris, France, and I found their branch at 7, Place des Victoires 75002, Paris interesting (particularly with a handful of Maison Margiela clearance) but I've found nothing at reasonable prices at the one in the Marais.
A special mention here goes to the men's shirt shop, XOOS. Actually, Paris seems to have a tradition of very colourful men's business shirts in high quality cotton. Coton Doux stores are all over (with some designs a bit too tacky, I think, but others OK). XOOS is the favourite store of my reiki teacher, but the last time I stopped in, I found shirts I liked at well. At the store itself, they have real deals from 16 to 35 euros, during the winter sale season, I got a few shirts for 26 euros. They're stylish and well-made with a twist of something different.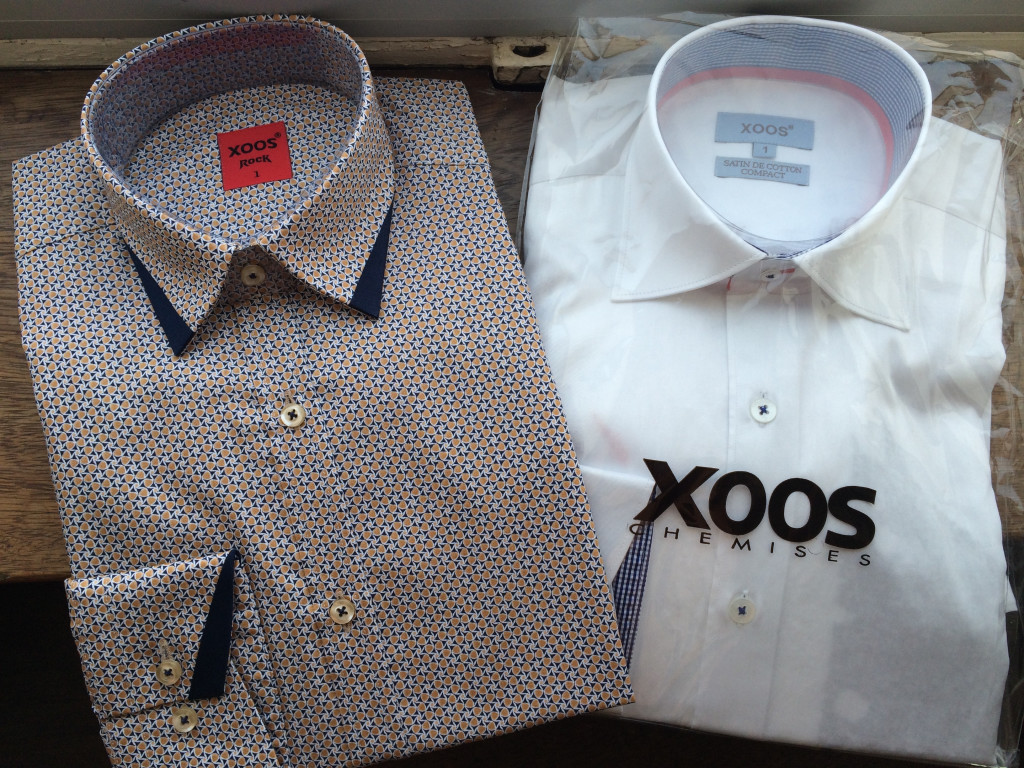 Vintage Stores
Paris has a ton of vintage clothes stores, and they are not really my thing. I don't find the quality particularly high, nor anything particularly interesting and they look the same from Amsterdam to Toronto. All over the world.
Free 'P' Star (8, rue Sainte Croix de la Bretonnerie) is a shop in the Marais mentioned on fashion sites. In fact, it had rave reviews, claiming 'one-of-a-kind pieces that appeal to the Parisian trendsetters' and that it was frequented by celebrities like Kirsten Dunst and Sofia Coppola. Sometimes, I think these blog writers just need to have something to say. Maybe they were fooled by the website, which is a fetching shade of hot pink and makes the place look really groovy. The shop has an air of cool, but is just a regular crappy second-hand vintage clothes stores, not designer seconds, with used army-gear, and plaid shirts, jeans and crazy dresses.
In the last few years, the Kilo Shop has found a really successful model. It is CRAZY how many clothes are in these vintage shops, that sell clothes by the kilogram. The thing is that there are so many clothes, in such variety, that there is actually some kind of cool stuff. If I were a fashion student, I would be buying old cool stuff, and reshaping and cutting them into today's fashion, mix and matching some funky casual wear from here with a carefully chosen more expensive purchase from somewhere else. My boyf and I both bought Palestinean scarves. However, it's a deceptive place. The heavier items – sweaters and coats – are really not all that cheap in the end because of their weight.
Episode, at 12-16 rue de Tiquetonne just up from Les Halles is listed on a few websites. Part of a Dutch chain, it is absolutely stuffed with clothes, crazy kimonos, sweaters, military uniforms, business shirts and more. Not a consignment store, and not designer wear, so I'd put it in the same category as Free P Star and the Kilo shop. So crammed with clothes, all over the place, on the floors, falling off the racks, that I found it even uncomfortable to browse.
And now (in August 2018), I stumble on an article that lists 9 vintage clothing stores, some of which I haven't heard of. How's this? I really thought I did some thorough research. From their descriptions, these look like a mix of vintage stores AND designer resale, and it's possible that the ones I haven't heard of are only women's wear. Still, check out the article on Culture Trip here. Makes me want to go back!
Conclusion
Paris isn't the right place for men's consignment stores. I think that well-dressed Parisian men hang onto their clothes, and wear them out so they're not in any shape for resale. The majority of the affordable items that I saw were from cheap chains like Zara and H&M and why buy second-hand items from them, when you'd be able to get them on sale there for the same cost or less?
The other thing is, of course, the feeding frenzy that is the twice yearly sales in Paris. I think this manages to capture people's shopping energy, to go their favourite stores and designers and get the clothes from last season on sale. Here's my report on one of them. Add to this the other options I've mentioned above of outlet stores, and that's probably the way to find clothes deals in Paris.
If you've got a taste for designer resale for men, other cities are going to suit you better. The links to my posts on shopping in NYC and Rome are below. Or stop in at the Dress for Less on St. John Street in Islington, London (or scour London's charity stores which will turn up an amazing amount of very high quality designer clothes… for a pittance). The bestest ever place  is the Ragtag chain in Tokyo. I'm still wearing shirts and jackets I bought from there: Issey Miyake, Lanvin, Stephan Schneider, Paul Smith… Even the last time I was in Vancouver, there were some pretty good shops these days. Turnabout had some great items.
See my blog posts on used menswear in New York City and Rome. 
Anyone else have advice on shopping for men's clothes in Paris? A hidden gem I missed? Or even your favourite Men's resale shops elsewhere? Leave a comment!