Le Petit Bleu has made it onto a number of lists of recommended restaurants in Montmartre. It is a tiny, cramped, unassuming restaurant at the bottom of one set of stairs off to the east of Sacre Coeur. We arrived just after it opened one evening and managed to get the last table. There are three categories of food on the menu: couscous, tagine and various grilled proteins. Tagine would not be available until later that evening, we were told (which I thought made for a tricky calculation if you wanted it; how would you arrive late enough to get tagine, but get a seat?).
In any case, I ordered the Couscous Royale, which, as you can see, had everything on it (and came with a small pitcher of broth) and my better half had lamb. I've often wondered about the popularity of couscous in Paris, and what makes it special. At the Grand Mosque last year, I was impressed with the pastries… and thought the couscous was nice enough, but nothing special.
After dining at Le Petit Bleu, I finally understand. The wonderful stewed vegetables (a bit of everything: carrots, zucchini, turnip maybe or artichoke heart) were matched with meat that was really charred, the flavour of the grill so delicious. Even the falafel was crisp and grilled. And then the couscous itself was a marvel. How was it that I could spoon the delicious broth over it, and yet the grains remained separate: fine, light and delicate? They never got mushy (like my mushy homemade couscous, I can never get the technique right). So for 15 euros, to be introduced the wonders of a great couscous, I was very thankful.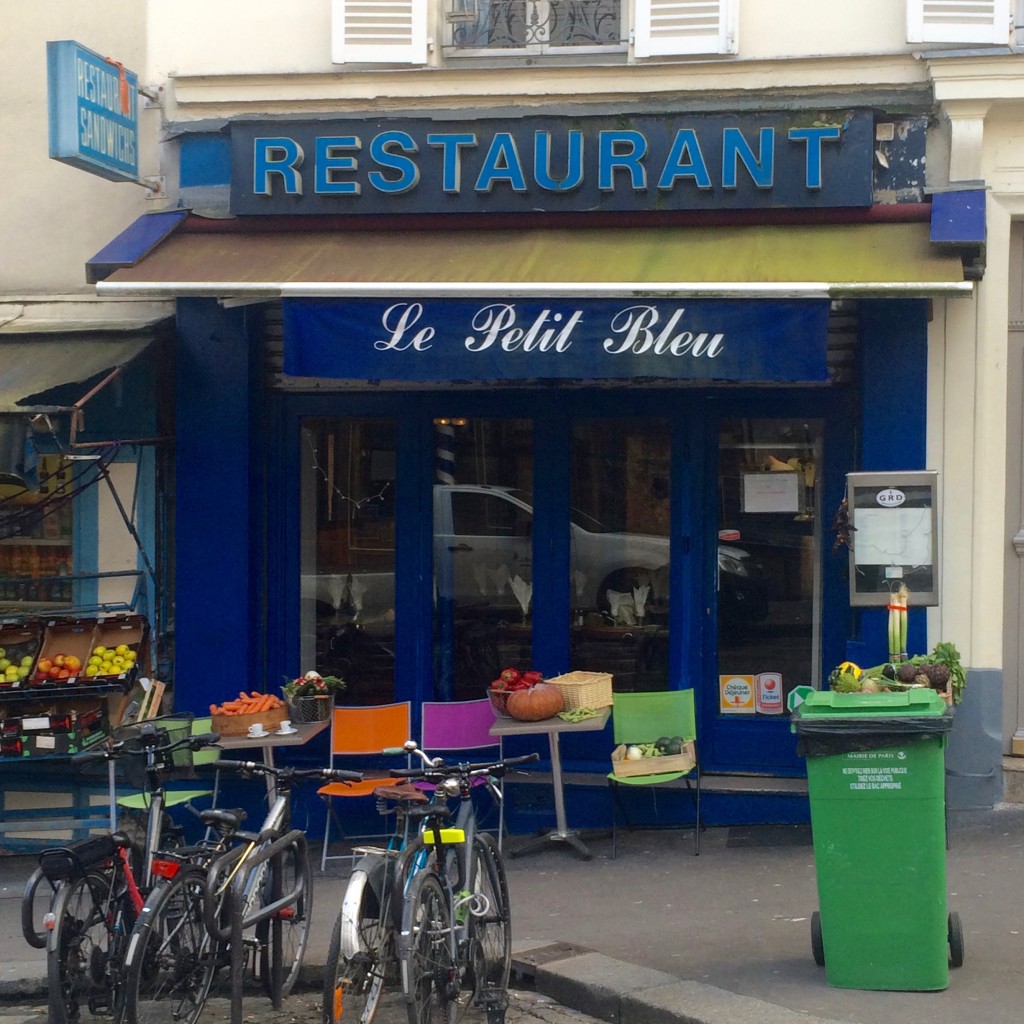 The service was hilariously grouchy. Well, one of the waiters is friendly and charming and the other (the owner?) is gruff and direct, as if he doesn't really want your business, because with people clamouring to get in, and calling in their take-out orders, it's not like he has to be nice. I think sometimes North Americans eating in Paris don't appreciate that abrupt service is just part of the charm of dining out; take it as a little bit of local colour.
23 rue Muller
75018 Paris
France