Here's the thing: oysters. Being March, a month with an 'R' in it means that it's still oyster season here in France, and a woman at work had recommended that I try some. So it was convenient that it was on the menu at a humble bistro in Montmartre that advertises that you will be greeted by members of the same family who have run it since 1909. Just a little
bit of history there. Chille, my old pal from Brussels, tells me that the French eat oysters even when they're getting milky, but the Belgians think that's disgusting. In any case, these were not milky… and they were beautiful. Very little salt taste; rather it was a very gentle and delicate flavour. Chille also warned me off the sharp vinaigrette that came in a small accompanying bowl, for how would you taste any oyster at all with such a strong flavour overpowering it? And what would be the point?
The menu, for three courses, was very reasonable and we added to it a special bottle of red as recommended by the waiter. I had Coq au Vin, a sauce so rich and dark, I forgot I'd ordered chicken until I cut into it. Nice flavours and hearty food, though I've found now twice in France that the chicken tastes less tender to me, and more tough. But perhaps that's a good sign: less hormones and artificial fattening up.
For dessert, I opted to try the Diplomat cake which was a soft cake with colourful dried fruit pieces, swimming in custard. The piece was far too large to consume, though I tried.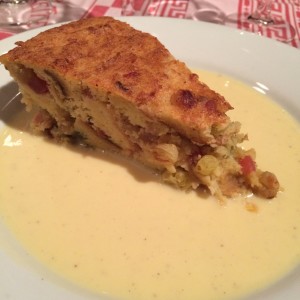 It had a pleasant homemade feel to it all.
All in all, I found the food hearty and traditional, reasonably priced, and tasty enough though not remarkable.
But the atmosphere is really lovely, you feel like you're in a real local gem. The front bar was very crowded when we left, and in fact, the restaurant as a whole was really filling up (we'd opted for an earlyish 7:30 reservation). I thought the manager and staff were very charming and it did have that feeling of a charming family-run operation. Also, I like that their tablecloths are personalised…