My latest advice for anyone visiting Paris is to combine art with pastries, two things that Paris excels at. After hanging out in Beaubourg for three weeks, I moved to a little chambre de bonne on the left bank and I really enjoyed the neighbourhood. Now being branded as the Carré Rive Gauche, there are dozens of tiny galleries with the most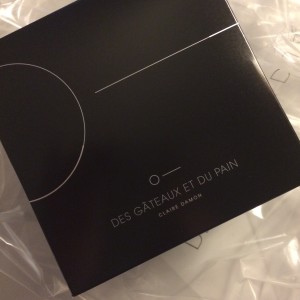 amazing antiques as well as contemporary art. I loved wandering in and practising my French with the gallery owners and staff. It's a great thing to do, say, on a Saturday afternoon (if you're having to work during the week) or basically any weekday afternoon.
But gosh, it's tiring. Well, not really. But use it as an excuse to say you need some really good pastry as fuel for more art. Rue du Bac, a major street running through the neighbourhood, has an amazing amount of high-end pastry and chocolate stops. The first stop was at Des Gateaux et Du Pain. And it's really weird to be intimidated by a pastry shop. It is so expensive looking, so beautiful and shiny, the service so formal, that instead of a 6 or 7 euro pastry, I wondered whether I was accidentally buying a 200 euro leather wallet, from Hermes.
In any case, listen: this was a really delicious pastry, and I'd recommend you try one. Clair Damon is apparently making a name for herself (or already has) and my Mont Blanc, a
combination of cassis and chestnut was interesting as well as delicious.
While the first shop went for an understated name, the second shop is nearly the opposite, the Patisserie des Rêves, though I'm not sure whether they're implying that this is simply a pastry shop of dreams, or of 'your dreams' or just 'dreamy pastry'. In fact, if these scary bunnies appeared in my dreams, I would be worried, I reckon. Rather than cute, I find them somewhat sinister.
Inside, it's kind of sinister too, with each pastry in its own display case, and more of those damn bunnies. I went on a crowded day, and there was a real sense of anticipation about
getting a treat! Online reviewers have various favourites but the woman I asked said their real signature was the Paris Brest.
I ordered just one, and got to carry it home in this marvelous triangular carrying case. I find that the packaging at Paris pastry shops reminds me of shopping in Japan. On the one hand, I think: 'gross overpackaging'. But on the other hand, I find the packaging appealing, clever and pretty.
Sadly, my consumer instincts beat out the environmental ones.
In any case, it wasn't just the packaging that was pretty. Look at this thing. Six perfect little pastry choux, joined together, and packed absolutely filled with a praline cream. The choux was perfectly crisp, the cream lush and sweet.
In fact, to be honest, I found it a bit too rich… which is not something I normally say. If a French person told me this was definitely the best Paris Brest ever, I'd believe her; I'm just not sure it's my favourite of the French desserts.