A post on this topic in Paris is my top-viewed blog posting ever… So, an entry about browsing for secondhand and cheap clothes (my natural state of being) in the Big Apple would seem to be in order. But in a few weeks here (in May 2017), I'm finding the shopping so good, I might just amend my Paris post and say: just come to NYC.
Let's cut to the chase then. I stumbled across Crossroads Trading without even trying (24 W 26th Street). It's a consignment store, rather than a charity store, and as I started to browse, I was like: WHUT? This is really high quality stuff at bargain basement prices. So, even though I have already bought too many clothes in NYC, my haul is above. An H&M t-shirt that I had just looked at the week before, new and on sale ($15 + tax), was in a different colour combo that didn't work. So, for $10 (without tax), I get a slightly different colour combo and design that works perfectly. When I was in Paris, I was slightly obsessed with this brand called The Kooples. Stylish with a young flair, but luxe. I never bought anything because it was too expensive but lusted after it. So, WTF? A really interesting fitted black dress-shirt with an interesting treatment and finish. Half-price from $28 for $14.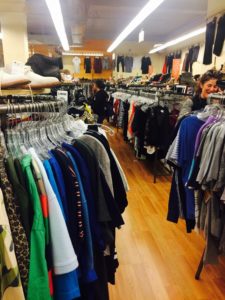 Very elegant narrow collar. These are about US$175 new… The brand Rag & Bone interests me; it seems to combine athletic gear with a high-end simplicity. I snagged a casual sweatshirt, extra-small but fits me fine for $28. Their website says these are $250 new. Seriously. And this piece was not even worn. It's not second-hand. It's new. Finally, although I remain mystified by the NYC brand Theory, and why everything is so expensive (and this is after dropping by their store in the Meatpacking district), I'm not
averse to trying out a plaid long-sleeve shirt for $18.50, that fits perfectly, and would retail for $200.
Of course, this might just have been a moment of luck. I visited their Brooklyn location in Williamsburg and didn't find a thing, but I've very happy with my bargains from their Manhattan locale. … In fact, I was so happy that when I passed Buffalo Exchange, minutes away, which I've heard about, and looks huge, I couldn't even bring myself to go in. Maybe next time.
Meanwhile, at the start of my trip, I was in the elevator going up to my room in the cool Jane Hotel, just south of  the Meatpacking District, and a cool geek girl, heading up to an office function on the rooftop bar complimented by fluoro pink corduroy jacket. She showed off her shiny gold Gucci sneakers, and told me she'd gotten them at the Goodwill store in the Village and that it was her favourite shop, and she also found items for her male flatmate there.
First, I checked out one at 7 W. 14th Street. This one is really downmarket, and some of the clothes were stained or damaged. The sign of a really mediocre thrift store is that I don't recognise any of the names of the labels. Not even cheap brands. I really couldn't find anything here.
I'm tenacious so I thought I'd try the one that she'd recommended in the Village at 44 W. 8th St. The men's section is in the back corner. Everything is sorted according to colour, but for the life of me, I couldn't figure out the pricing system. Lots of cheap brands: Uniqlo, H&M, Mossimo, American Eagle, Old Navy, J. Crew. Nothing in order of size either, and no labels, so really hard to see what was on offer. I did see a pair of Theory pants, not my size, but that would be a good deal for someone.
I even had a look in a Goodwill shop in Brooklyn, a huge one where there's a separate section of the building to drop off donations. A much bigger selection but still pretty basic stuff.
So, the winner of the thrift stores is: Housing Works. I found one in the West Village at 245 West 10th Street and now I see they've got 13 shops spread throughout the city. And they do really great work, so any purchases are going to a great cause. This was really high-quality name brands including some ultra-expensive stuff and other more affordable clothes, yet a small, manageable section of men's clothing.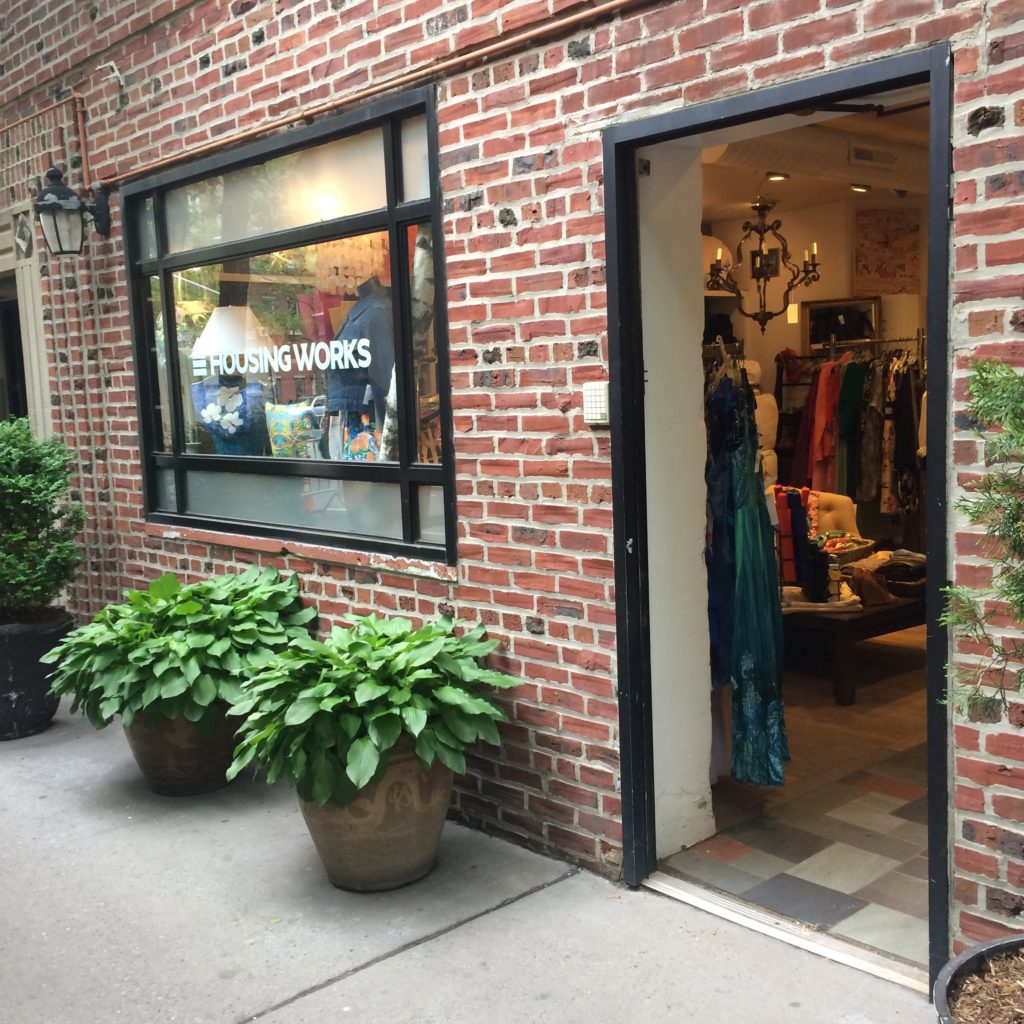 If that Hans Copenhagen t-shirt had been in a small instead of a medium, it would have been mine, baby! As it was, I found an interesting colour-blocked dress shirt, with nice fabric and a perfect fit. $15 and the labels were torn out so I have no idea where it's from.
I'll pretend it's from somewhere really good. Apparently, they have another store where you buy clothes by the bag. $25. Stuff it full.
Then I found another Housing Works shop in Gramercy, but it's closing down in a month. This had a much bigger selection but was of a bit lesser quality. Still, it was worth a look, so I wonder whether the other ones are also worth a look (I also took the opportunity here to donate a rainjacket and some old crocs sandals that I've managed to replace while here).
It's 25% off because it's closing down, and while this shirt from Folk is plain, it's of a beautiful material, and I remembered how expensive this company is. Marked at $35 (so the folks here know which donations are of quality, and which aren't) and with the discount it was $26. I'm liking it. Especially since new season long-sleeve shirts on their website are going for about 130 pounds ($US170).
A shot of the interior of the store is aabove, by the way. So, that was 157 East 23rd, and I was heading down to the Village for a drink. On the same street is another Goodwill and a Salvation Army store (low-quality, nothing interesting), but I did see a pretty interesting shop, a thrift shop from the City Opera company at 222 east 23rd. Apparently, it's been around for 35 years!
Disappointingly, the men's selection was limited. Not terrible but nothing special. However, the women's selection looked pretty crazy and unusual. I'd think it would be worth a look if you're a chick (though probably with unusual taste, rather than a younger vibe).
Afterwards, heading down 1st avenue, there were even more thrift stores. Cauz for Paws at 333 East 1st raises money for animal shelters (yay!) and there was another of whose affiliation was unclear. The city seems full of thrift stores, really, though probably requiring a bit of luck, determination and patience to find treasure among trash.
But there's more than thrift stores in NYC. There are consignment stores! At Eleven Eleven at E. 11th, you have to be buzzed through a locked door. The men's section is way in the back, a small room crammed with stuff, and they've also gone with sorting clothes by colour, rather than size. The labels are a little better here but it was still hard to browse and see what they had on offer. Better quality stuff than Goodwill, but probably not as good as that Housing Works thrift shop.
I love that Tokio 7 has a shopfront that looks it could be in Japan. It's a big store, and you look for the labels to tell you whether the clothes are for women or for men, as they're different colours. I kind of like this approach, that they're all mixed up in the store.
And then: labels! They've got price tags on all their clothes that you can clearly see the designer, size and price. Hurrah. This makes it easy to see the uh-mazing clothes they have on offer. Super-designer, super-expensive, but as it's a consignment store, if it's been there long enough without a buy, the prices start to come down. I didn't see anything that I had to get, but I loved browsing in this shop, to check out their stock. Gucci, Prada, Rick Owens, Margiela, Yamamoto: it's all here.
INA was an unexpected visit, with some time to kill before a show started. At 207 W 18th Street, it's pretty vast. This place strikes more of a balance. The prices aren't quite as high as at Tokio, but it's still upmarket with Rag & Bone and Theory and other deluxe
designers. I'd been to their store years ago on Prince Street and remembering it being a bit small. There was a pretty cute Steven Alan shirt (he's an interesting NYC designer) but when I tried it on, I saw it had been put on the wrong rack: it was a woman's shirt.
It was so cold and rainy that day, I bought a scarf, which I'm happy with. It is from a label for which I've encountered the same problem before, so generic a name that nothing comes up with a web search. The brand is 'And A' which means that anything with 'and' and the letter 'a' comes up. Sigh.
I stopped by La Vie at 632 Hudson Street two times. This is also pretty fun to look at, but definitely out of both my budget and lifestyle. It's the most expensive and luxurious of all the consignment stores I've been to. This selection looks like it's just come off the runways! I'm sure they are much cheaper here than retail but still…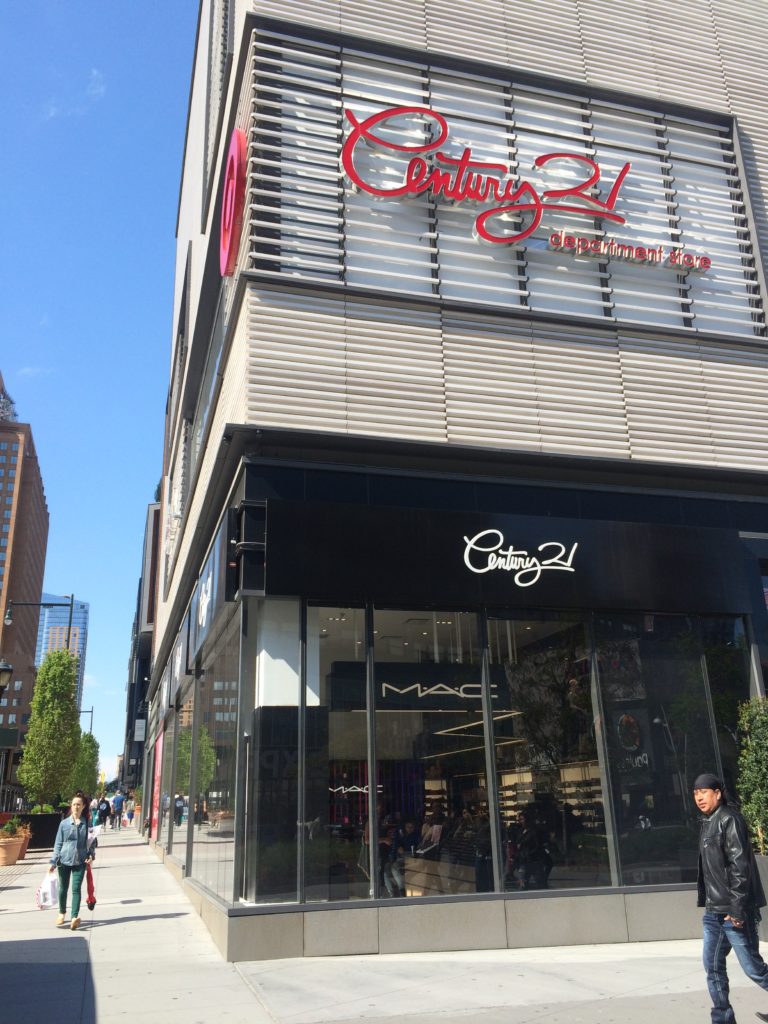 As for the big discount clothing stores, I'd have to say that I don't understand Nordstrom Rack. They seem to have a wide selection of good brands, but no particular great deals. Century 21 on the other hand is a favourite store to visit. The one down at the World Trade Center is a scary zoo of people, so busy, but it does have a section with the most deluxe of designers (I can't afford them, but I love looking at what they have to offer).
I prefer browsing at the quieter ones, say the one near Lincoln Center. I also visited the one in Brooklyn, on Albee Street, and realized that most of the stock is exactly the same. If they only have mediums at one store and not small, it's probably the same situation at another branch.
The advantage of going to multiple branches is just that there is SO much to look through, you can take your time, and different things will pop out. I also like about Century 21 that the clothes are sectioned off according to designer, so once you figure out who you like, and who suits you, you can zoom in there. I always get cheap underwear (a limited selection, but Calvin Kleins or 2xist for $6 or $7 each is pretty good if you can find a design you like) and possibly plain t-shirts or undershirts; and then treat myself to a new dress shirt (this time, an interesting number from Moods of Norway – $60, a good deal I think – can you tell I'm into colour blocking these days?). But you can get it all here: athletic gear, polo shirts, high fashion and middle of the road.
What else? If I stumble across other stores (or bargains), I may add to this list, but readers, why not add your own comments here? Tell us your favourite places to shop in NYC for men's clothes. What a paradise for shopping. Not only sample sales (got a great pair of pants from a Scotch & Soda sale) and seasonal sales, but as I've mentioned above: consignment, discount, used and thrift. Amazing.
In the meantime, see my blog posts on used menswear in Paris and Rome.