The Carrington has reopened. Hurrah. I really liked the previous incarnation, in fact, both of them, injecting Latin American cuisine and drinks into the Sydney local. Now, it's back to basics with burgers and schnitzel. But of course, these days the burger is grass-fed (yup, that's what the menu said, I like that idea of eating a burger that eats grass) and the schnitzel (my choice, delicious) was kurobata pork neck.
The mains come with delicious thin fries, and though the Chardonnay was the cheapest on the list ($35 a bottle), it was excellent. All of this in a buzzy atmosphere in the bar area, and various other places with different noise levels to hang out. It's now order at the bar rather than the previous configuration where the restaurant area really was a restaurant.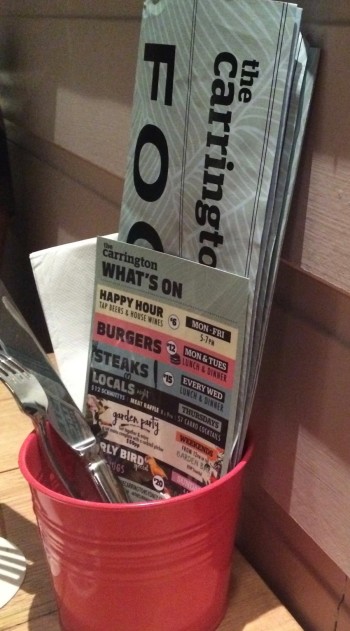 That quieter area did lack a bit of a buzz or ambiance on a Wednesday night, but being able to talk comfortably with old friends was a treat (as compared, say, to the terrible acoustics at the Hotel Palisade).
There are a few other bars with food that are closer to me in Surry Hills, but this is likely to become, again, my local go-to for a simple meal and tasty drinks with friends.
Also, it's haunted with the ghosts of drag queens past from when it was Annie's Bar (which I visited a few times just after arriving in Sydney); there's no doubt that for Sydney, that's a good thing.