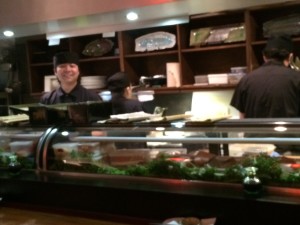 Kishimoto is a phenomenon in Vancouver with a line-up from right before it opens until it fills up and after. My brother and sister-in-law are obsessed with this place, and I can see why. It's top-class Japanese food, presented with considerable style, and at rather ridiculously cheap prices, for what you get.
I'd never had sushi rice that was grilled or deep fried crisp on the bottom (and with spicy tuna on top).
The rolls, as above, are inventively presented, but the taste is supreme.
Pressed sushi is not particularly common, I think, in a standard Japanese restaurant in Canada (or Australia).
We got to try a huge variety of sushi, including some of my favourites below: tamago (omelette) and that looks like black cod… so hard to get in Australia.
The sashimi was served on a block of ice… My niece seemed to enjoy this meal too.
What can I say? I think I'll let the photos speak for themselves. It's not like they need any MORE business, and if you want to know more about the restaurant itself, they're well written-up. Let me just say that it was an incredible meal!